Office gains Google Drive and IFTTT support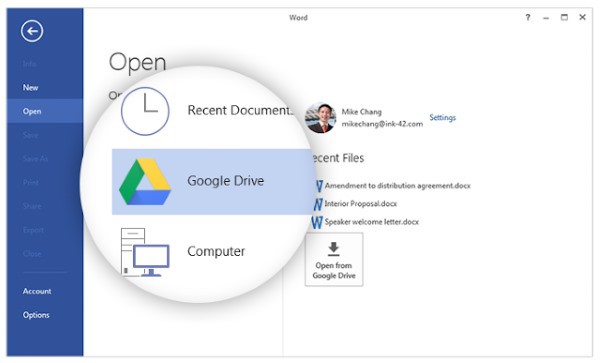 Anyone reliant on Office for their day to day computing just gained two new weapons in their arsenal. Google has created a plugin that adds built in support for Google Drive, and automation fans will be pleased to learn that Office 365 channels have now gone live on IFTTT. But this is not the only new cloud-based tool.
It has long been possible to use Google Drive in conjunction with Office, but it has meant having to use the middleman of a local folder synchronized using the Google Drive app. The new plugin lets you cut straight to the chase and save directly to Google Drive -- handy if you don't want or need a local copy.
The Google Drive plugin for Office is something that users have been asking for for some time. With the launch, Google says that "people using Office for Windows can now open their Word, Excel and PowerPoint documents stored in Drive, then save any changes back to Drive once they're done". Grab yourself a copy of the plugin from Google.
Using a series of new Office 365 channels on IFTTT, it is now possible to trigger automatic online events based on things that happen within Office. There are quite a number of options available to users, including a range of readymade recipes. These can be used to do everything from create OneNote entries whenever a new contract is added, backup files automatically to OneDrive, and send notifications to Slack when emails matching certain criteria are received.