New password manager aims to reach people who don't use password managers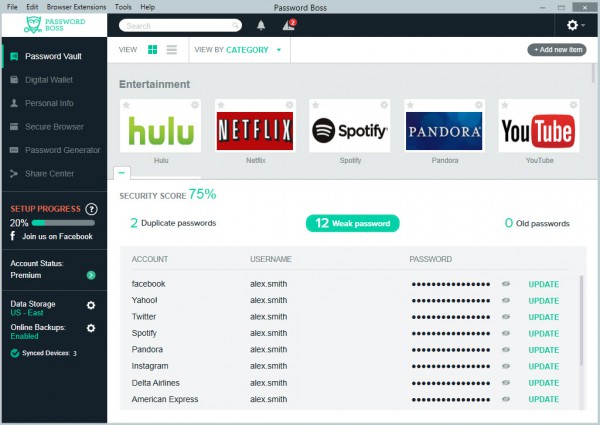 We're always being told that we need to use stronger passwords, but most of us tend to trade off security for real world convenience.
Minneapolis-based Password Boss is hoping to convert people with the launch of its free password manager and digital wallet aimed at consumers.
According to a Harris Interactive survey of 2,030 US adults conducted for Password Boss, 92 percent of consumers don't use a password manager to store their passwords for online accounts. Instead 63 percent say they memorize them, while 43 percent say they write them down on paper. The survey also found that more than half of consumers (54 percent) agree that they need to change their online password habits.
"Most people aren't motivated to change their poor password habits," says Password Boss founder and CEO Steve Wise. "Despite the fact that four of ten companies were hacked in 2014, most of us continue to use and reuse crackable passwords that are easy to remember, store passwords in unsafe places and rely too much on clicking 'forget password' links. As consumers, we want things to be easy. That's why we created Password Boss. By securely storing personal information and synchronizing it across all devices, Password Boss is the easiest way for people to safely login to websites, access their accounts and shop online".
Password Boss is the only free password manager that allows people to store an unlimited number of passwords, choose where their data is securely stored and share any item in their account with anyone they choose.
It uses 256-bit AES encryption to protect data and synchronizes consumers' accounts across all of their devices instantaneously for easy access to their passwords and personal data at any time and from anywhere. It also provides a personal security score with recommendations on how consumers can increase their level of online security.
Password Boss is available free for download on Windows PCs and tablets, as well as iOS and Android mobile devices. There's also a premium, paid version with extra features including features like online backups, 2-step verification and unlimited, secure password sharing. For more details visit the Password Boss website.