Office 365 vs Google Apps: Who wins on pricing? (Part 1 of 4)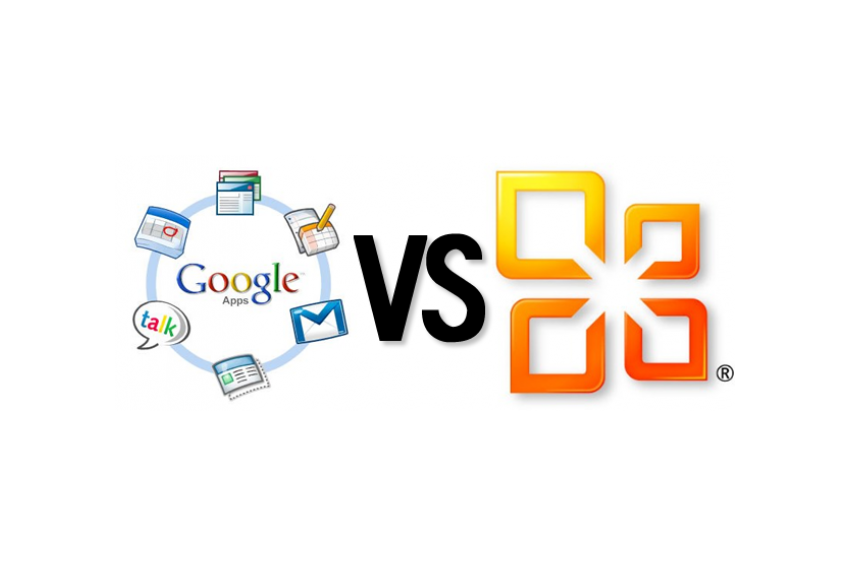 If there's one common request I get from readers via email, it's that they want an updated deep dive on my thoughts regarding the whole Office 365 vs Google Apps debate. It's a topic I've written about on numerous occasions in the past -- dissecting the facts, wading through the FUD, and piecing together my honest opinion on who comes out on top.
But it has been years since I dove into the crux of the debate, honing in on why one suite beats another in the important aspects that set them apart. And in the world of IT, years is an eternity.
Unlike some in the tech media, who either have allegiance to one side or have little to no real world experience with both suites, I've got none of the aforementioned hangups. Not only have I rolled out both suites in organizations small and large, but I've been professionally certified by Google and Microsoft in each respective suite for years now.
It goes without saying that as such, I've got a keen eye for the gotchas that each suite comes with. I've been able to objectively compare the ins and outs of each suite's finer nuances and features. And most importantly, those critical "first 30 days" post migration to either suite? I've been there, playing witness to the good, bad, and the downright ugly.
Both Microsoft and Google are fighting a fierce battle for the hearts and minds of organizations of all sizes when it comes to cloud productivity suites. And a roller coaster ride is quite appropriate when describing the competitive nature of the two ecosystems. Google came out swinging with Google Apps many years ago, with a comfortable lead in features, stability, and pricing alike.
But in my eyes, come early 2013, Microsoft launched the latest wave of Office 365 and this turned many of the tables. Google no longer enjoyed a de-facto lead in the cloud productivity sphere; they were fighting a Microsoft which licked its wounds and came to round two anxious to regain lost territory.
Seeing as it's 2015 now, and it has been quite some time since my last in-depth showdown on the two suites, I figured I would update my sentiments. This time, however, I'm diving into more detail on the various competitive areas surrounding each suite.
In Part 1 of this special 4 part mini series, I'm covering the pricing aspect of Google Apps vs Office 365. Subsequent pieces will dive into cloud email, cloud file storage, and each suite's take on unified communications.
Enough with the small talk. Let's dive in.
Apples to Apples Cost Comparison Isn't Possible
I blame Microsoft. And I blame Google. They're both at fault in making a discussion about price in a simplified apples to apples way extremely difficult. Why do I say this?
Google, for its part, chooses to make Google Apps pricing very simplistic. It's true, and I applaud them for it. For their part, they really only have two core Google Apps plans -- one vanilla (standard) plan, and an upgraded plan with Vault and additional value-added capabilities. That's it.
As such, Google does a good job in trying to lead the discussion on pricing by saying they undercut Microsoft easily, and they chalk this as a clear cut "win" for their camp. But no so fast.
It's entirely true that Google has the lowest price point available for an all-inclusive cloud productivity plan between the two giants. But if you dig into the finer points of what they consider all-inclusive, this tells a whole different story. And this was one of my major goals for this first piece on pricing -- exposing the innards of what each camp is bundling as part of their price points. Google is plenty guilty of some crafty smoke and mirrors here.
I've similarly got beef with Microsoft, but conversely for their adherence to very complex, byzantine pricing structures. In fact, I spend numerous hours each week on the phone with clients trying to make sense of what direction they should head with Office 365 licensing. From cross-plan feature disparity to endless ala-carte options, Microsoft is the master of the "build your own licensing" smorgasboard.
What does this truly mean? As a simple example, for a small business customer that wants basic cloud email, with Skype for Business and SharePoint Online, there are no less than 5+ combinations of licensing I could come up with to satisfy these needs -- each with differing monthly price points and feature specifics.
Don't get me wrong. In many ways, I enjoy the freedom to build custom licensing scenarios where clients can save the most money possible each month. But for the average person, comparing all-you-can-eat plans with ala-carte options, and trying to find the right mix for their situation, is overly complex and difficult. As such, most clients come to us calling for an SOS right from the start.
Hopefully I've made it apparent as to why an apples to apples cost comparison is almost a fruitless effort. After hours of knocking my brain around on how to build an objective apples to apples comparison chart, I've thrown my hands in the air.
It's not possible. I tried.
As such, my comparison of the two giants is undoubtedly apples and oranges, but honestly tries to evaluate their offerings across the most common "all you can eat" plans. If I allowed for the comparison of all the ala carte offerings that Microsoft has on the table, this article would have been over 20,000 words long. I'll spare both of us the exhaustion.
It also goes without saying that, since this comparison cannot be stripped down to an apples to apples approach, the honest way to look at the two giants is in an overall qualitative lens. Who provides the most bang for the buck? Who has the most features packed into a given plan in contrast with the other camp's like-sized offering?
When looking at the two sides in the above nuanced lens, it's much easier to justify clear winners between the camps.
My Methodology
While there were numerous directions I could have taken with a comparison, I decided the easiest and most honest way to compare between Google and Microsoft was to split the head-to-head comparisons into two primary sections:
One pitting Microsoft's "Small Business" focused plans against Google
One pitting Microsoft's "Enterprise" focused plans against Google
Some may disagree with my decision, but this was absolutely necessary in my eyes for one very glaring reason: the feature mixes and price points in Microsoft's plans are somewhat different in each target market range.
While Microsoft caps its small business plans at organizations with 300 seats max, I honestly think that 300 seats is more enterprise-leaning than not. But I'm not here to discuss semantics with Microsoft's marketing department.
For the purposes of this article, we are breaking the comparison into a SMB head to head, and an Enterprise counterpart. This way Google's plans can directly face off with Microsoft's chosen end-customer segment sizes in a rational way.
Small Business Plans: Head to Head
Below is a concise table showing how Microsoft's Small Business Office 365 plans stack up against Google's two Apps offerings. As I've always done before in head to head comparisons, a vendor with a clear win in a given category is given a yellow highlight for that area in one (or both) of its plans.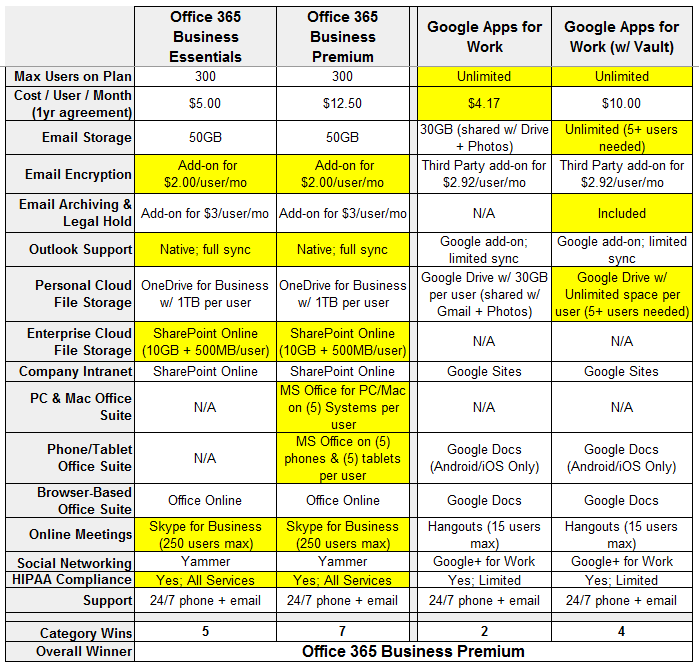 (All Content in Comparison Table Valid As of 8-16-2015)
Let's get the obvious out of the way right off the bat: Google wins purely on cost. But that's where the debate on pricing starts and ends. As I made clear, an apples to apples comparison of the suites is far from possible because of the bundled value-adds each camp has tucked into its suite at the varying price points.
As such, from a qualitative perspective, Google Apps leaves much to be desired across both of its offerings, as my comparison chart concisely outlines.
For starters, I will give Google credit in the areas where it clearly takes wins from Microsoft. I like how Google refuses to place max seat counts on either of its plans. Now one can say that, well, since they only have two plan options they can't really place limits on seats for either level. But honestly, they very well could have forced all enterprise users into the higher priced Vault-enabled plan level by capping the lower end standard plan at some chosen seat count.
I'll also point out the other remaining Google "wins" which I tossed their way, albeit not without some hesitation. As opposed to Microsoft, which opts to dole out storage space that is function-specific (email has its own bucket; OneDrive has its own bucket; etc), Google instead has a single bucket which three core services borrow from.
Gmail (email), Drive (Docs), and Photos all share one common pool of space. In some ways, this can be a good thing. But the only way you can truly capitalize on this is if you meet two criteria requirements:
1) You wish to pay for the higher Vault-enabled Google Apps plan for $10/user/month AND
2) Your organization has at least 5 users.
If you don't meet the above prereqs, Google forces you back down to 1TB of space per person with a Vault-enabled plan; or a small 30GB shared bucket if you are on the cheapest standard plan.
But even with my reservations on all the gotchas and asterisks surrounding the requirements for the unlimited space offering, I tossed Google a bone on the email and personal cloud file storage categories. They snuck out on top, shady circumstances notwithstanding.
However, the best Google was able to do against Microsoft's small business plans was a four category win for the Vault-enabled Google Apps plan level. Redmond took home wins in many other areas; some of which are critically important to many customers out there.
One of the biggest areas in which Google had a near no-show was in the office suite categories for computers and phones/tablets. It goes without saying that Microsoft's bundling of Office rights for up to (5) distinct computers, phones, plus tablets (that's five PER device type -- NOT five installs total across the board) is a very good deal any way you look at it.
Seeing as business users are accustomed to purchasing single-use-rights copies of Office for upwards of $200 or more per machine, this alone is well worth the price of entry. And Microsoft doesn't water down the rights to the lowly Home/Student edition either -- this is full (near) ProPlus level of Office, minus Access.
Google has no dedicated locally-installed apps to speak of outside of some offline-enabled functionality in Drive for limited file types. Unlike MS Office on the desktop, which are full blown, fully-featured native apps, Google's Docs editors are restricted in numerous ways compared to what Office users have grown up with. For basic editing, Docs may get you by, but don't expect any of the fancy formatting from Word or powerful number crunching from Excel.
Some may also be curious as to why I split up cloud file storage into Personal and Enterprise subsections. This is because, for all intents and purposes, Google Drive is NOT purpose built to act as a true replacement for an enterprise class file storage & management system. Google scuttlebutts around what Drive really is, and it's nothing more than a bona-fide cloud sync and share platform.
Compared to SharePoint Online that Microsoft offers (which I discussed at length in a post one year ago), Google Drive revolves around a notion of file/folder ownership that sits at the individual user level -- that is, a bottom-up approach to content management. This means someone at ALL times needs to play owner of any set of files or folders.
For super small companies, this is not an issue. But once you have more than 5-10 users, when staff with complex folder structures which have been shared need to leave the company, you have nothing less than an administrative mess on one's hands. It was part of the reason my company ditched Google Drive (and likewise traditional file servers) for SharePoint Online.
In addition, SharePoint Online provides many other enterprise level features which are more in line with what traditional beefy file servers offer, such as granular & group-based permission sets, data loss protection rights, contextual enterprise search, and abstracted document libraries (file shares) which are managed top-down, and not bottom-up.
Another area where Google stumbles is with Outlook support. On the surface, they claim true Outlook compatibility with their GASMO add-in for Outlook. But as someone who has deep experience with the messes this tool has made at client sites, and how many upset customers have ditched the tool entirely, I'm not giving Google an easy pass in this area. Their Outlook support stance is half-baked at best.
It goes without saying that if you have a staff base which loves Outlook, or relies on its finer nuances, then you shouldn't be looking at Google Apps. Google's GASMO add-in may be fine for light Outlook users, but long time Outlook addicts will not be pleased over the long haul. Users on the Google Apps support forums have numerous, long threads running with various complaints, such as this one or this to name only a few.
While not a requirement for all companies, those who need to fulfill HIPAA compliance should note that Microsoft wins out doubly on this area. First off, Microsoft offers FULL HIPAA compliance across ALL services under the Office 365 umbrella. In another smoke and mirrors move on Google's part, they claim HIPAA compliance -- but dig under the surface, in their HIPAA implementation guide, and you'll find out that core services like Hangouts, Groups, and even Contacts cannot have any PHI stored within them.
That means any HIPAA covered entity which wanted to use Groups as a shared mailbox replacement wouldn't be able to do so. It also means that contact address books could not in any way have any PII stuffed into notes fields. And likewise, offices who were planning on using Hangouts to enable some form of telemedicine with patients must look elsewhere (Skype for Business is fully HIPAA compliant via end-to-end encryption utilized).
Another aspect of HIPAA compliance related to cloud email is the ability for an organization to ensure encryption for all data in-transit in addition to at-rest. While Microsoft doesn't bundle the necessary component into the small business plans, it does offer it at an economical $2/user/month additional, which happens to be their own first party service (Azure Rights Management, for those curious).
Google offers email encryption now via a third party called ZixCorp under the guise of Google Apps Message Encryption. Google has had a patchy past with email encryption, since it previously used to offer it as a first party add-on for its now-defunct Postini email spam and security suite. While I don't have inherent objection to a third party offering, something critical for more and more companies going forward needs to be easy to manage and cost effective. I just find Microsoft's lower price point here, and the "under one flag" approach, to be more palatable for the long haul.
Finally, for those who will be conducting online meetings with their new suite, Skype for Business as part of all Office 365 plans is decently more powerful out of the box compared to Google Hangouts. Not only is the 250 user max comfortably higher than Google's 15 user cap on Hangouts in meetings, but Google has had a horrendous track record with Hangouts as a stable platform.
PC World threw out a scathing report about this just a few months back, and other online musings like this add insult to injury. My own limited usage of Hangouts, for grad school needs and during a webinar-enabled presentation I put on at a local high school recently, has been pitiful and chock full of drops, errors, and bogus results.
In contrast, my entire company uses Skype for Business (formerly Lync) for all online meeting, IM, video, voice, and PSTN phone system needs, and it has been a relative pleasure. Not to mention, Microsoft makes S4B available on all major devices and platforms; unlike Google, that cherry picks its apps for Android and iOS only. With Windows 10 running on 50 million devices in only two weeks after its launch, Google's anti-Windows stance is troubling for a growing mobile and desktop user base.
Now that we compared the two giants on the small business end of things, how do they fare in the enterprise realm?
Enterprise Plans: Head to Head
One of the biggest differences for the enterprise plans Microsoft offers is that it removes the seat count limits that stand with its SMB focused plans. Therefore, both Google and Microsoft have unlimited user growth headroom for their respective plans at all price points in this head to head.
Here's how they stack up: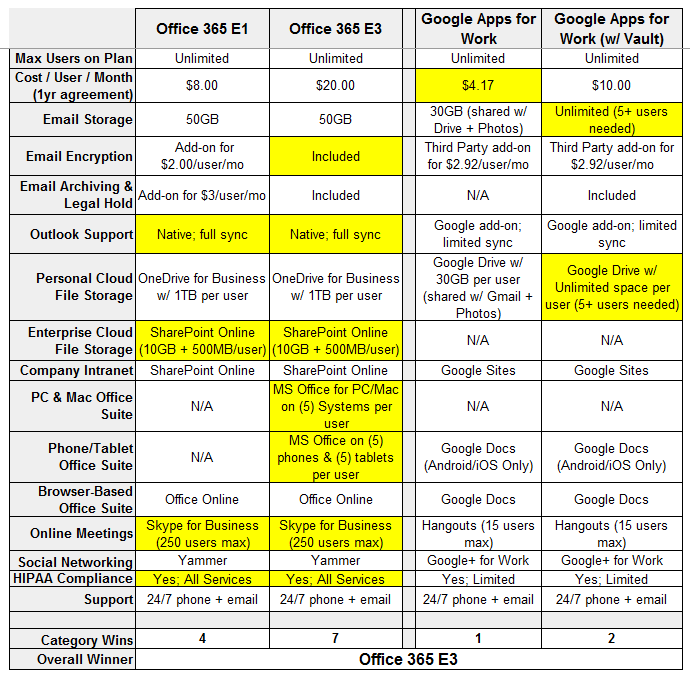 (All Content in Comparison Table Valid As of 8-16-2015)
Seeing as I covered much of the meaty discussion about inter-provider differences in the SMB section above, I won't dive into those same topics here. Instead, I want to focus on the facets specific solely to Microsoft's enterprise plans and how they compare to Google Apps for Work.
Once again, it's clear that Google wins on a pure dollar basis. Their highest priced plan comes in at $10/month/user while Microsoft caps out at $20/month/user. But as I described in good detail earlier, there's substance to the price differential which needs to be accounted for.
What you're getting for your money is much more important than just what your raw per-user monthly cost is, as I frequently remind my clients. Paying for third-party add-ons to tack on this function or that feature down the road gets costly, quick.
Two other areas Google still holds the crown in are email storage space at its highest priced plan, and Google Drive space for personal cloud file storage.
However, as I noted previously, Google places a 5 user minimum on this unlimited space -- meaning that if you have 4 or less users, you're knocked back down to 1TB per person. I don't appreciate Google's arbitrary baselines around the "unlimited" bucket of space, and gave them the wins here with noted reservation.
Many of Microsoft's other previous wins on its Office 365 Business Premium level are retained by the E3 plan which competes pretty directly against Google's highest plan offering in the enterprise space.
It should be noted that Microsoft tosses E3 subscribers two great bones compared to Biz Premium: included full blown email archiving/legal retention as well as complimentary email encryption for all of these seats.
One thing that I did not spell out in the above charts, but should be definitely noted, is that unlike Microsoft, Google does not allow for mixing user sets with differing plans. For example, you couldn't place the bosses on Google Apps w/ Vault and leave the lower staff on Google Apps standard. This means that for larger organizations, you either have to swallow everyone getting the higher end licensing, or opt to stay at the standard lower level.
I think this is a hit in the gut, and a sly way for Google to retake some lost revenue from selling Google Apps at such low price points, especially at the standard level. I bet many organizations would like to get Google Apps w/ Vault for a subset of users but not have to license the entire staff at that price point.
Microsoft, to its credit, removed a big barrier I rallied against in previous years, which was their insistence in keeping up an invisible barrier between SMB plans and Enterprise plans (note: ala carte plans are considered Enterprise plans in MS land). Since about late last year, those barriers have come down, and companies can freely mix/match licenses across all price points for their staff as they please, albeit still being capped at 300 seats for any of the SMB-focused plans.
This is great for companies, especially larger ones, that have needs to license subsets of staff with particular options (like email encryption, or bundling Office download rights) but then have other sets of users which only need basic email accounts -- which can be easily achieved on the cheap by obtaining bare Exchange Online licenses for the lowly $4/user/month.
In Google Apps land, it's an all or nothing proposition. For example, if you have 100 users, and want Vault rights for just half, you're getting Apps w/ Vault for all 100 at a monthly cost of $1000.
With Microsoft, we could concoct a licensing mix to get 50 users on Exchange Online for $200/month, and the rest get Business Essentials w/ Exchange Online Archiving added on for a total of $400/month -- or $600/month out the door. That's a sweet $400/month savings over Google, or $4800 less for the entire year.
It does add up, and these are some of the gotcha scenarios where Google Apps doesn't win on price. We have discussions with clients in predicaments like this all the time, and sometimes Google Apps wins out, but more often now, Microsoft, with its considerably more liberal licensing mix policies, is getting the lower-cost wins -- especially at larger organizations where large sets of users don't need all the fancy bells and whistles.
Tips on Pricing Google vs Microsoft for Your Potential Cloud Move
While I plan on writing a lengthy insider's guide to licensing Office 365 on the cheap, noting many of the tricks we use to save clients money on their monthly bills, here are some of the key points to remember when costing out the two giants for your own needs.
As is clear from the lengthy expose needed to highlight the differences between plans and vendors, pricing discussions are far from cut and dry. While Google tries to attract those shopping on raw price tag alone, there are substantive differences to account for, and gotchas to be careful of, like their reluctance to allow for mixing/matching Apps plan levels on the same account.
How do you objectively price out these suites in order to save the most money possible? Here's a few things from the blackhat FireLogic playbook of cloud email licensing.
Don't be afraid to piecemeal your needs. For the sake of brevity, I decided not to dig into Microsoft's ala carte plans on this piece due to length constraints. But they're a great way to bring down a monthly bill even further in many cases, but not all. Organizations can get ala carte licensing for things like email only (Exchange Online), Office download rights (365 ProPlus), archiving/legal retention (Exchange Online Archiving), and email encryption (Azure Rights Management), for example. Almost ANY offering in the all-you-can-eat plans can be purchased piecemeal to license as few as just a single user.
Ala carte additional storage is available when needed. Are advertised storage limits causing you to second guess your plan? Both Microsoft and Google offer ala carte storage increases for most of their offerings. Microsoft offers extra SharePoint storage space at an extra $0.20/GB, and Google offers pooled storage increases for the bucket shared by Gmail/Drive/Photos for individual users as well. Note that if you have users who need more than 50GB of email storage space in Office 365, they will need to have Exchange Online Archiving licensing (either ala carte or via E3) so that they can offload messages into their In-Place Archive. There's discussion about Microsoft raising this 50GB email limit by double, or removing it altogether, in the near future.
Microsoft's all-you-can-eat plans sometimes offer the best value. Sample situations are endless, but in many cases, Microsoft's buffet plans are better than going piecemeal. Take, for example, a 50 user organization that wants email, Skype for Business, and Office download rights for all users. They could piecemeal their needs for an out-the-door monthly total of $1075, or instead opt to get 365 Business Premium for all seats for a mere $625/month. If you don't have the capacity to calculate the various "what if?" scenarios on your own, reach out to an expert like myself who has experience running these numbers before jumping into a licensing agreement.
Google and Microsoft both offer free licensing to nonprofits and education. Don't pay for what you can otherwise get for free. Microsoft offers Office 365 to education and nonprofits at no cost for some plan levels, and likewise, Google does similar for education and nonprofit orgs. We have clients from all of these special sectors using each suite, and there are relatively few gotchas with the plans. The only uphill battle we continuously climb are nasty situations where nonprofit status is questioned by a vendor, which delays associated licensing indefinitely. I wrote a lengthy article on the topic of Office 365 for nonprofits previously since there are a lot of questions that come my way from that segment.
Still buying traditional Office licensing? Many people we encounter make the mistake of getting their company onto a plan like Office 365 Business Premium or E3, which includes Office download rights, and yet still continue to buy traditional office for their computers. That's heresy on your pocketbook. At either of these plan levels, each staff member is entitled to 5 free installs of Office on their Mac/PC machines, as well as on 5 distinct tablets as well as 5 smartphones. It makes even less sense in times like right now, where Office 2013/2011 is on the brink of being replaced with Office 2016 for Mac (already out) and for PC which is currently in preview. Leasing your Office licensing means you don't have to purchase specific yearly editions outright.
Remember to consider other paid services which Office 365 or Google Apps can replace. Many prospective cloud suite licensees forget about all those "other services" they subscribe to which can be eradicated by a move to Office 365 or Google Apps. Paying for Webex or GoToMeeting now? Skype for Business can easily replace those overpriced products. Dropbox for Business costs no less than $750/year for a group of 5 users, but SharePoint Online, and to some extent, Google Drive, can both eradicate that pricey service. You can even go as far as we did at FireLogic, and dump your cloud hosted PBX in lieu of Skype for Business phone service -- bringing all communications under a truly unified interface for your staff. The expensive onesie-twosie services out there which companies rely on can either partially, or fully, be replaced by native offerings from Office 365 or Google Apps.
Comparing the cost of keeping things on-premise? Numerous clients call us each month attempting to pit Office 365/Google Apps against on-premise cost comparisons. It would be silly to say that the cloud always wins. But in most cases these days, on-prem can't compete with the cloud. Why so? When comparing costs, many customers forget the numerous extras that need to be accounted for in on-premises environments. For traditional Exchange servers, this includes hardware cost for new servers, archiving licensing, archiving space, anti-spam licensing, Exchange per-seat licensing, AV licensing, installation labor, email encryption licensing, and ongoing maintenance costs for those systems. Too many people think that Exchange on-prem begins and ends at the cost of a server and Exchange licensing which is dishonest to the long term cost structure.
The above tips should help you gain a better baseline for understanding for how to objectively view your options based on actual business needs, and not over-licensing your company unnecessarily as is too often the case.
When is Microsoft or Google the Better Option?
While I provided the necessary facts above to help organizations make well rounded decisions on path, there are some hard truths that hold steady on the average when comparing Microsoft and Google.
Office 365 is usually better for organizations that:
Have large seat counts. Bigger companies rarely have a need to license all users at the same price and feature level, which is the mistake Google Apps makes in its two-sizes-fit-all licensing options. Not only does Microsoft allow for the easy mixing of licenses between Enterprise and Small-Midsize Business plans, but they also allow you to mix in any of the ala carte plans (email-only; OneDrive-only; etc) as well. This helps shave down costs heavily compared to licensing all staff at the plan level, which Google forces upon companies.
Want granular licensing control. Similar to my thoughts in the previous point, even smaller companies can take advantage of mixing/matching licensing to bring their recurring costs down. It's not uncommon for us to help smaller organizations license some users with email only, some with SharePoint only, and some with the full nine yards on a buffet plan. While Microsoft's licensing can be seen as complex, once you can make sense of it, it's a cost saving measure that can be seriously leveraged.
Are heavily reliant on Outlook. Google claims to support Outlook, but it's a feature in name only. If you don't believe my horror stories of the add-on, you can easily Google search it yourself. Companies with users that are beholden to Outlook shouldn't be considering Google Apps -- period.
Have HIPAA compliance needs. Again, Google claims HIPAA compliance (which took them years longer than Microsoft to offer, mind you) yet in reality it's only skin deep. Their own HIPAA guide states outright that only a subset of the Google Apps services meet compliance, with notable exclusions like Contacts and Hangouts being left in the dark. Microsoft's Office 365 HIPAA policy is very simple: all services are covered, all the time. And turning on end-to-end email encryption is not only cheaper in Office 365, but it's handled natively in the Exchange Admin Center, not third party like Google only offers.
Want to continue using desktop Office. Some people may debate this aspect with me, but there's no question that Microsoft's support of if its own desktop Office suite is far and above what Google offers with limited integrations and kowtows within Apps (namely, Drive). Microsoft not only has very liberal download rights on its two most popular buffet plans, Business Premium and E3, but the seamless tie-ins offered into OneDrive for Business and SharePoint are much cleaner than anything you will find with Google Drive.
Want to host large, complex online meetings and ditch GoToMeeting/Webex. Google Hangouts is a product stuck in what seems to be a near perpetual crawl to the finish line. And even at this point in its life, it still only offers a max of 15 users per meeting. Compared to the 250 that Skype for Business offers out of the box, this is quite weak in my opinion. Even basic webinars these days need room for more than 15 people.
And conversely, Google Apps is a better pick for organizations that:
Are content with a browser-based experience on the desktop. As mentioned earlier, Google's Outlook add-in shouldn't be relied upon for long term usage. But if you don't care for Outlook anyway, then Google offers a well-crafted and mature browser-based interface. Gmail, its core email product, has been in development now for over ten years and is very solid, even if it comes with some quirks. Google Docs, Hangouts, and its other sub services all have commendable browser-based experiences as well.
Don't care about any of Microsoft's value-adds. If you're looking to merely license your users on the dirt cheap and have no care for things like Office rights, Outlook connectivity, or SharePoint, then Google Apps for Work (non-Vault) may be a perfect pick. It's a very cheap option that offers a competitive product to Office 365, even if it lacks in many categories. But as I said, some companies have no need for the things where Microsoft wins out.
Are already entrenched in an Apple iOS or Google ChromeOS/Android ecosystem. Google has no love lost for Microsoft, and as such, their support for Windows, Windows Phone, and Windows 10's new Universal Apps ecosystem has been almost nonexistent. However, if you have a workforce depending on iPad, Android, or ChromeOS devices, then you may be an ideal candidate for Google Apps. The experience is well-cultured for workers who aren't tied to traditional PC or Apple desktops.
Don't rely on advanced formatting or formulas within Office files. Google Docs has been fighting an uphill battle with trying to bring itself into feature-parity with what MS Office can do, but it still has a long way to go. That said, Google Docs can be perfect for many organizations, as long as they don't have very complex Excel formulas, Word formatting, or intricate PowerPoint files which need to retain their original integrity. It goes without saying that Microsoft's own yard still offers a best of breed experience for these advanced situations.
Don't have issues with re-training their workforce in the "Google" way of working. We find that younger companies generally have an easier time adjusting to Google Apps with less training because younger teams are naturally more in tune with how Google's services function. But larger organizations which have already been entrenched in Office/Exchange/Outlook/SharePoint for years will need to be prepared for considerable re-training with any move to Google Apps. Moving without a training plan is recipe for disaster -- trust me, we've had to clean such situations up in the past. There's plenty of self-paced training available from Google, or you can call in professional trainers like we offer to hand-hold in the process.
While the above observations generally hold true based on what we see in the field, it goes without saying that there are always exceptions to the rule. Again, reach out to a trusted expert to get a third party opinion on which platform your organization may best be suited migrating to.
Further Reading
While pricing is an important part of the cloud productivity suite decision process, it surely isn't the only piece. I've structured this look at Office 365 as a four part series.
Direct links to the other parts of the series will be made available once they are posted.
Part 2: Email
Part 3: Cloud File Storage
Part 4: Unified Communications
Have a question for me which wasn't made clear in the series? Feel free to reach out directly via email at dw (at) firelogic.net (dot) net and I will do my best to answer.
Main Image credit: ChurchMag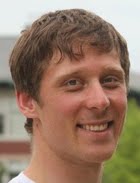 Derrick Wlodarz is an IT Specialist who owns Park Ridge, IL (USA) based technology consulting & service company FireLogic, with over eight+ years of IT experience in the private and public sectors. He holds numerous technical credentials from Microsoft, Google, and CompTIA and specializes in consulting customers on growing hot technologies such as Office 365, Google Apps, cloud-hosted VoIP, among others. Derrick is an active member of CompTIA's Subject Matter Expert Technical Advisory Council that shapes the future of CompTIA exams across the world. You can reach him at derrick at wlodarz dot net.