Acer unleashes Predator on gamers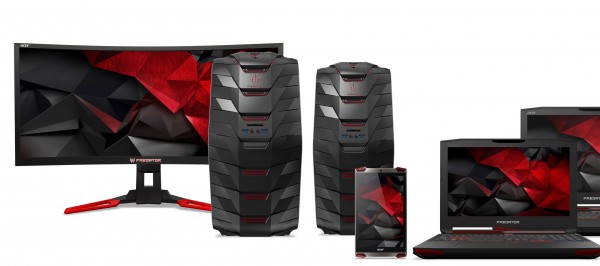 It's IFA Berlin, and Acer means business about play, unveiling new desktops, laptops, monitors, and tablets in its gaming series. The Predator G3 and G6 PCs get 6th-generation Intel Core processors and new thermal systems. The Predator 15 and 17 notebooks get 6th-gen processors and updated fan designs.
New monitors are available in 27, 28, or 35 inches. The new 8-inch tablet features FHD display and Intel Atom x7 processor.
Predator G3 and G6
Among the gaming PCs' features is what Acer calls "one punch overclocking". See full specs below (click to enlarge).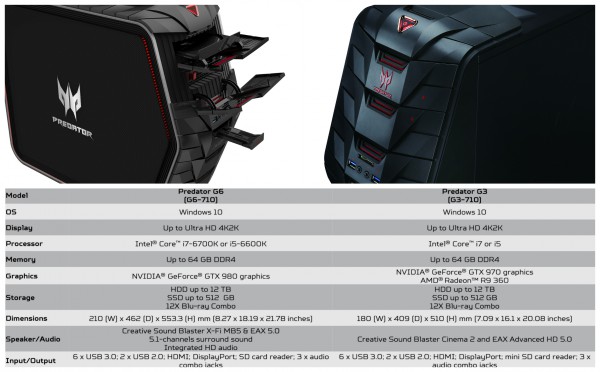 Europeans will be able to buy the Predator G6-710 desktop PC from mid-September, starting at €1,999. Pricing and configurations for North America will be revealed when the gaming desktop ships in October.
Predator 15 and 17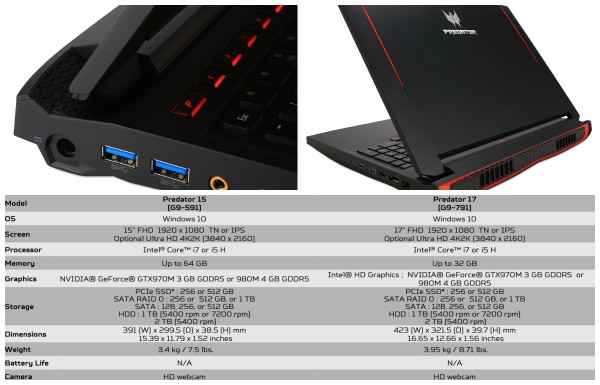 The gaming laptops will be available first in China, during October, with prices starting at ¥16,999. Everyone else waits until November. Predator 15 starting prices: $1,499.99, North America; €1,599 in Europe, Middle East, and Asia. Predator 17: $1,599.99 and €1,799, respectively.
Predator Monitors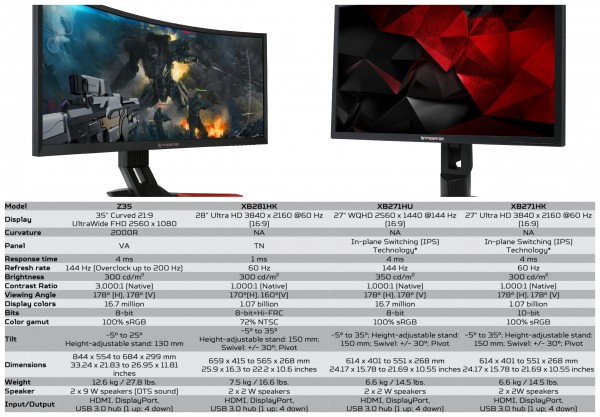 Predator XB1 Series monitors arrive in EMEA in October and the following month in North America. Respective starting prices: €699 and $799.99 The Predator Z35 is expected in December, starting at $1199.99 in North America and €1,099 in EMEA.
Predator Tablet 8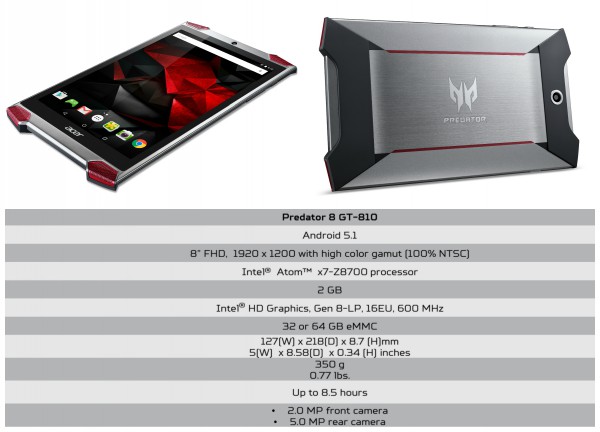 The gaming tablet lands in China and EMEA next month, selling for ¥2499 and €349, respectively. In North America, Newegg will kick off sales in November with a 14-day exclusive, ahead of other retailers. Price $299.99.