Spotify gets a new About screen with more features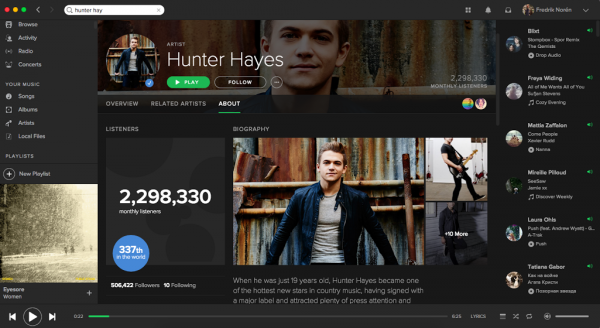 Music streaming sevices need to differentiate in order to stand out and hold market share. Features, as well as the song offerings, matter. Spotify is in a tight race with opposition from Google, Rdio, Apple and others. That means innovation is key.
The service has updated its "About" screen, bringing new features for its customers. Included are biographies with full screen browsing, global rankings based on monthly listeners, letting customers know where people are discovering the most popular artists, and even which city the artist is most popular in.
"Throughout the years one of our most popular features has been the ability to dig deeper into the music, from reading up on the history of your favorite artists to discovering related artists that you might learn to love. Today, we're excited to introduce our new About Page, serving you even more information and insights about your favorite artists", the streaming service announces.
The update is rolling out now, so customers will begin to see it shortly. "Spotify is always looking for new ways to bring artists and fans closer together".