AOC announces 16 inch 1080p USB 3.0 monitor (E1659FWUX-PRO)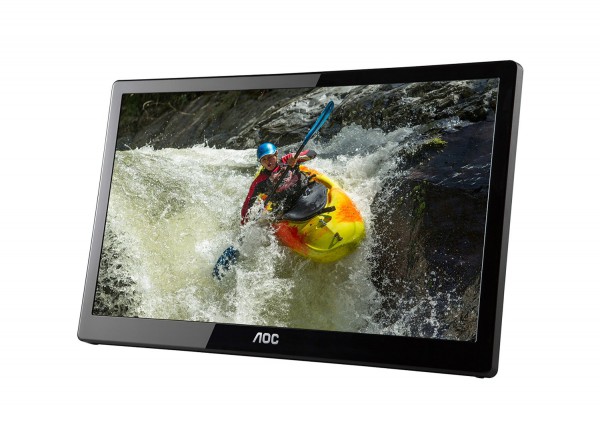 While some people have the luxury of a beautiful office, not everyone is so lucky. Many people, myself included, work wherever they can -- Starbucks, in a parked car, or a kitchen table to name a few. This is actually freeing, and can be conducive to creativity, but I digress. The downside, of course, is having to work with a single laptop display -- a multiple monitor setup can be a godsend for productivity.
Believe it or not, there are portable secondary monitors, which you can attach with USB to a laptop, tablet, or desktop if need be. Today, AOC announces a 16 inch USB 3.0 variant, featuring 1080p. It supports both Windows and OS X, but Linux distros may work too. Best of all? Not only is video transmitted by USB, but so is the power -- a single cable! Plus, the price is very affordable.
"Its 300cd/m2 brightness makes it the brightest in its class. The widescreen monitor receives both power and signal via a single USB cable for plug-and-play connection. This means it does not require a power cord or VGA cable, so you have one less cord to worry about. It is ultra-lightweight and slim for maximum portability, making it perfect for displaying visuals such as business presentations or adding a second monitor to your desktop for increased productivity. The Mac and PC Compatible HD Pro USB Monitor is the perfect solution for the frequent traveler who needs to pack multiple displays, as it easily fits into a suitcase and comes with a carrying case. The monitor also comes with a foldable stand that goes from landscape to portrait view mode with auto-pivot. It is available for today on Amazon.com for $199", says AOC.
The value-focused monitor manufacturer further says, "the HD Pro USB Monitor with its foldable flexi-stand is ideal for viewing in landscape or portrait mode. Landscape mode is ideal for presentations and Excel sheets, while the Portrait mode conveniently gives you an easy vertical view of your instant messaging programs, infographics, or search results. This monitor has a unique auto-pivot feature that automatically adjusts the image according to the display's orientation, so you will never have to change settings as you switch between landscape and portrait mode. The AOC HD Pro USB Monitor is also VESA 75 x 75 mm compliant, allowing you to easily mount the USB monitor to any wall. Multiple USB monitors can also be simultaneously connected to a single laptop or desktop computer to function as a multi-monitor PC or Mac, thanks to the built-in Display Link USB graphics".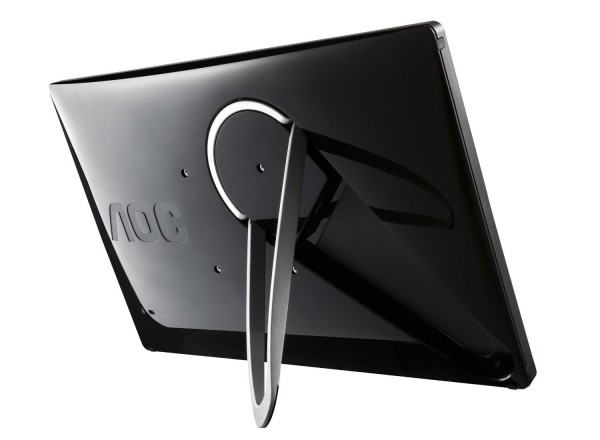 AOC shares the full specs below.
E1659FWUX-PRO
Pixel Pitch
0.252 (H) mm x 0.252 (v) mm
Display Area
344.2 mm x 193.5 mm
Brightness
300 cd/m2 (typ)
Contrast Ratio
500:1 (static)
Response Time
11ms (GtG)
Viewing Angle
Horizontal: 90 Degrees (CR>10)Vertical: 65 Degrees (CR>10)
Scanning Frequency
Horizontal: 48KHzVertical: 60 Hz
Optimal Resolution
Recommended
[email protected]@60Hz
Supported Resolutions
[email protected] for extended [email protected] for extended [email protected] for extended [email protected] for extended mode
Color Depth
262K
Connectors
1 x Micro USB 3.0
User Control
None
Adjustability
Tilt: 15° ~ 30°, Auto Pivot
Power Source
PC USB 5V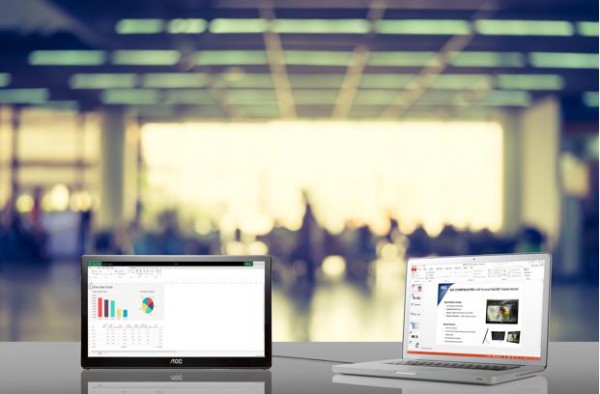 Imagine sitting in Starbucks, and working on your laptop. Something comes up that requires intense multitasking, so you pull out this USB display (E1659FWUX-PRO), connect one cable and you are off to the races. How cool is it to have a svelte additional monitor in your bag? The $200 investment could pay for itself quickly when your increased productivity is factored in.
It is not yet in stock at Amazon, but you can order it here now for when stock comes in.