LG V10 flagship boasts two screens and three cameras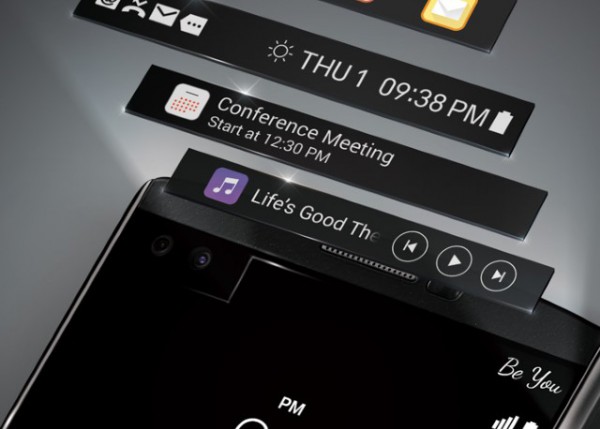 In addition to the LG Watch Urbane 2nd Edition, today LG also announces its V10 Android phone with a secondary display. This is the device we got a sneak peek at a few days ago and, like the Huawei-made Nexus 6P, this is a premium level handset with a full metal body which builds on the specifications of the G4.
But the LG V10's standout feature is its secondary screen. In addition to the main 5.7-inch display, there is a second, narrow screen at the top of the handset that can be used not only to display notifications, but also to house shortcuts. This is not the only surprise on the front of the phone -- there are also two cameras.
With a removable battery and expandable memory, the LG V10 gets off to a great start, but it is the Galaxy Note Edge-aping extra screen that is the real attention-grabber. This smaller display is always on. When the main display is asleep, it is used to display notifications; when it is awake, it is used for shortcuts and notifications.
Described as offering a new multimedia experience, the V10's three cameras make for a unique experience. LG says that the wide angle lens makes it easy to take group selfies, while "multi-view Recording can capture different angles utilizing all three cameras". The handset is also touted as the first to offer a manual mode for video; it is possible to record in HD, FHD, or UHD and 16:9 standard or 21:9 cinematic aspect ratios.
It's not clear when the phone will launch, but it is destined for South Korea later this month, and is due for release in the US, China, and other countries afterwards.
The LG V10 will be available in Space Black, Luxe White, Modern Beige, Ocean Blue, Opal Blue, and boasts the following specs:
Chipset: Qualcomm Snapdragon 808 Processor
Display: Main -- 5.7-inch QHD IPS Quantum Display (2560 x 1440 / 513ppi),  Secondary -- 2.1-inch IPS Quantum Display (160 x 1040 / 513ppi)
Memory: 4GB LPDDR3 RAM / 64GB eMMC ROM / microSD (up to 2TB)
Camera: Rear -- 16MP with F1.8 Aperture / OIS 2.0  Front -- 5MP Dual Lens (80 degree Standard Angle / 120 degree Wide Angle)
Battery: 3,000mAh (removable)
OS: Android 5.1.1 Lollipop
Size: 159.6 x 79.3 x 8.6mm
Weight: 192g
Network: LTE-A Cat. 6
Connectivity: Wi-Fi 802.11 a, b, g, n, ac / Bluetooth 4.1 / NFC / USB 2.0
LG has also published a product video showcasing the V10: