NETGEAR unveils hardcore Nighthawk X8 AC5300 Smart 802.11ac WiFi Router (R8500)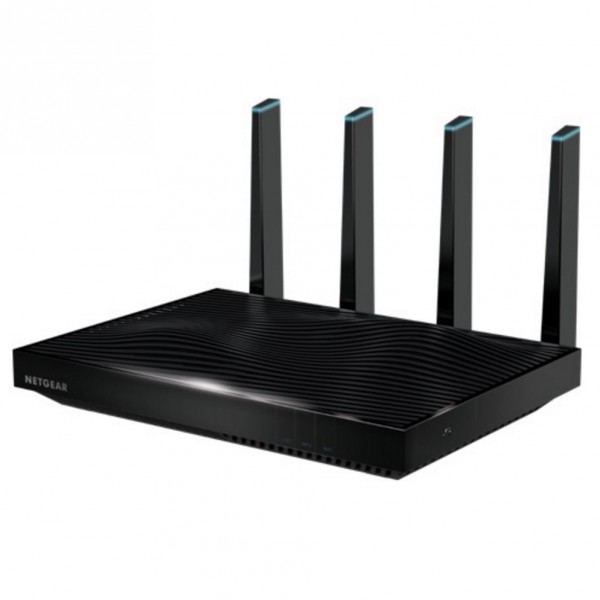 Routers are a dime a dozen nowadays, so it can be hard to get excited about them. Even budget routers can offer great speeds, although I recommend sticking with quality brands to ensure reliability.
One such quality brand is NETGEAR, and today, the company has announced a router that has me genuinely excited. The Nighthawk X8 AC5300 Smart WiFi Router (R8500) is chock full of hardcore hardware specs and industry firsts. While the price tag is high, it looks totally worth it. Seriously folks, this looks incredible.
"Engineered from the ground up with a stylish modern design, the Nighthawk X8 is performance perfected with the new Wave 2 AC Wi-Fi. It is powered by an extremely powerful 1.4GHz dual core processor for faster connections; the industry's first, patent-pending Active Antennas to boost range; and three Wi-Fi bands with quad-streams, 1024 QAM, and MU-MIMO capable for the fastest Wi-Fi speeds. It also supports more wired connections with six Gigabit Ethernet ports including two that can be aggregated for faster file transfers. All told, the Nighthawk X8 pushes wireless performance and range to an extreme that is required for enabling your increasingly always-on networked life", says NETGEAR.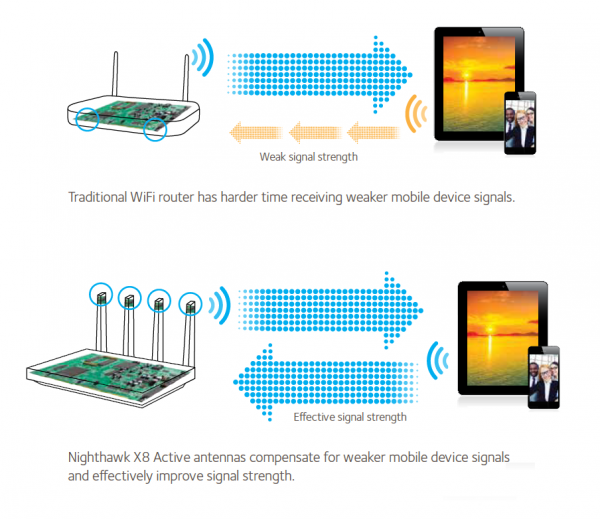 The popular networking company further explains, "Nighthawk X8 boasts a total of eight antennas, four internal and four patent-pending external Active Antennas -- the industry's first -- that boost the wireless range of the Nighthawk X8. Unlike typical antennas that simply relay the Wi-Fi signal received from your devices to the router, Active Antennas amplify the Wi-Fi signal within the external antenna itself. They eliminate loss in signal strength and avoid any additional noise during transmission. Active Antennas effectively compensate for the low power of Wi-Fi devices to provide a more symmetrical connection for both receiving and sending wireless signals, which contributes to improving overall range and speed at long range".
Be still, my heart. This is the type of hardware that makes tech geeks like me giddy. Sure, it is overkill for many, but NETGEAR deserves major kudos for pushing the envelope and improving home networking technology overall. Active Antennas are super cool, and should prove useful for very spacious homes or small businesses. Hardware specs aside, it looks attractive too, so you will have no problem putting this in your living room or office.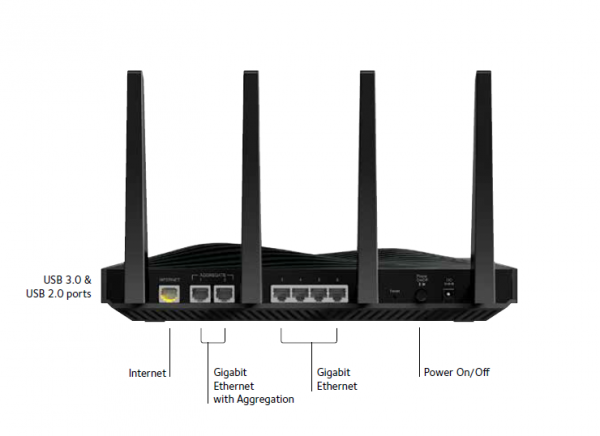 Six wired gigabit Ethernet ports are impressive, making Google's OnHub router, with its single port, look downright pathetic. The router also features two USB ports -- one is 2.0 and the other 3.0 -- for connecting storage drives and printers.
If you want to buy it, you can get it now from many major retailers. The price, however, may shock you. The MSRP is $399, making it more expensive than some consumers' home PCs. With that said, if you have a large family that saturates your network with devices, you cannot put a price on a fast and reliable connection. NETGEAR makes quality routers, and this should last you many years.