Satechi announces USB Type-C Hub Adapter for Apple MacBook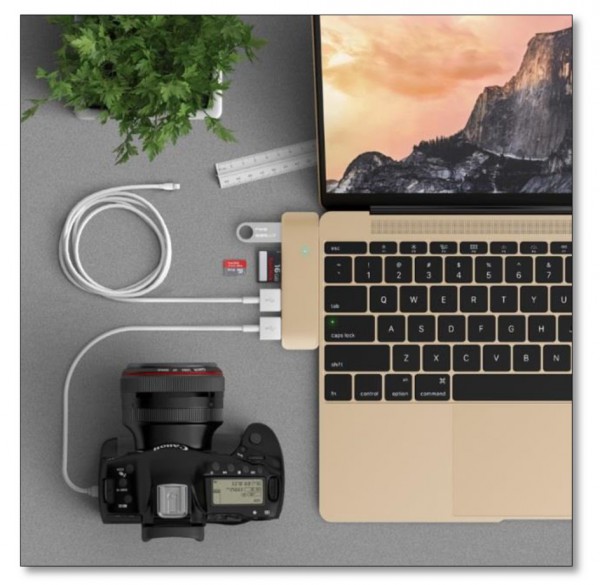 Apple's super-thin MacBook is wonderful in many areas; however, there is a particular aspect that is arguably deficient. You see, it has a cutting-edge USB 3.1 Type-C port, which is awesome, but that, unfortunately, is the only port (besides a 3.5mm audio jack).
If you need to connect multiple USB Type-A devices, or access an SD (or micro SD) card, you are out of luck. Luckily, accessory-makers are always creating products to meet consumers' needs. Today, Satechi announces its Type-C Hub Adapter for Apple MacBook.
"The new Satechi Type-C Hub Adapter is the ideal solution for MacBook users who want to keep using their traditional USB peripherals with the newest Type-C port. The adapter expands Type-C USB 3.1 ports into three Type-A USB 3.0 ports, an SD Card slot and a Micro SD Card slot, so users won't have to perform a full-scale upgrade of diverse peripherals", says Satechi.
The popular accessory manufacturer further says, "available in gunmetal, silver and gold, the Type-C Hub adapter perfectly complements the new MacBook. With the expansion of other devices implementing the Type-C ports, such as the Nokia N1 tablet and Google Chromebook Pixel, the aluminum hub helps retain full-functionality of devices that typically use Type-A connections, such as charging cables, cameras, mice and printers".
While this hub will work with any Type-C computer, including the Chromebook Pixel, it is clearly designed for the MacBook; the available accessory colors match the ones available on Apple's laptop. Unfortunately, it does not have a Type-C port for charging, so you cannot charge the MacBook while using this hub.

If you are interested in buying, it is $34.99 and can be ordered here. It appears to be currently out of stock, but Amazon says it will be available on November 1.