Pandora makes music discovery even easier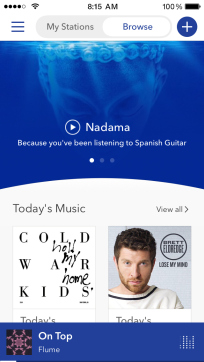 Music services are an ever increasing market, with new ones popping up all the time. There are a few that have distanced themselves from the pack, though. One of those is Pandora which takes a song and analyzes it in an effort to create a station with similar music. You can argue if this works, but it does in most cases, at least based in my experience,
Now Tim Westergren's little hobby is launch an enhanced discover service in an effort to make it even easier to find music.
"This week we are introducing a new destination to discover music and a refreshed mobile experience to a limited number of listeners. Browse can help you find the perfect station to satisfy any musical mood because everything you see is personalized. It's also dynamic so it evolves with your musical taste. In this new experience you can easily explore all the countless stations that our musicologists have carefully curated just for you", says Chris Phillips of Pandora.
The service is also boating easier navigation which makes it easier to find your station and claims music is "always a tap away".
The company promises that more innovations are coming in the future. Pandora calls this just a small preview od what is to come.