Emsisoft Anti-Malware 11 ships with native 64-bit build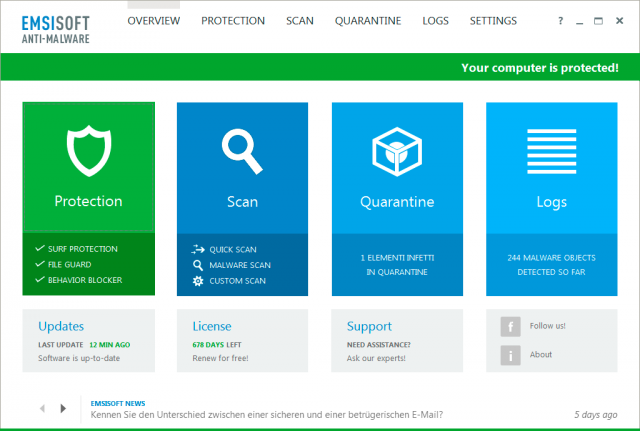 Emsisoft has announced the release of Emsisoft Anti-Malware 11 and Emsisoft Internet Security 11. Scanning has improved with better detection of ransomware, file-less malware, and threats which try to exploit script parsers and other host processes.
The products are smarter, too, and are now able to block many intrusion and exploitation attempts without annoying alerts.
Impact on your system has been reduced, with assorted performance improvements, and fewer reboots required on software updates.
It's good to see the products finally have native 64-bit support. The installer file includes both 32 and 64-bit builds, too, so you don't have to search for the right one.
Unfortunately this streamlining also means there's no support for Windows XP or Vista any more; you'll need Windows 7 or later.
Still, overall this looks like a solid update -- especially as it's only 6 months since the last major release -- and if you're interested in the product or the company, it's worth a try.
Emsisoft Anti-Malware 11 and Emsisoft Internet Security 11 are available now for Windows 7 and later.