Do you have wireless dead zones in your home? The NETGEAR PowerLINE WiFi 1000 can help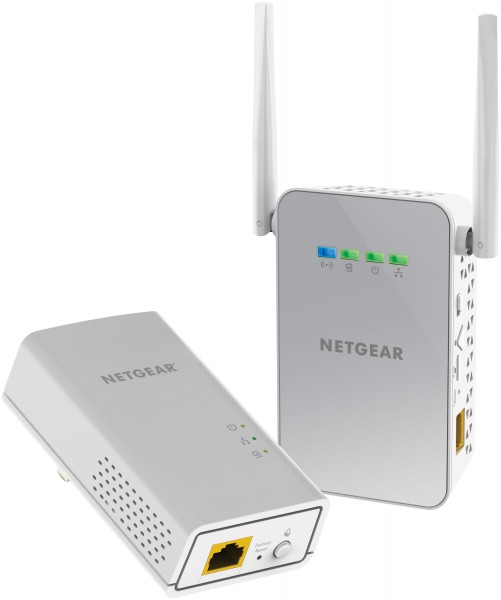 Depending on your home, Wi-Fi could be brilliant or torturous. In a small house or apartment, there is a good chance your signal will be strong throughout. In a large house with many floors, however, you may face the dreaded dead zones -- rooms that either don't get Wi-Fi, or experience degraded connectivity. Sorry to be crude, but that totally sucks, and is understandably frustrating.
A good alternative is powerline adapters. If you aren't familiar, this technology transmits an internet connection through your home's electrical wiring. Unfortunately, they work best for stationary machines -- not smartphones or tablets. Today, NETGEAR announces a product that blends both technologies in an incredibly smart way. Say goodbye to dead spots -- the PowerLINE WiFi 1000 can render them nonexistent.
"Using blazing-fast Gigabit powerline technology compliant with the HomePlug AV2 standard, PowerLINE WiFi 1000 Adapters send data through your home's electrical outlets -- at twice the speed of previous 500Mbps powerline products -- for plug-and-play Internet connectivity. Without running new wires or drilling holes in walls to install Ethernet cables, PowerLINE WiFi creates an extra WiFi hotspot in any room to eliminate weak signals or "dead" zones and provides super-fast 802.11ac WiFi connectivity. Now your mobile devices can get the fastest WiFi speeds even in the hardest-to-reach areas of your home", says NETGEAR.
The company explains, "simply plug your PowerLINE WiFi 1000 adapter into an electrical outlet and connect the adapter directly to your router. Then position the companion PowerLINE WiFi access point, using its signal strength LED indicators to identify the best electrical outlet for placement. Your WiFi connection is then able to leap through walls and floors, putting an end to dead zones even in basements and other hard-to-reach areas. The PowerLINE WiFi access point has two external antennas to increase the range and reliability of the WiFi connection, enabling your family to enjoy lag-free 4K HD video streaming, lightning-fast gaming, and web surfing without worrying about a weak signal".
So how does this work? Well, you would connect the non-antenna dongle using Ethernet to one of your router's wired ports. The same dongle would then be plugged into your electrical outlet. The other dongle, with the antenna, would be placed on the floor, or in the room, where there is a dead spot. This will now act as a hotspot with unique SSID. You can now use mobile devices in those areas without worry. Depending on the size of your house, you could, in theory, connect as many as needed. Well, technically you are limited by the ports on your router, but you could buy a switch to add more.
If you want to buy it, you do not have to wait. The The NETGEAR PowerLINE WiFi 1000 is available today for $120. While this is a bit pricey -- potentially more expensive than your router -- can you really put a price on a solid Wi-Fi connection? If it eliminates your dead zones, this will be worth every penny.