10 reasons why I don't use Microsoft Edge, and one why I do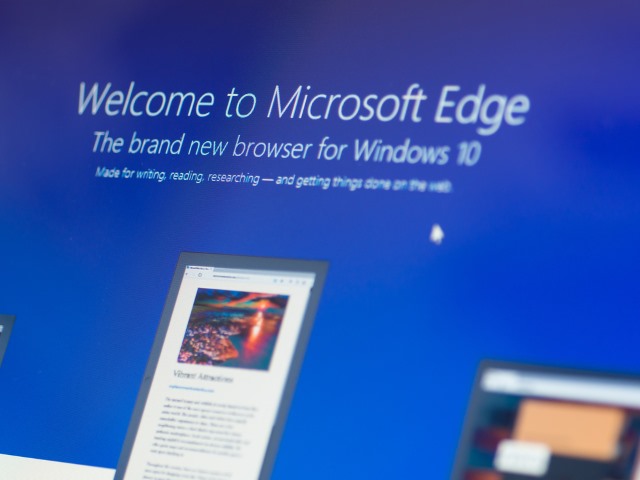 Microsoft Edge is the default system browser on Windows 10. Microsoft ships the operating system with Internet Explorer as well, and it is easy enough to use either one of the browsers to download Firefox, Chrome, Opera or any of the other browsers available for Windows.
When Windows 10 came out, I was interested in Microsoft Edge for a number of reasons. It is a new browser by Microsoft that did away with old dependencies that held Internet Explorer back. That should make it sleeker, faster and less prone to attacks.
Edge gives that impression on start. It is fast, displays only a few mandatory elements in the interface, and works well on most sites you open using it.
If you dig deeper, or compare it to established browsers, you will notice that it lacks many features that most Internet users would call essential or at least "nice to have".
Microsoft is working on adding some of those; it introduced options to clear browsing data on exit automatically and a "save to" option to the most recent Insider Preview build for instance.
10 Reasons why I don't use Microsoft Edge
The following reasons are why I don't use Microsoft Edge more often, let alone as the main system browser.
1. No Extension Support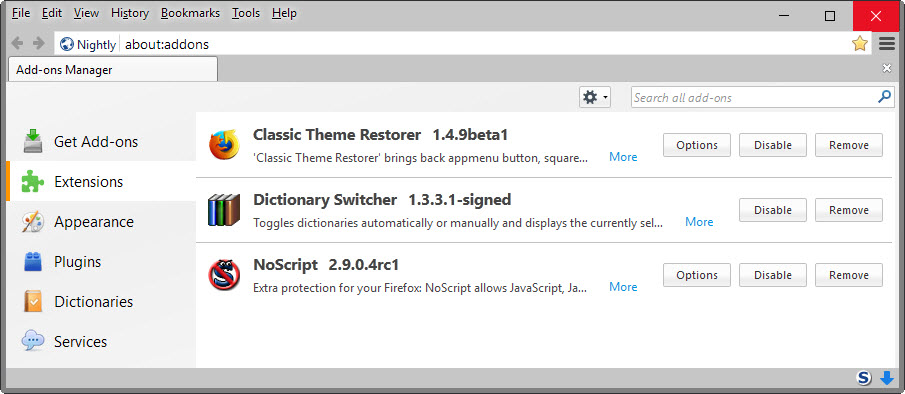 Microsoft Edge will support browser extensions eventually, but the technology is not there yet. Microsoft promised that extensions are a top priority but nothing has come out of this so far.
Even when extension support is added to Edge on stable builds of Windows 10, it is not the end of it as the usefulness of that feature depends largely on developer support.
If you look back at plugins and add-ons for Internet Explorer, you will come to the conclusion that there were few available for the browser despite its overall usage share.
It certainly had something to do with how add-ons were created for Internet Explorer, and Edge will make that easier according to Microsoft.
Still, after launch, only a handful of extensions will be made available initially.
2. Barely any interface customization options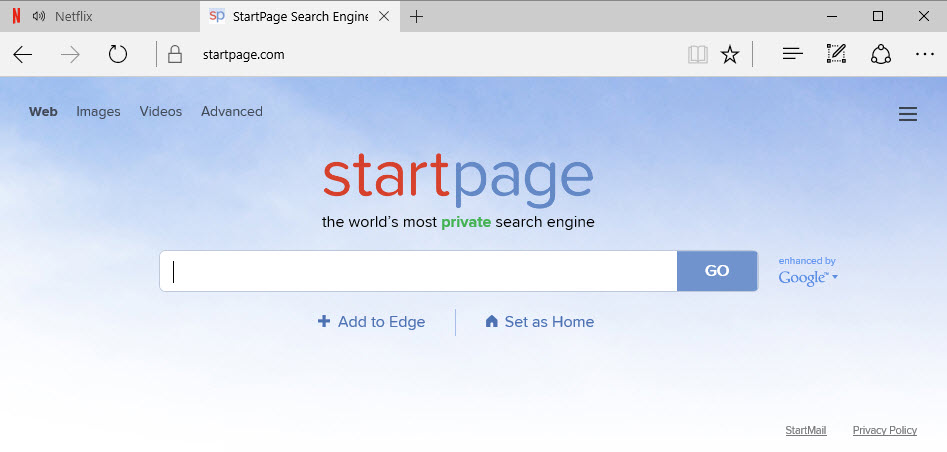 I'm a spoiled Firefox user who -- still -- has options to modify the browser interface to his liking. I can add or remove elements, and move most around without issues.
Edge, just like Google Chrome, limits this to hiding or displaying the favorites bar. There is no option to move icons around or remove them from the browser, and no advanced customization features that allow you to display tabs in a sidebar, add a status bar to the browser UI, or change colors.
I cannot remove the "make a web note" or "share web note" icons for instance even though I will never use those features.
"What you see is what you get" seems to be the motto right now. The only option provided is to add a home button to the interface.
3. Adding Search Engines is a pain, switching between them too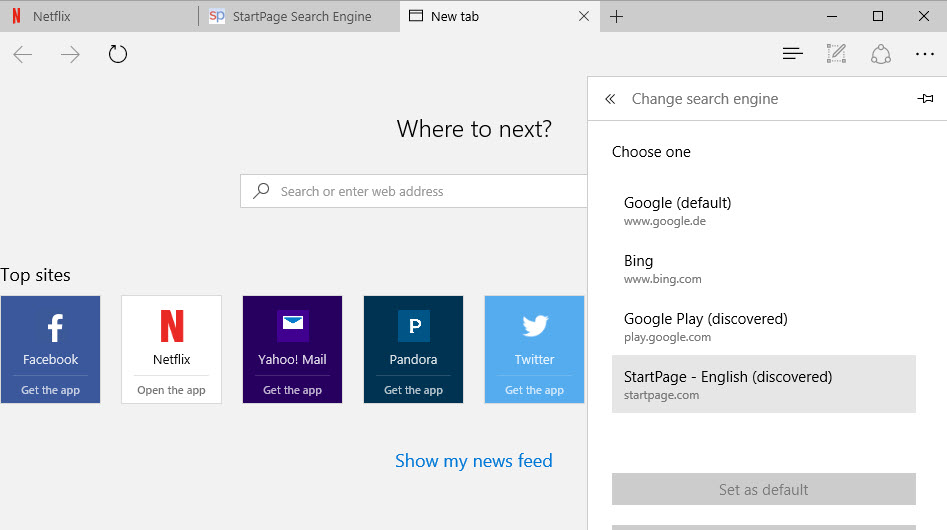 Microsoft Edge ships with Bing as the default search engine. It may also include other search engines that you can pick one from, but there is no apparent option to add search engines that are not listed on the configuration page to the browser.
The only option provided right now is to use the discovery feature. This works only if the search engine supports OpenSearch. All you need to do in this case is to visit it, run a search, and open the Edge Settings afterwards to change the default search engine to the newly discovered one.
Select the three dots at the top, and then Settings from the context menu that opens.
Scroll down and select "view advanced settings".
Find "search in the address bar with" and click on the change button.
Select a search engine from the list, and click on "set as default" to make it the new default search engine in Microsoft Edge.
An easy option to switch between search engines is missing as well.
4. The Missing Address Bar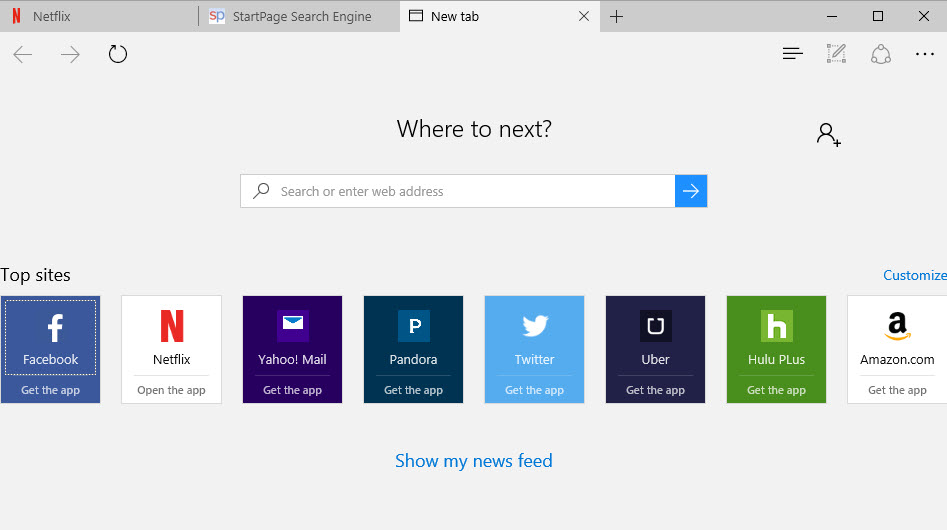 When you open a new Tab Page in Microsoft Edge, the address bar is removed from the browser UI and all you get is a "Where to next" field on the page which acts as a combined search field and address bar.
This is inconsistent and in my opinion a decision that leads to bad usability. A browser should not modify the core UI ever, and the address bar is probably the most important element a web browser has to offer.
The address bar appears if you scroll down on the new tab page, and if you do, you cannot scroll up anymore to display the in-page "where to next" field instead.
5. The "fly-out" Settings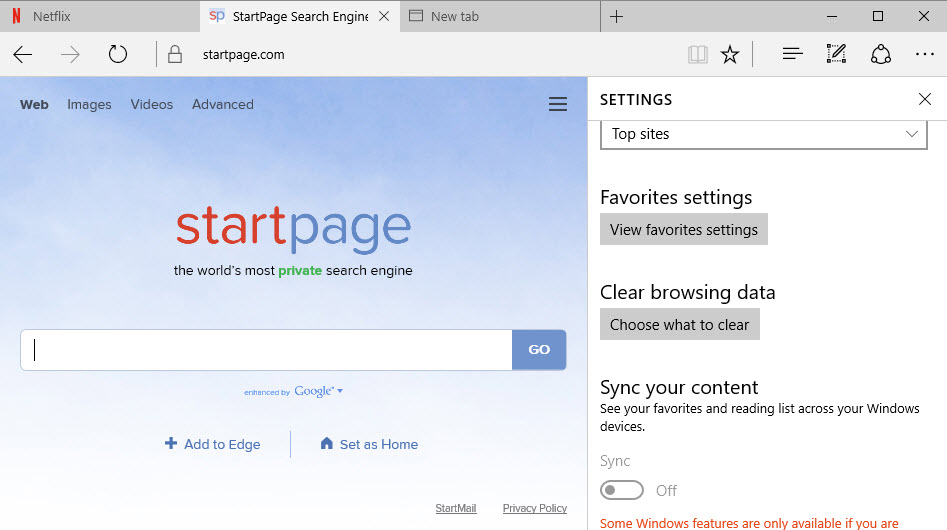 If you select Settings from the main menu at the top, you will notice that Settings are displayed as a fly-out menu in Microsoft Edge.
The main issue here is that the Settings don't use the available browser window which means that there is lots of scrolling involved to go through them and that it is not as easy to get an overview of what is available.
You can click on the pin icon to display the Settings permanently on the screen, but that takes away space from websites that you open in the browser.
6. Not displaying protocols in the address bar is bad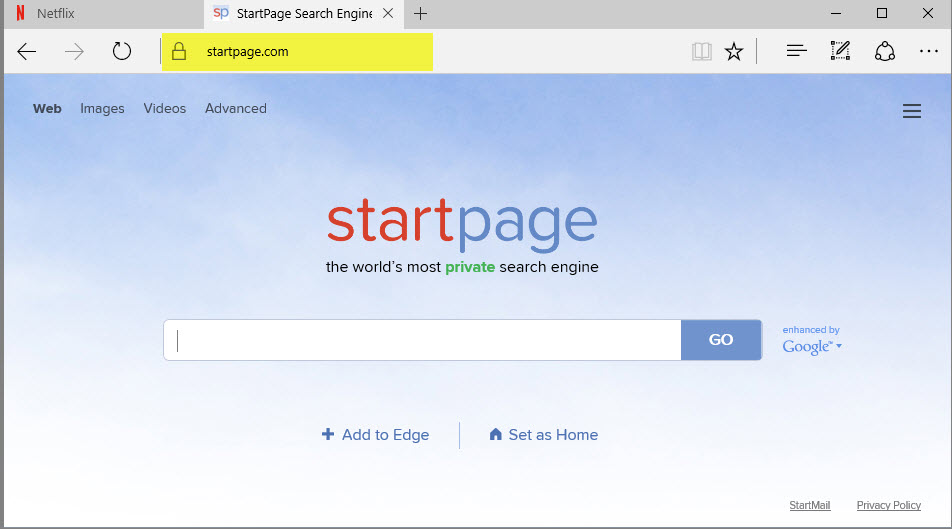 Microsoft Edge does not display the protocol used to connect to the active site. The only indicator it gives that you are connected to a secure site (https) is the lock icon in front of the address.
You can click in the address bar field to display the full url, but that is impracticable for a number of reasons.
In addition, the secure icon should use color indicators (green and red) as this is how all other browsers handle these visualizations.
7. Favorites and History management use fly-out menus too, no search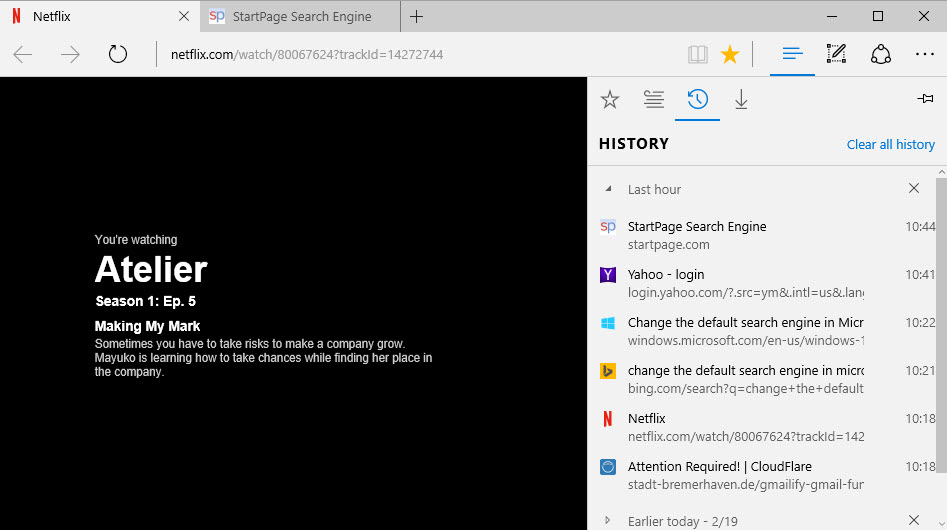 If you manage a lot of favorites, or need to browse the history, you will notice that Edge displays these in a fly-out menu as well.
The menu has the same issues as the Settings one, namely that its width is limited and that there is no option to display the data on a page using the full width of the browser window.
The display lists only a handful of links before you need to start scrolling, and there is no search available to quickly find what you are looking for.
There is also no option to sort the favorites quickly, for instance by recency or number of visits.
8. No tab history

While you can right-click on any tab open in the browser to reopen closed tabs, there is no option to quickly go through a list of closed tabs to open the one you are looking for, or to display all sites that were loaded in the tab previously.
Chrome and Firefox users can right-click on the back or forward icons to display previously visited sites which makes it easier to open these again.
9. No user profiles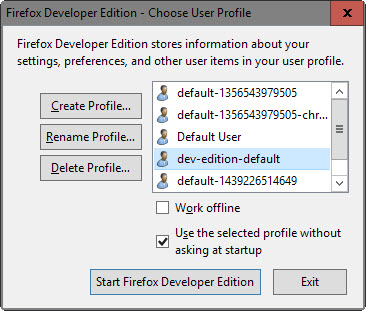 I use multiple user profiles in Firefox for different tasks. One for work, one for regular web browsing, one for testing, and another for secure activities such as online banking.
These profiles are configured differently depending on the activity, they use different extensions, and they help me separate work from other activities.
Microsoft Edge does not support user profiles currently which means that you are stuck with a single profile for all activity.
10. Right-click search with default search engine, not Bing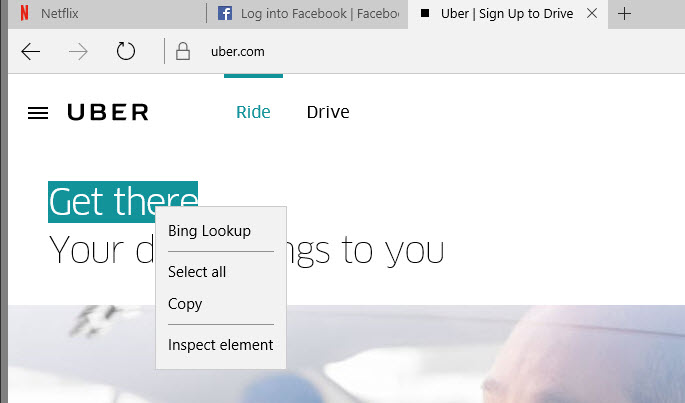 When you select text in Microsoft Edge and right-click, you get an option to search using the Bing search engine.
This option is hardcoded in the browser, and does not change even if you change the default search engine of Microsoft Edge.
Bing Lookup should change to whatever search engine you have selected as the default one.
What I DO use Microsoft Edge for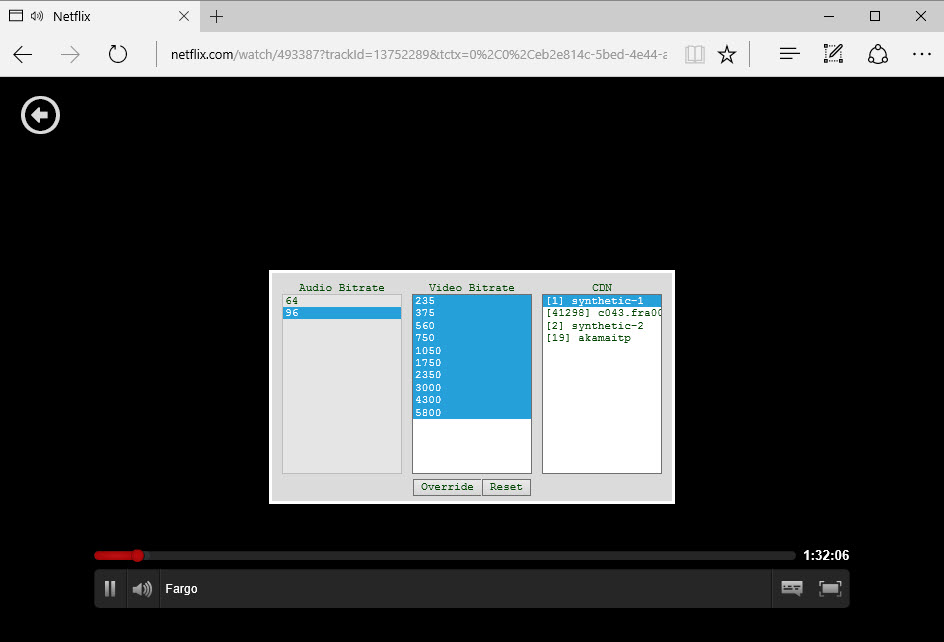 I use Microsoft Edge to watch Netflix. The reason I do so is because it supports higher resolutions than any of the other web browsers on Windows when the HTML5 player is used.
Microsoft Edge supports resolutions up to 1080p while both Firefox and Chrome are limited to 720p each.
You can verify this on your machine by using the shortcut Ctrl-Shift-Alt-S while a video is playing. It displays information about all supported audio and video bitrates.
You will notice that Chrome and Firefox don't support the highest bitrates that Microsoft Edge supports.
Now You: Are you using Microsoft Edge?
Photo credit: T.Dallas / Shutterstock