The top 5 myths about Virtual Mobile Infrastructure (and, oh yeah, the facts)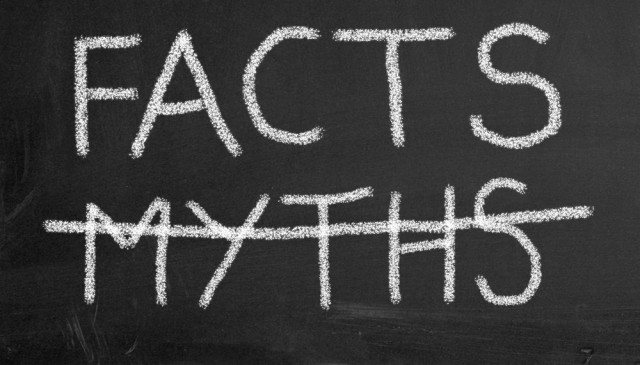 With more and more enterprises recognizing the need to go beyond securing devices while still finding an effective way to deploy native mobile apps to employees, it's little wonder that remote enterprise approaches like Virtual Mobile Infrastructure (VMI) are receiving more eyeballs in the enterprise mobility space and the scrutiny that comes along with it. With this comes questions, doubts and even fears over the whether this new approach can really fulfill on its promise.
In fact, fears can spiral into outright myths if left to fester. Remember the myth that Macs couldn't get viruses? We all know how that claim turned out. To this end and, without further ado, here's the truth about five of the most common myths you may have heard about VMI.
Myth 1. No Offline Access Equals a BYOD No Go
It's true that like Virtual Desktop Infrastructure (VDI), apps running on a remote virtual platform require either Wi-Fi access or a cellular network connection to work. If there are too many instances where employees can't effectively work with their apps, what's the point, right?
Fact: Offline Disadvantages Are Outdated and Overblown
There are several reasons why this fear is overstated.
Today's top mobile apps need online access too. Nothing stays static in the mobile world. Just take an inventory of most of the mobile apps that offer true BYOD value for enterprises, and therefore most in demand. They're in demand because their features compliment contemporary mobile workflow.
This means supporting mobile sensor functionality, be it GPS, movement, angular rotation, Near field communication (NFC), and camera amongst others. To work these services need online connectivity as well.
Try getting uninterrupted data on the train or in the air for a locally installed app. Not that reliable is it? Your users know and expect this, and the offline issue is much less a factor than initially perceived. Whether remote or installed on the device, an increasing majority of business-class apps are only effective when online.
Mobile coverage is steadily and markedly improving: This would really hamper BYOD productivity for most industries, if we were operating in 2006. Mobile networks have evolved to such an extent that getting reliable 3/4G or WiFi connection is no longer much of a hindrance. There are still some industries where working with poor or non-existent mobile coverage is a requirement. By and large, unless you're underground or in the air, mobile networks have improved by leaps and bounds and are only getting better.
Myth 2. Remote Mobile Apps Must Mean Poor User Experience
Under VMI apps are run on a mobile OS in the data center. Naturally, this could lead you to assume that the performance would be unreliable and suffer from latency, compromising the UX delivered to end users. But it's an assumption largely held by people who have never seen VMI in action for themselves.
Fact: Feedback on UX for Virtualized Mobile Apps Is Comparable to Native Apps
Some of these assumptions stem from comparisons with VDI shortcomings, but this is one of the areas where VMI needs to be understood in the proper context.
Rather than trying to fit Windows desktop apps to a mobile environment, VMI uses a mobile virtual machine (VM) which is created specifically to work on Android and iOS devices. Its foundation is built upon solid performance over mobile networks. A critical part of this architecture is the remote display protocol which connects with a thin client app installed on the endpoint.
Virtualized mobile apps are engineered for touch screen functionality, mobile sensor support, minimal latency, fast response time and bandwidth efficiency. This lets employees work with apps optimized for mobile form factors and touch input rather than Windows desktops. Apps deployed under VMI provide significantly better mobile user experience than desktop virtualization and very comparable to working native apps.
Myth 3. VMI Data Center and Infrastructure Costs are Prohibitively Costly
VMI solutions are almost always compared with VDI and MDM/EMM offerings including price. So, is installing VMI more expensive than VDI or EMM?
Fact: True VMI Costs Are a Fraction of VDI and Less than EMM
Let's start with VMI vs. VDI. With VDI, you're working with a heavy OS in Windows which often demands between one and two gigabytes of memory for every VM. This limits the amount of sessions that can be supported at the same time.
On the other hand, VMI architecture can support between 20-30 concurrent users per VM (based on the Nubo VMI platform). VMI cloud deployment is high-density and lets over 10,000 employees take advantage of mobile app virtualization benefits.
Now let's put this in the real world context of a BYOD program. VMI lets enterprises completely cut out devices from their network as well as their budget. They no longer have to finance handsets for their employees, saving drastically on hardware costs. They also don't have to incur hefty Windows suite licensing fees. The result? Overall VMI deployment will run you just 10 percent of VDI.
But how does the cost of BYOD with VMI stack up to EMM? If you're simply comparing installation costs then you'll view VMI as pricier than an MDM or EMM suite. But this doesn't come close to capturing the big picture of why you're installing an enterprise mobility platform in the first place -- and the costs that come with it.
With EMM solutions the cost only begins here. In order for your organization to actually 'BYOD', you'll need to add IT resources to manage your growing network of smartphones and tablets, and all of the risks which threaten your app and data security.
From lost and stolen devices, to upgrading OS and app versions, applying patches against vulnerabilities, maintenance and support for end users, and app development and deployment, the resources needed to run and police your BYOD program easily exceed that of running your entire application environment remotely.
Myth 4. VMI Is Too New and Unproven
This concern is both understandable and natural. Virtually every new technology must go through this maturation process and be able to address the doubts and fears that lurk in the hearts and minds of industry peers.
Fact: VMI Is Being Championed by the Most Highly Regulated Industries 
In the past few years the maturation of VMI can be seen in its adoption by industries managing the most sensitive data, including defense and public safety departments, government branches, hospitals and healthcare providers, banks and financial institutions.
These sectors recognize VMI's ability to help them ensure compliance with data privacy regulations. As more enterprises continue to ramp up their mobile business strategies, they'll also require greater app and data security assurances.
The earlier businesses adopt VMI, the earlier they'll gain the mobile deployment and security benefits that come with it. Beyond this, they gain a competitive advantage over those dragging their heels. Prefer to wait? You likely won't be able to prevent your users from taking BYOD into their own hands. You'll need to continue investing in older tools, but they'll become obsolete within the coming years.
Myth 5. VMI Is Not Inherently More Secure
Skeptics contend that running apps and data remotely in the enterprise data center doesn't necessarily make it more secure. Sure, no data is left on devices. But let's play devil's advocate.
What if a hacker finds a way to breach the passcode of the thin client app running on the device? Could they not gain a path directly into the data center? If so, how is that any more secure than containerization?
Fact: VMI Takes the Weakest Link in Enterprise Security Out of the Equation
You can't completely secure what you don't own. That's why the Achilles' heel of your mobile network is personally owned mobile devices.
VMI leaves no digital footprint on the device, keeping all of your apps and data on your enterprise server. Because you own the OS, your IT can fortify it with security measures that you otherwise can't on the device.
Data center security, for good reason, is much more established and heavily invested in. VMI gives IT the control to apply more patches and encryption on the apps themselves. And when a user's personal environment is breached, there's no corporate information waiting to be hijacked.
Which organizations are using VMI to improve security? The DoD and other defense agencies worldwide, banks and healthcare providers, which can ill-afford data breaches and compliance violations.
Israel Lifshitz, founder & CEO, Nubo.
Photo Credit: nasirkhan/Shutterstock