Android Lollipop now reigns supreme, surpasses KitKat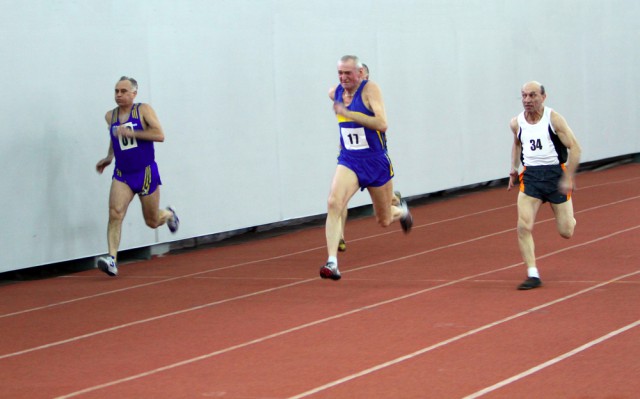 The adoption of new Android distributions rises at a glacial pace so you should not expect the latest -- and, arguably, the greatest -- of the bunch to gain traction quickly. In fact, up until this month, the landscape was dominated by KitKat, which is now two and a half years old, and not Marshmallow, which Google introduced last October.
However, going into March, things have changed. KitKat no longer reigns supreme, as Google reveals that Lollipop is now finally running on more devices than its older brother. The usage share difference is relatively small, however, suggesting that it may take a while before KitKat will be as irrelevant as, say, Ice Cream Sandwich.
The two major Lollipop distributions -- version 5.0 and 5.1 -- hold a combined usage share of 36.1 percent (16.9 percent and 19.2 percent, respectively), while KitKat is at 34.3 percent. When ranked separately, however, version 5.1 takes second place on the podium while version 5.0 is in third, with KitKat coming in first place.
In the near future, Lollipop will only gain more traction among Android users, while KitKat will slowly lose users to newer distributions. This will come from software upgrades and sales of new handsets, which typically run Android 5.1 or, as of late, Android 6.0. This will be helped by new smartphones like Samsung's Galaxy S7, LG's G5 and Xiaomi's Mi 5, all of which ship with Marshmallow.
It is a bit concerning to see Marshmallow on just 2.3 percent of Android devices, however. Knowing how things evolve, it could take about a year before it becomes more popular than Lollipop -- Lollipop arrived one and a half years ago, which is how long it took for it to beat KitKat.
The problem with Marshmallow is that software upgrades to Android 6.0 have yet to happen in the case of most devices for which support has been announced, while Marshmallow-based smartphones that are likely to be most popular this year are only now becoming available. Things will improve in the coming months though.
Looking at distributions older than KitKat, Android 4.2 (part of the Jelly Bean family) is the only one with a usage share above 10 percent. Combined, their usage share comes in at 27.3 percent, which is in no way small or meaningless. Put differently, that means that developers have to support hundreds of millions of devices running outdated Android releases, while those devices are largely left unprotected in case new security vulnerabilities are discovered.
For Google, the hardest thing to do is to take control over the Android landscape. The tempo is currently dictated by third-parties, like major manufacturers and carriers, which seem to have less interest in seeing their users on a current release. If the search giant wants to change things, so that new Android distributions can gain traction in months and not years, it will have to make some hard choices, and take back some control of its own operating system.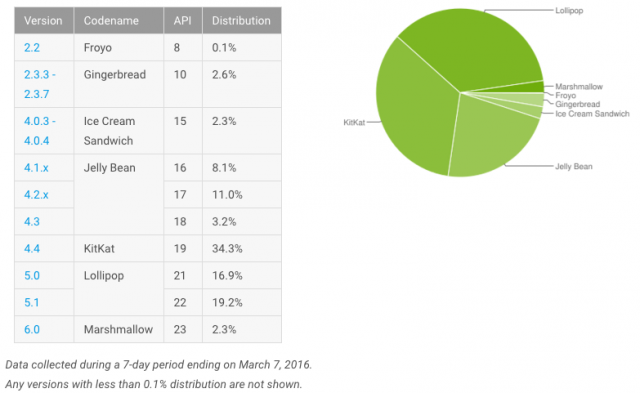 Photo Credit: Denis Kuvaev/Shutterstock