SIOS updates its machine learning solution for virtual environments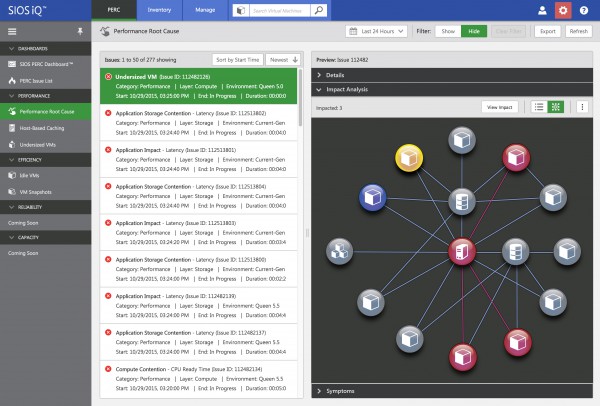 Since the launch of its machine learning tool for IT analytics last year, SIOS Technology Corp has released regular updates to help maximize the availability and efficiency of virtualized environments.
New features in SIOS iQ 3.5 deliver greater accuracy and precision in capacity utilization and performance analysis for VMware environments. It also includes dashboard enhancements for improved usability and a 'graphical topological impact' view to enable faster identification and resolution of issues.
"Legacy monitoring tools provide data about individual objects, such as CPU or capacity utilization). When a performance problem arises they leave IT staff to compare data points to make educated guesses about both the root cause and potential solution," says Jerry Melnick, president and CEO of SIOS. "SIOS iQ not only eliminates this guesswork by precisely identifying the cause, it recommends specific steps to resolve it".
Key features of the latest release are capacity forecasting analysis, this allows SIOS iQ to understand capacity utilization pattern and forecast how many days remain before data stores run out of free space. This allows enterprises to optimize infrastructure without risking costly emergencies. It can be used with the existing SIOS iQ Snapshot Waste analysis feature to optimize storage and maintain a predictable budget.
In addition enhanced root cause analysis adds symptom analytics and graphically describes the topology of the impacted objects, visually displaying the infrastructure issue to the user. It can provide a deep understanding of issues by employing advanced topological behavior analysis to get to the root cause of performance issues without the need to manually analyze data logs or compile and compare charts.
SIOS iQ 3.5 is available now, more information and a free trial is available on the company's website.