TCL announces 4K Roku TV models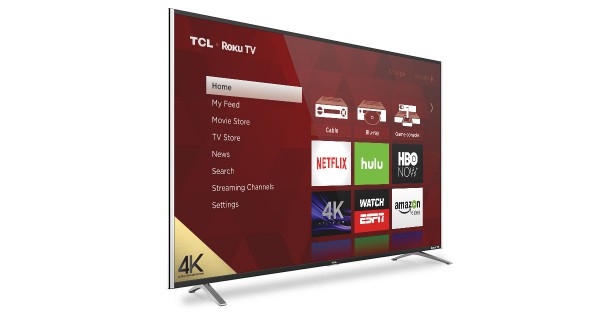 With the release of the Roku 4, 4K arrived on the tiny set-top boxes. The company has also announced partnerships with set makers to create smart TVs using the Roku platform to power them. The new standard isn't prevalent, but it's coming around as more and more content becomes available.
This partnership was announced back in January at the Consumer Electronics Show in Las Vegas. Now it is coming to fruition, six new models are set to begin shipping.
Roku states "4K TCL Roku TV models that bring together the latest in TV design and technology, advanced connectivity and available 4K content to deliver on customer demands for both the highest quality and largest selection of streaming entertainment. You can order one of the new TVs starting today on Amazon.com".
The models available include a 55-inch selling for $599 and a 65-inch that retails for $999. In addition, there is the P130 series that ranges from 43-inches up to 65-inches and you can expect to pay anywhere from $499 to $1,099 for these.
All models feature a quad-core processor and boast eight million pixels of resolution for good UHD quality viewing. There's also TCL upscaling that it claims will take HD to "near 4K resolution". Plus, the company claims "for any expert picture calibrators out there, we have a new unique feature accessible in the Roku mobile app for Android and iOS that allows you to modify your picture settings to your liking".
The content is starting to seep out, though it's still not prevalent. However, Roku has a spotlight channel that will let you know what's available. The company plans more content for the future.