New Start Menu features on the way in Windows 10 Anniversary Update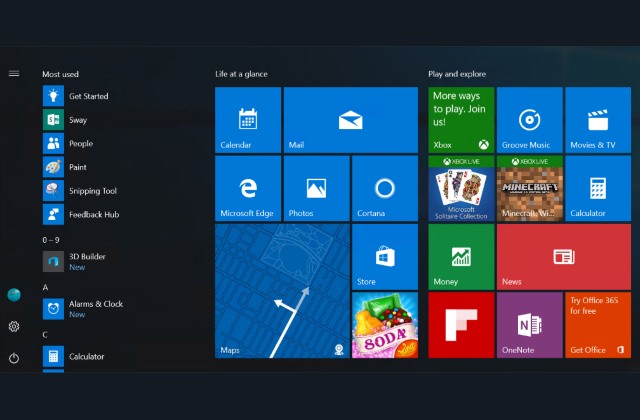 Windows Insiders will soon be able to try out a new Start Menu when preview builds of Windows 10 Anniversary Update begin to roll out. We already know some of what to expect from this big update to Windows 10 -- such as badge notifications in the taskbar for UWP apps -- and now we can see what the updated Start menu looks like too.
The same Microsoft software engineer who shared details of badge notifications -- Jen Gentleman -- has posted an animated GIF to Twitter that shows the Start Menu in action. There are a few notable changes in the updated version, including a nested hamburger menu.
As the new Start Menu is only currently being tested internally at Microsoft and is yet to roll out even to Windows Insiders on the Fast ring, it's entirely possible that things will change over the coming weeks. That said, the animation does give an intriguing insight into the ideas that Microsoft is playing with.
Ms Gentleman's tweet may only be a few seconds long, but it has generated a good deal of interest:
By popular request, to ease some concerns, and because @ZacB_ asked nicely, here's the new start menu in action! ? pic.twitter.com/MiIPO8Epuf

— Jen Gentleman (@JenMsft) April 4, 2016
The hamburger menu is used to house the icons that currently appear in both the All Apps and 'Most used' sections. The redesign also helps to provide easy access to system folders such as Music and Documents. There are also changes on the cards for the Start screen as the Feedback Hub reveals:
Start menu: This view is predominantly designed for PC. We've heard your feedback, and we've focused on consistency, efficiency, simplicity, and making better use of the space.

The All apps list is essential to understanding which apps you have on your device. We've elevated this list to the top level of the UI to reduce clicking & scrolling. This makes it easier to access apps in the All Apps list. It also reinforces the consistent Start experience across form factors.

Start screen: This view is predominantly designed for tablet. We've heard from Insiders that they feel Windows 8.1 start screen delivered a better tablet experience than what we have in Windows 10 today. We are addressing that and are looking to make the All apps list more usable in two ways:

Full-screen All apps list in tablet mode. We heard your feedback that the All apps list should be full-screen in tablet mode and explored several designs that aid efficiency while taking advantage of the additional real estate when Start is full screen. Specifically, we're striking a balance between density and "scan-ability" (i.e. how easy it is to scan the list to find the app you want).
A combined "Most used" and "All apps" list view. With this approach, we hope to address the confusion that many users felt with the two very similar list views ("Most Used" and "All apps").

As part of this improvement, we've also made it easier and more clear how to switch between the "Pinned Tiles" and "All apps" views by adopting the navigation pane pattern used throughout Windows.
Microsoft is looking for feedback about this change just as it has done with other new features of Windows 10, and you can provide your thoughts via the Feedback Hub and find out more on Sway.