SanDisk unveils next-generation iXpand Flash Drive for iPhone, iPad, and iPod touch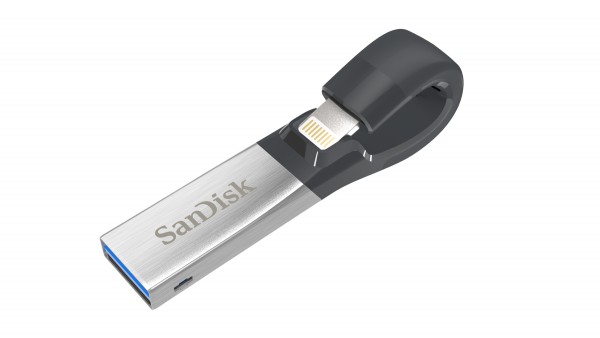 Storage for iPhone and iPad can be costly. Since you cannot realistically add more inside later, you must decide at purchase how much you will need. Then, each bump up will cost you about $100. This can make an iOS device purchase a very costly affair.
As an alternative, however, you can use flash drives on the iPhone, iPod touch and iPad, but there is a catch; you will need to buy a lightning to USB type A cable, or a flash drive with a lightning connector. While not usually an elegant solution, today, SanDisk unveils an intriguing such product -- the next-generation iXpand Flash Drive -- and it looks really cool.
"Designed to be the perfect storage companion for iPhone and iPad, the reinvented iXpand Flash Drive features a flexible Lightning connector and now a USB 3.0 connector so users can quickly and easily move photos and videos between their iPhone and iPad and Mac or PCs. The iXpand Flash Drive allows users to automatically back up their camera roll and contacts, and watch popular video formats straight from the drive. The new drive also includes encryption software that password-protects files, allowing people to share their content while keeping sensitive files secure across devices", says SanDisk.
The company further says, "the product features a redesigned app, the iXpand Drive app, which offers new features and an improved user experience. Giving users the option to save space instantly, the app now has a camera function so users can shoot and save photos or videos directly to the drive instead of on their iPhone or iPad. The app also allows users to automatically back up content from popular social networking sites, as well as play back music within the app".
What's really cool about the app, is that it will detect the drive being plugged in, and automatically launch. This makes using the iXpand Flash Drive seamless. There is no need to manually launch the app each time. Both the drive and app should work fine on any device that has both a lightning connector and is running iOS 8.2 or higher.
The design of the flash drive is quite genius -- the USB Type A connector will fold behind the device when not in use. This should limit the potential of breaking it, as can happen when something -- like the Apple Pencil -- sticks out straight.
If you want to buy it, it is available now, starting at $49.99 for 16GB. The highest capacity 128GB variant is $129. The  middling 32GB and 64GB models are $69 and $79, respectively.
Will you buy it? Tell me in the comments.