Xiaomi Yi 2 action camera now official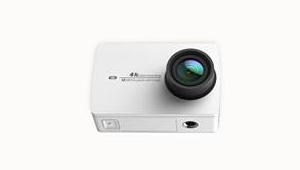 Xiaomi Yi is among the most attractive action cameras for consumers on a budget. For just under $80, you get pretty much everything you could hope for. The only thing that is missing is 4K support, which is now starting to show up in more and more devices in this segment. Its successor, however, addresses this shortcoming.
Yi Technologies, the company behind Xiaomi Yi, has officially announced the second-generation of its action camera, called Yi 2. It packs a new chip, formally known as Ambarella A9, that enables 4K video recording at up to 30 FPS and 1080p video recording at up to 120 FPS.
Yi 2 is equipped with a 12.35 MP, Sony-made, Exmor IMX206 sensor. The seven-layer lens has an f/2.8 aperture.
Yi 2 also boasts an integrated LCD display on the back. It is a 2.19-inch screen with a resolution of 640 by 360, which gives it a pixel density of 335 pixels per inch.
Also worth mentioning are the 1,400 mAh battery, which is claimed to offer up to 110 minutes of 4K video recording at 30 FPS, and the dual-band Wi-Fi.
If these specs sound familiar that's because they match those of GoPro's Hero 4 Black Edition. That is a $499 action camera, which is regarded as the best in the business at this time.
There is no official price yet for Yi 2, but Chinese retailer BangGood lists it for $129.99, for the black and white versions, though it is not yet in stock. It remains to be seen whether that will also be its launch price.
If it is anywhere near as good as a Hero 4 Black Edition, it should be a huge hit at that price point. Even if it costs more when it goes on sale it will still attract many consumers' attention.
Update: Xiaomi Yi 2 is now listed at $249.99 on BangGood, GearBest and GeekBuying. GeekBuying tells me that it will be in stock by the end of the month, which, presumably, is when pre-orders will also start shipping.