How to add Shutterstock photos to your Microsoft PowerPoint presentations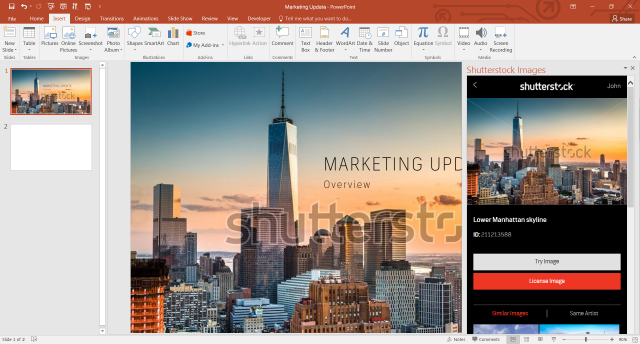 Shutterstock is now making it easy to find and add quality photos to your Microsoft PowerPoint presentations, as it just launched a new add-in for the popular software that lets you explore and buy images from its vast collection.
"We know our customers are frequently using images to enhance their PowerPoint presentations", says Microsoft corporate vice president of Developer Experiences Steven Guggenheimer. "With this Microsoft Office 365 PowerPoint add-in, Shutterstock is broadening our ability to enhance productivity through its collection of high-quality imagery to professional users".
The add-in, called Shutterstock Images, lets you find pictures using keywords or by browsing categories. After you have found what you are looking for, you can download watermarked previews and see how the photos look when they are embedded in your presentation.
Shutterstock says that there are three image sizes available from the add-in, which should fit just right "whether adding an image alongside bullet points, selecting a visual for a transition slide, or looking for images for large-scale displays or professional printing".
If you like what you see you can go to the next step, which is buying the images. Shutterstock users can use an existing subscription, but if you are new to the service you will need to sign up. You can see the available plans here.
In the add-in's listing, the company says that if you are among the first 25,000 users to install the Shutterstock Images add-in, which can be downloaded from the Office store you will get an image for free. It is worth mentioning that not every photo in Shutterstock's 84 million image collection costs money, as there are also some photos which are available for free though significantly fewer in numbers.
To use the add-in you will need PowerPoint Online or PowerPoint 2013 Service Pack 1 or newer. To download it, hit the link in the paragraph above if you have not done so already. Shutterstock Images is available for free.
We can attest to the quality of the images available through Shutterstock, as we use the service ourselves to find nice photos to add to our articles -- as you might have noticed by now. We highly recommend giving the add-in a try.