Plugable UD-CA1 USB Type-C universal 4K charging docking station now available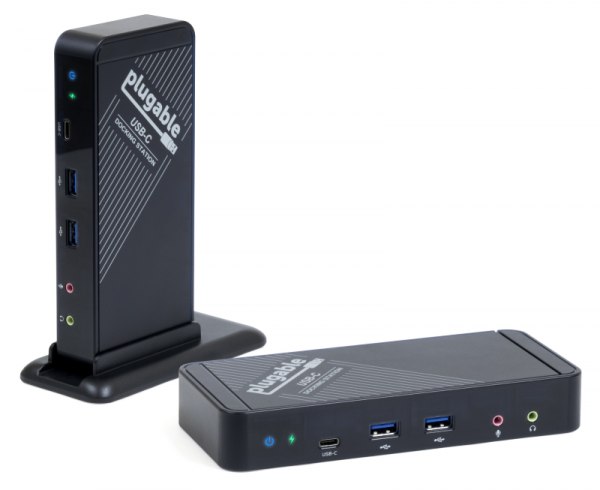 If you purchased Apple's newest MacBook, congratulations -- you own a really cool svelte machine. While a bit under-powered, for some people -- depending on their needs -- it is a solid, albeit expensive, choice. Unfortunately, while its USB Type-C port is quite modern, it is the only port on the machine (other than a 3.5mm audio jack). This is problematic, as you cannot charge the laptop while utilizing USB accessories.
The way around this limitation, however, are USB hubs which also pass-through power. Today, Plugable announces a new product that takes this concept a step further. Its new UD-CA1 is a USB Type-C universal charging docking station, capable of outputting 4K video. It is a full-fledged single-cable docking solution for not only Apple's MacBook, but Windows and Linux machines with USB Type-C too -- including Chrome OS. When combined with a display, keyboard, and mouse, the Plugable UD-CA1 will turn the laptop into a powerful desktop workstation.
"This docking station is the entry point to Plugable's new USB-C and Thunderbolt 3 based docking station family. It provides a one-stop, powered solution for connecting essential peripherals as well as an extra 4K (3840×[email protected]) display. On supported systems, the Plugable UD-CA1 has a fully plug and play experience with no extra drivers or authentication steps needed. As long as the host system supports VESA (DisplayPort) Alternate mode, the display is driven by the system's main graphics processor and existing driver. Support has been tested on Windows 10/8.1, Mac OS X 10.11 El Capitan, Chrome OS, and even modern Linux distributions. Any future operating system with built-in support for multiple monitors should work, on laptops with the necessary USB-C hardware support", says Plugable.
The company further says, "the 'VESA DisplayPort Alternate Mode over USB-C' ('Alt Mode') which has a direct pipeline to the host graphics processor (GPU) in your system. The connected monitor will perform as a natively attached display. Video and photo editing, gaming, and other resource-intensive tasks are possible assuming that the system's GPU capabilities are sufficient for the application being used. DisplayPort Alternate Mode generates a native DisplayPort signal which is then converted inside the docking station to HDMI 1.4 to accommodate widely available HDMI monitors and TVs".
Plugable shares the following features.
One HDMI output for mirroring or extending your desktop to an external monitor
One USB-C port on the backside of the docking station with Power Delivery functionality to charge your host computer (not all USB-C computers are able to charge through their USB-C port; see additional compatibility details below)
One USB-C port on the front side of the docking station for USB-C peripheral connectivity (no charging support)
One Ethernet port
Headphone and microphone ports (both jacks need to be TRS)
Four USB (Type-A) ports; two USB 3.0 ports on the front and two USB 2.0 ports on the rear
Included stand is removable allowing for vertical or horizontal orientation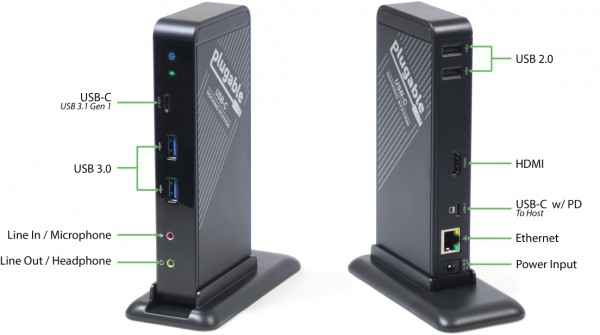 Worried about compatibility? You can check the below list to make sure your machine will work.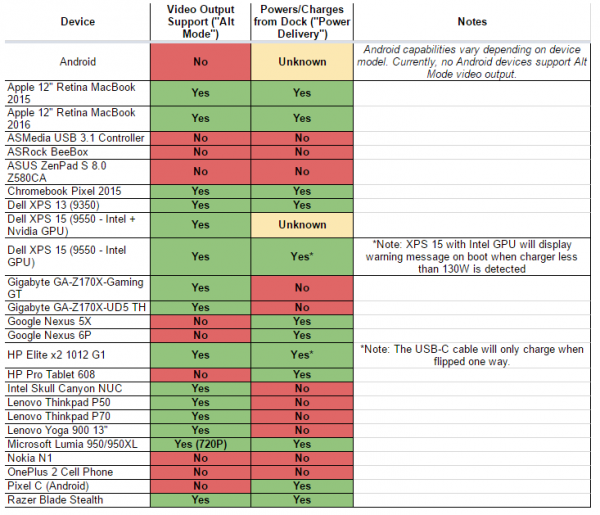 If you are interested in buying this cutting-edge universal docking station, you can get it on Amazon here. Believe it or not, despite all the cool features, the price is a paltry $130. With that said, the company is planning an even more-advanced docking station -- the UD-ULTCDL -- which can power three displays (seen here). That model should be more expensive than the UD-CA1, and it does not currently have a scheduled release date.
Will you buy the Plugable UD-CA1? Tell me in the comments.