ASUS' new ZenBook 3 is more powerful, lighter than Apple MacBook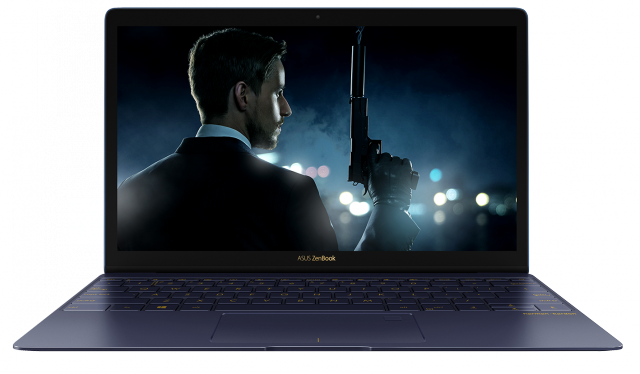 It may be among the best looking, smallest and lightest ultrabooks available today, but the MacBook hasn't quite taken consumers by storm. Fortunately, this means that there is room for competitors to make a splash, which is what ASUS is hoping to achieve with its new ZenBook 3.
The MacBook lacks the guts required for more demanding applications, but that looks to not be an issue for the ZenBook 3. The device will be available in a configuration featuring an Intel Core i7 processor, which should deliver a healthy performance boost over the Core m3 and Core m5 processors that the MacBook can be equipped with.
As you may know, those Core m processors are meant to cool on their own so that manufacturers don't have to add a fan to the device. In the case of the ZenBook 3 though, because it uses much faster internals, there is a fan to keep this cool inside. This is said to be the world's thinnest fan design, at just 3mm thick.
The laptop itself is pretty thin and light, coming in at 296 x 191.2 x 11.9 mm and 910g. It's longer, narrower and thinner than a MacBook (280.5 x 196.5 x 3.5-13.1mm) but also slightly lighter too (920g).
ASUS will offer the ZenBook 3 in a few configurations, with the aforementioned processor option being meant for the top of the line model (likely sold as UX390). That version should also get 16GB of RAM and 1TB of PCIe SSD storage. A quad-speaker audio will also be on board, and so will a USB Type-C port.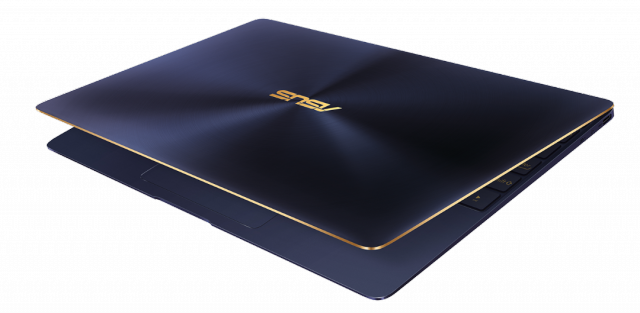 ASUS is repeating Apple's mistake of only offering a single USB port, which appears to double as a charging port for the ZenBook 3. It's on the right side of the device, with a 3.5mm headphone jack being placed on the left. This will make choosing between it and a MacBook harder for consumers, though the boost in specs certainly makes the choice somewhat easier if you like Windows 10 more than OS X.
The ZenBook 3, as you might expect, packs a high-resolution screen, which measures 12.5 inches in diagonal. It covers 72 percent of the NTSC color space, and there is Corning Gorilla Glass 4 that spans from edge to edge on top of it.
Those who are interested in the typing experience can expect a 19.8mm key pitch -- which ASUS says is the same as on "most desktop keyboards" -- and 0.8mm of travel. Touchpad-wise, ASUS says that it is covered by glass, offers support for gestures and handwriting. There is also a fingerprint sensor on top, that supports Windows Hello.
In terms of battery life, prospective buyers can expect to use the ZenBook 3 for up to nine hours before having to plug it into a wall charger. Luckily, when it comes to that, the device will fast charge, with up to 60 percent of the capacity being available in 49 minutes.

You can expect it to reach store shelves in the coming months, as it will launch in Q3. Pricing-wise, the top spec model will cost $1,999, while a version with the same processor but a 512GB SSD will be available for $1,499. The base ZenBook 3 will cost just $999, at which price you will get a Core i5 processor with 4GB of RAM and a 256GB SSD (non-PCIe). You can see all the available color options above.