Shotcut is a versatile open-source video editor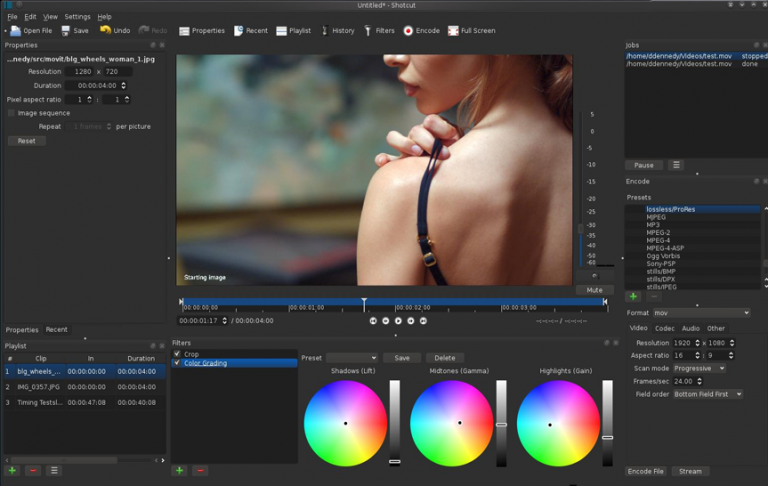 Shotcut is a powerful open-source video editor for Windows, Linux and Mac. It's quirky in places, not always easy to use, but spend a while learning the basics and you'll find an array of high-end features to explore.
The program uses the popular FFmpeg to import source files, which means there's no need to worry about format support: it'll open just about every video variant that's ever existed.
There's also support for capturing resolutions up to 4k from SDI, HDMI, webcam, JACK & Pulse audio, IP stream, X11 screen and Windows DirectShow devices.
The initial interface is very stripped back, just a preview window, player, toolbars and menus. Experienced users will be able to use familiar keyboard shortcuts right away -- i and o to set in and out points, for instance -- but novices are left to find their own way, via the FAQ.
Filter handling is more straightforward. Clicking "Filters" displays the filter pane, where 50+ video and audio filters are waiting: simple color/ brightness/ contrast tweaks, fade ins and outs, transitions, chroma key, HTML overlays, audio balance, band pass, downmix, normalize, pan, reverb and more.
There's nothing flashy about any of these, no animated previews or anything else, but they're generally very simple to use: add a filter, either it works immediately ("Mirror"), or you're presented with sliders to customize the effect.
This can all be edited and combined with other clips on a highly configurable multitrack timeline, once you've turned it on (this isn't visible by default).
Once you've finished, the Export option supports all major video formats, as well as image sequences and even animated GIFs.
Shotcut assumes its users have some video editing experience, and newbies might be confused and frustrated, at least initially. But there are plenty of tutorials to spell out the program's finer points, and if you're willing to invest some time learning the basics, there's a lot of power here just waiting to be unleashed.
Shotcut is a free application for Windows, Linux and Mac.