Huawei MateBook is the affordable Windows 10 hybrid PC of your dreams [Review]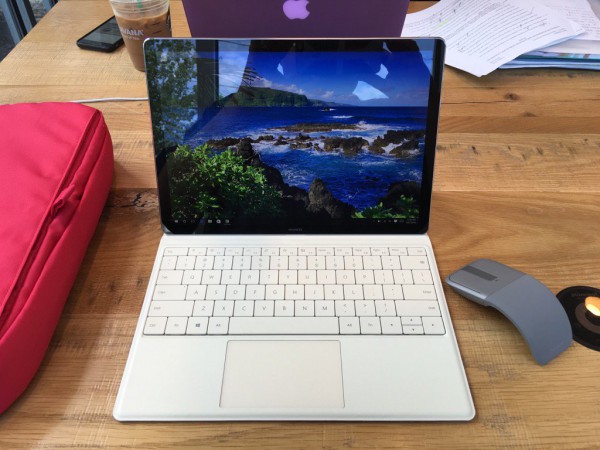 Windows 10 is a great desktop operating system, and for the most part, OEMs have manufactured some solid hardware to showcase it. Respectable companies like HP and Dell have done Microsoft proud with some truly satisfying touch-friendly laptops. Unfortunately, Microsoft has been a bit deficient with its Surface line. Don't get me wrong, the Pro 4 and Book are pretty good choices, but there have been many known bugs, and they are quite expensive.
There's a new player in the Windows world, however, and its looking to outdo Microsoft at its own Surface game. Huawei -- a well-known company in China -- is looking to make a name for itself in the USA. Its all-new affordable MateBook Windows 10 tablet/laptop hybrid is the company's biggest move yet. In such a crowded Windows 10 device world, is this computer worth your money?
Configurations and prices
Core m3, 4GB RAM, 128GB SSD - $699
Core m5, 4GB RAM, 128GB SSD - $849
Core m5, 8GB RAM, 256GB SSD - $999
Core m5, 8GB RAM, 512GB SSD - $1,199
Other Notable Specs
Display: 12-inch 2160 x 1440 IPS TFT LCD
Wi-Fi: 802.11ac 2.4/5 GHz
Camera: 5 MP, fixed focus (front-facing only)
Battery: 33.7Wh([email protected])
MateBook Colors: Grey/Gold
Keyboard Case Colors: Black/Brown/Orange/Beige
Bluetooth: 4.1
Size: 278.8 x 194.1 x 6.9mm
Weight: 640g
Unboxing
Impressions
My first time getting my mitts on the MateBook was at a limited controlled press event in NYC. To get a true feeling for the tablet, however, I would need to use it. Like, really use it. So that is what I've been doing. Not only have I used it in my home, but on the go in places like Starbucks. When I review something, I want to experience it in many environments, and for real work -- not benchmarks.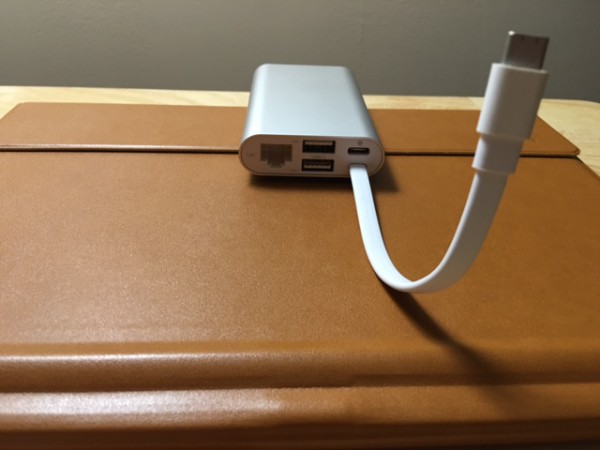 After unboxing the tablet as seen in the video above, I started using it as my main machine immediately. This means I used it as a laptop, tablet, and desktop. Yes, I know what you are thinking, how could a Core M-powered tablet (m3 as tested) with a single USB Type-C port (and 3.5mm audio jack) be as a desktop? It is quite great in that regard, actually.
By utilizing the optional MateDock docking dongle ($89), you can add 2 USB ports, HDMI, VGA, and Ethernet. The dongle itself also has a Type-C port for power, so you can charge the MateBook while connected to a monitor, mouse, and keyboard. Since it is the summertime, I appreciate that it puts out almost no heat -- my gaming desktop raises room temperature dramatically.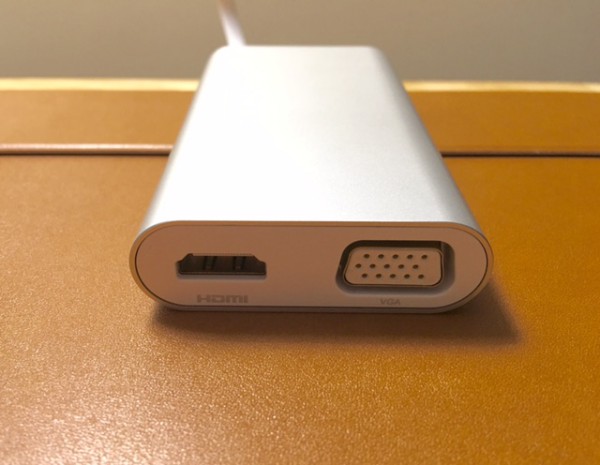 As the name implies, however, the real focus of the MateBook, is as a laptop. This is a bit curious, as the keyboard is an optional purchase ($129) -- you'd think the "book" name would mean keyboard included. While it can surely operate as a tablet only, Huawei intends for it to be used as hybrid. Luckily, it shines brightly as a notebook. The backlit keyboard is very comfortable, and I find myself preferring it to the newest-Surface models.
While the keys on Huawei's portfolio keyboard aren't well separated, they are large with great movement. While doing heavy writing, I do not make excessive typos, and actually, I usually forget I am using a non-traditional keyboard. The large trackpad is very accurate too, allowing my finger to glide with ease.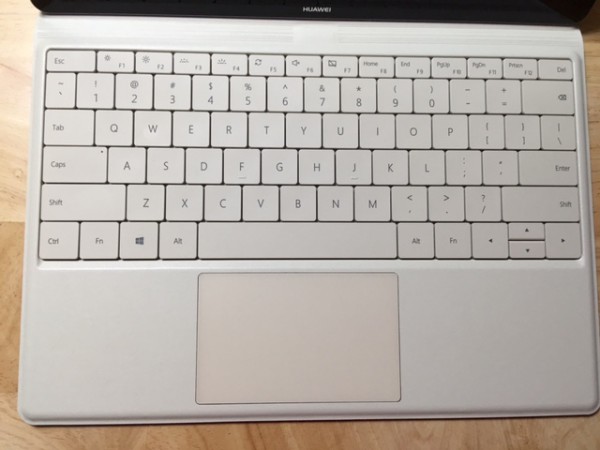 Where the MateBook fails as a laptop is on the lap. Just like the Surface Pro, typing on your lap is a near impossibility. Can it be done? Sure, if you don't mind being uncomfortable and constantly worrying about dropping the computer. For me, this is not a problem, however, as my mobile computing is almost always done in coffee shops and libraries using a flat surface. For those that need to type on their laps in weird positions for impromptu typing sessions, you should opt for a traditional clam shell.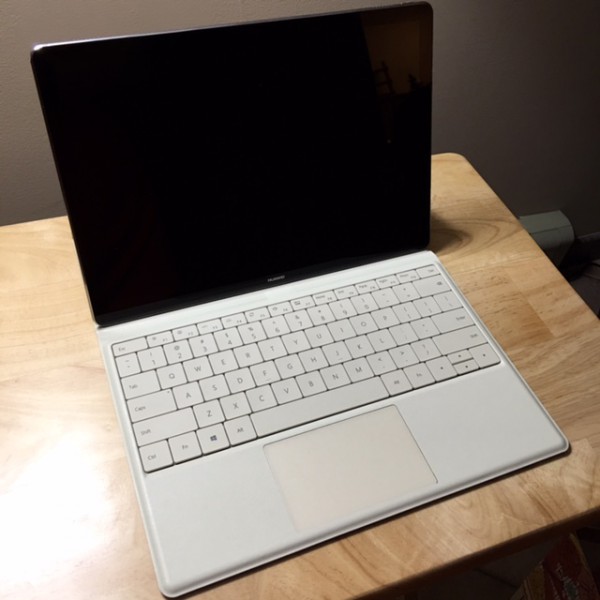 If you are OK with needing a table, desk, or other flat surface for usage, then the MateBook has a lot going for it. Primarily, the 2160 x 1440 resolution on a 12-inch screen is magic-like. Viewing angles are amazing, allowing you to comfortably use it with limited seating options. This is good because the screen cannot be positioned in multiple ways like the Surface Pro. Text and pictures are awe-inspiring, making this quite possibly the best-looking screen I've ever seen. You can write on the screen with an optional stylus ($59), but I was not provided with one.
Watching movies on the tablet is a great experience too. Yes, the aforementioned beautiful screen is a contributor, but so are the stereo speakers. They are loud and clear, making music and movies very enjoyable. They are not front-facing, unfortunately, but the top mounting really doesn't detract. With iTunes installed, listening to Apple Music on the MateBook is a dream. Don't worry, Microsoft fans, I used Groove too.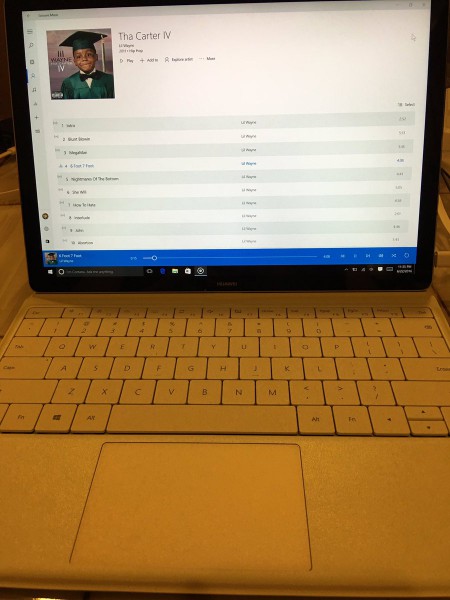 The camera is quite good for video chat, and yes, I did say "camera", not the plural "cameras". For whatever reason, Huawei has chosen not to include a rear camera. Look, I get it, using a tablet as a camera is a major faux pas, and you will look goofy, but the best camera is the one you have. If you are using the MateBook and need to take a quick picture of something, a rear camera could be useful. Having said that, I don't think many consumers will really miss it.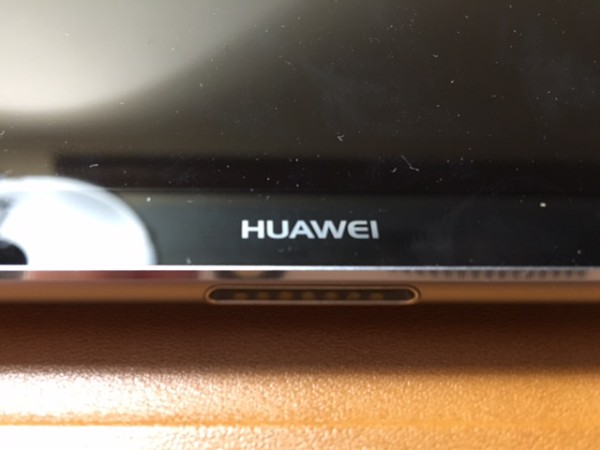 Battery life is amazing, with Huawei claiming 10 hours of work. Not only was this claim achievable, but beatable. In my testing, 11 hours was easily possible with normal use, relieving me of my usual wall outlet anxiety. If I get to Starbucks and all the outlets are in use, no worries -- the MateBook should get me through. When I do need to charge, the charger itself is sleek and compact with a flat USB Type-C cable. While I wish the cable was a bit longer, I absolutely love that it and the charger take up very little room in my bag.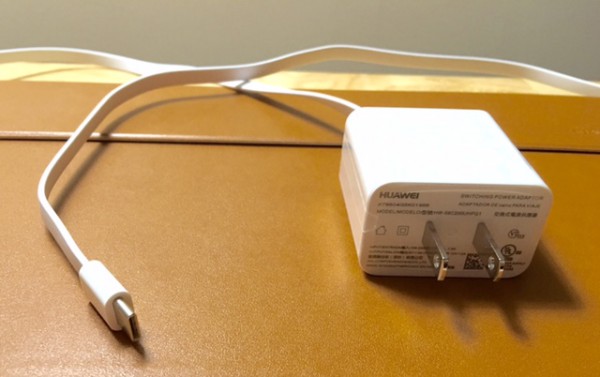 Biometrics are essential nowadays, and I am happy to report that MateBook has a fingerprint reader. Does it work well? Yeah, it's OK, but not great. Since it is on the tablet itself, I had some difficulty when in laptop mode. Having to reach the top right side of the screen feels awkward, and only recognizes my index finger about 75-percent of the time. With that said, I prefer having a fairly finicky fingerprint reader than no reader at all. Having one on the keyboard as well would be ideal -- maybe on gen 2.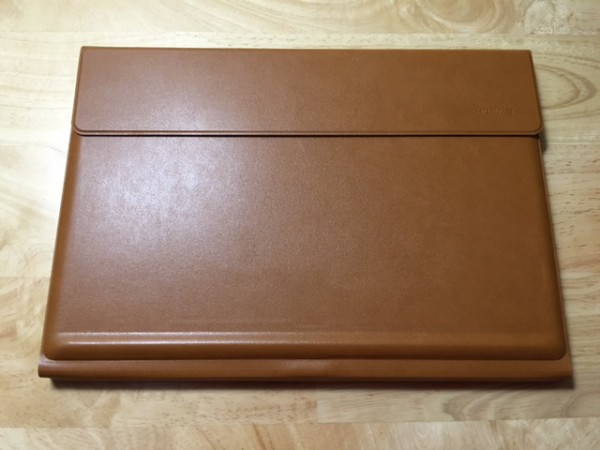 On the subject of security, my MateBook came with Windows 10 Home. This is a problem, as the Pro version of the operating system is required for Bitlocker disk encryption. I feel that this is very important for a portable device, but I do not fault Huawei for this issue. Instead, I blame Microsoft for thinking disk encryption shouldn't be an option for all Windows versions.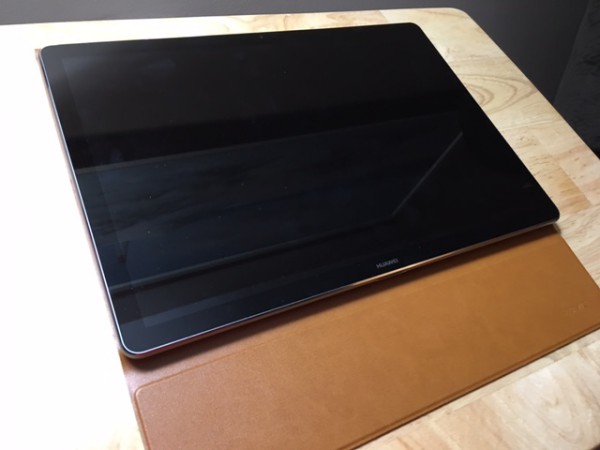 Determined to test Bitlocker, I upgraded to Windows 10 Pro by adding my Pro key and letting Windows 10 add the feature. After a reboot, Bitlocker still wasn't an option, which was odd, as a Huawei rep told me a TPM 2.0 chip was on board. A trip to the BIOS showed me that TPM was merely disabled, so I enabled it and was off to the races. With Bitlocker enabled, the SATA-based 128GB SSD did not show any significant performance hit.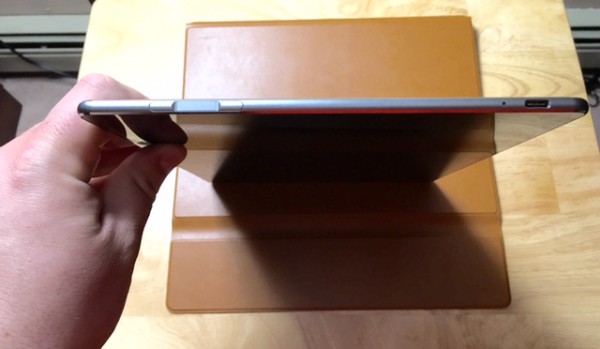 As a tablet, the Huawei MateBook is my favorite such Windows 10 device. While the body gets a bit warm, it never gets hot in my hands. The m3 processor keeps things reasonably cool without the need of a fan. At 6.9mm, I was able to comfortably hold the 640g tablet for long period. It works brilliantly for playing games, reading books, and surfing the web.
Besides the USB charger and cable, the MateBook comes with USB-C to Micro-USB Cable and a Micro USB to USB-A Adapter. This means you can easily connect your existing non-C accessories like flash drives or card readers. The computer has no option for expanding memory, so photographers will want to opt for a Type-C SD card reader.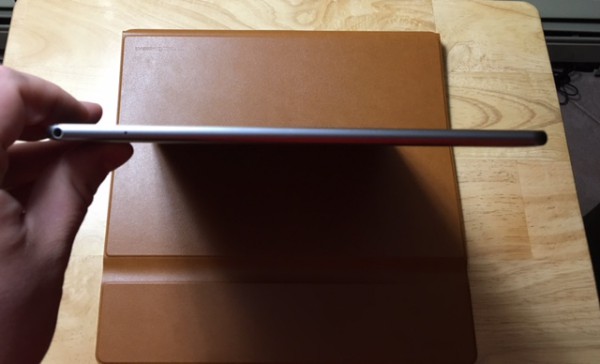 Do I recommend the Huawei MateBook? Absolutely. However, there are some caveats. If you type on your lap a lot, this is not for you. If you do a lot of hardcore processor-intensive work, such as video editing, the core m processor won't meet your needs -- you must value silence and battery to raw power.
The MateBook is for someone who has modest needs, such as office work, movies, music, web surfing and casual light-weight games from the Windows Store, but wants it in an elegant laptop that is also a tablet. In other words, regular work and consumption -- perfect for the typical home user and office worker. For those on a budget, it can be a great desktop too, killing 3 birds with one stone. Small businesses in particular should target this as a silent workstation that is budget friendly.
If you value silence, great battery life, beautiful design and lightweight portability, this is the laptop/tablet hybrid to get. Huawei has done Windows 10 right. Highly recommended.