Samsung's super fast UFS cards are here to replace microSDs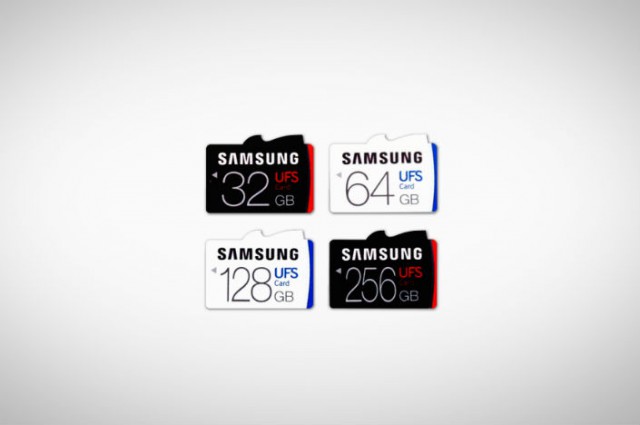 While microSD cards have seen some notable developments in recent years, in both size and performance, there is no escaping the fact that the underlying technology cannot keep up with the times. They remain popular with both consumers and vendors though, but that's mostly because there has been nothing out there that could successfully replace the ubiquitous microSD.
But with the introduction of UFS cards that may soon change. Samsung today unveils the first in the world, promising a major boost in performance thanks to read and write speeds which can rival those of SSDs. The good old microSD should get ready to meet its maker.
Samsung has four UFS cards, in 32GB, 64GB, 128GB and 256GB trims. They are based on the JEDEC Universal Flash Storage Card Extension Standard, version 1.0, which targets "high-resolution" DSLRs, action cameras, and drones. There is no mention of mobile handsets, but that is likely because the aforementioned devices typically require a higher level of storage performance than smartphones and tablets.
Samsung claims that its 256GB UFS card is five times faster than a microSD card when it comes to sequential read speeds, with peak performance said to be 530MBps. The sequential write speed is claimed to be 170MBps. Here is how that translates in real life.
Samsung claims that, using its top of the line UFS card, consumers will be able to read a 5GB movie in about 10 seconds (9.66 using the aforementioned top speed) compared to over 50 seconds using a "typical" UHS-1 microSD card with a maximum sequential read speed of 95MBps.
When it comes to writing performance, Samsung says that, with its 256GB UFS card, a high-end DSLR user will be able to shoot and record 24 "large/extra fine" JPEGs in less than seven seconds, while with a UHS-1 microSD card this would take roughly 32 seconds (at a 35MBps rate).
Also worth mentioning is that Samsung claims random read and write rates of 40,000 IOPS (input/output operations per second) and 35,000 IOPS, respectively. The former is said to be over 20 times higher than that of a typical microSD (1,800 IOPS) while the latter is claimed to be 350 times higher (100 IOPS).
"To achieve the highest performance and most power-efficient data transport, the UFS card supports multiple commands with command queuing features and enables simultaneous reading and writing through the use of separately dedicated paths, doubling throughput", explains Samsung.
Those are impressive figures which will surely catch professionals' attention. However, they are worth considering by consumers as well, because with a properly-fast card smartphone users shouldn't have to worry about performance issues anymore when installing large apps on external storage.
It all sounds great so far, so what's the catch? Well, the biggest barrier for the adoption of UFS cards is the fact that they are not compatible with microSD slots. Basically, they will only work on new devices that are engineered with compatible slots. The dimensions for a UFS card are 13 x 11.5 x 1.0-1.2mm while a microSD card measures 15 x 11 x 1.0mm.
That means vendors will typically have to choose between offering their devices with a microSD slot, which enables consumers to use existing cards, and a UFS slot. Due to size restrictions, devices that will offer both will be pretty rare. Action cameras, for instance, don't have space for that, and neither do smartphones. There is also the financial aspect to consider, as having more than one slot also raises costs.
The good news is that more companies are expected to introduce UFS cards. Samsung, being a promoter of the technology, says that it has made its UFS patents available without royalties to other manufacturers. The company says that royalties represent "a significant portion of other types of removable card manufacturing". Hopefully, that means that prices will be competitive not long after UFS cards hit store shelves.
At the same time, it is also worth noting that Samsung has a presence in many consumer markets, like cameras, smartphones, and tablets, so we expect it to support UFS cards at some point in the near future starting with its next flagship devices.