AOMEI Backupper Standard 3.5 adds event-driven backups, improves network support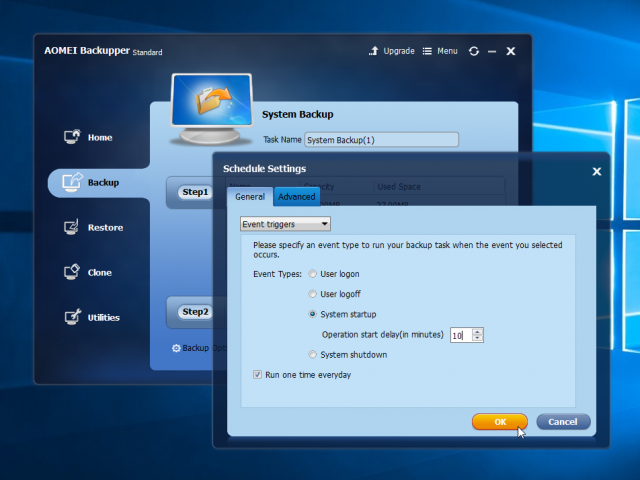 AOMEI has released Backupper Standard 3.5, a major new version of its freeware Windows backup, imaging and cloning tool.
Version 3.5 introduces event-triggered scheduling of backups, support for mapped network drives as backup destinations and various other improvements and optimizations, including a fix that prevents the computer from going to sleep during the backup process.
Backupper 3.5's headline new feature is support for event-triggered scheduling. This makes it possible for the program to automatically perform backup tasks in real-time based on user logon, logoff, system startup and shutdown. Users can also restrict these event-triggered backups to once a day.
This new feature is joined by the program's ability to now perform scheduled backup tasks even when users aren't logged on.
Other new supported features see users able to specify network mapped drives as destinations, along with choosing multiple files on the network as the backup source.
If users close the main window during backups, Backupper will now automatically invoke the tray notification icon to allow users to monitor the backup or sync a task that continues on in the background.
Other improvements include making it easier to unlock the System Clone feature in the Standard Edition through the sharing of the program through social media. Email notifications have also been improved, with support for Gmail and Hotmail servers being added.
The new release also prevents the PC from sleeping during the backup process, and fixes some other annoying errors, including a "Failed to enable VSS..." error. Access permissions issues when exploring image files have also been resolved.
AOMEI Backupper Standard 3.5 is available now as a freeware download for PCs running Windows XP or later. Paid-for versions are also available with additional features such as command-line usage, disk space management and the ability to merge backup images.