Bennett monitors Bluetooth signal strength on a PC -- sometimes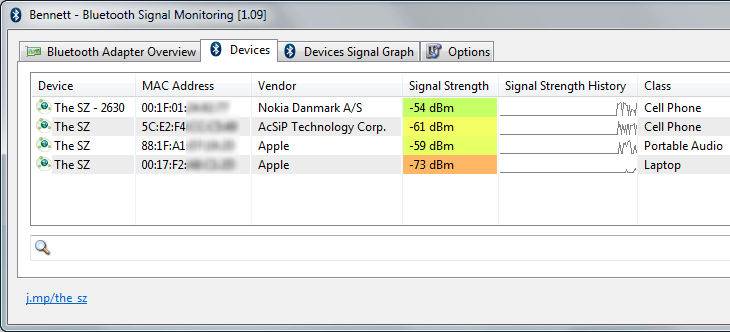 If you're having problems connecting your laptop to a wireless device or network, there are a host of tools to help you view what's in range and its signal strength. If you're having trouble with Bluetooth, it's a different story. The standard Windows applets might list available devices but you'll see little, if any information about them.
Bennett is a tiny portable tool which displays extra details on your Bluetooth adapter and in-range devices, and might be able to monitor their signal strength.
The program arrives as a single executable, with no intrusive drivers or system components. Just unzip and it's ready to go.
A simple tabbed interface opens with a view of your Bluetooth adapter, including MAC address, vendor, manufacturer and more.
The Devices tab lists any detected devices along with their MAC address, vendor, device type (phone, laptop, speaker, whatever), and more.
If your Bluetooth stack supports it, Bennett also displays a signal strength for each device, along with a mini-graph showing signal strength over time.
A right-click option enables viewing it on a larger graph, saving this as an image, and/ or logging the raw data to a text file.
Don't be surprised if your "signal strength" is blank, or displayed as "n/a" -- Microsoft and some other major Bluetooth stacks don't support it, which is presumably why Windows doesn't try to show the information at all.
Still, even without this data Bennett can display some useful details on your Bluetooth devices, and as it's portable there's no penalty in trying out the program. Give it a try.
Bennett is a free tool for Windows. It may work on Windows XP (the developer doesn't say and we didn't test it), but definitely runs on Windows 7 and later.