Xiaomi unveils Mi Notebook Air -- here's everything you need to know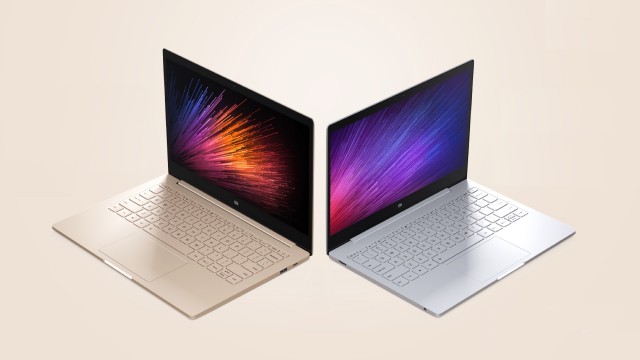 A product listing that surfaced in January signaled that Xiaomi planned to introduce its first laptop this year, with leaked specs suggesting that we should expect a big and powerful laptop.
However, today's introduction of the Mi Notebook Air comes as a surprise, as the ultrabook actually comes in two vastly different versions instead, which are designed to appeal to a wider range of consumers. Here is what you need to know.
Xiaomi has clearly differentiated the two Mi Notebook Air devices, giving them not only differently-sized displays but also different internals as well. Some folks call it a MacBook Air rival, but if you take a closer look at the specs it is actually far from it.
The entry-level Mi Notebook Air, which features a 12.5-inch display, has the MacBook squarely in its sights, while the 13.3-inch model offers a mixture of features that put it closer to the Retina MacBook Pro line. The prices, however, are more down to earth, with the former costing around $525 and the latter $750.
The 12.5-inch Mi Notebook Air comes with a full HD, edge-to-edge display (resolution of 1,920 by 1,080) and is powered by an Intel Core M3 processor. The choice of processor suggests that it features a passive cooling system, but also that it will not break any performance records. However, Xiaomi quotes 11.5 hours of battery life.
This model also comes with 4GB of RAM and a 128GB SATA SSD, with the slot said to be "expandable". That likely means that you will be able to swap out the SSD for a better one when the time comes. There are also dual speakers with Dolby digital surround sound.
Xiaomi has managed to keep the weight to a reasonable 1.07kg and the thickness to 12.9mm. Neither of those specs are class-leading, though they are close to those of the MacBook. The footprint is similar to that of a magazine, according to Xiaomi.
The 13.3-inch Mi Notebook Air, on the other hand, packs a much bigger punch, featuring a Core i5 processor, 8GB of RAM and a 256GB PCIe SSD, with the slot again being labeled expandable. It also gets an Nvidia GeForce 940MX graphics card, which is not an option available on any of the small MacBooks.
Xiaomi claims that the 13.3-inch Mi Notebook Air will charge up to 50 percent in just half an hour, and that it offers up to 9.5 hours of battery life. Weight goes up a bit, to 1.28 kg, and presumably so does the thickness. It comes in at 309.6 x 210.9 x 14.8 mm, which makes it smaller than a 13.3-inch MacBook Air. Its body closely resembles the 13.3-inch Retina MacBook Pro though.
The aforementioned "expandable" storage in this case means that the 13.3-inch Mi Notebook Air can actually house two SSDs, though it is not clear if the second slot can be used to add a PCIe or SATA-based device. The standard PCIe SSD used here can offer transfer speeds of up to 1500 MBps, Xiaomi claims, while the SATA-based model is limited to 500 MBps.
Other things worth mentioning are the backlit keyboard with 1.3mm of travel and the lamination for the display which is promised to reduce glare. Both models have a full metal construction. Also, the bezels are very thin apparently, just 5.59 mm in the case of the bigger model.
Both Mi Notebook Air models run Windows 10, and there will be various Xiaomi services preinstalled to give users access to things like the Mi Cloud and the ability to unlock their laptops using the Mi Band 2.
There is no word on availability yet.