Check if your phone is at risk from QuadRooter vulnerability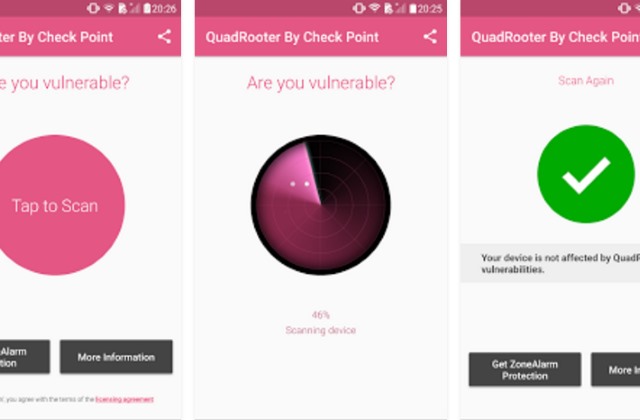 The latest vulnerability for Android handsets is QuadRooter, and there are an estimated 900 million devices at risk. Just shy of a billion phones and tablets is undeniably a lot, but how can you know if you are affected?
While a list of devices that are definitely affected has been published, it is far from exhaustive. Thankfully the good folk at Check Point Software have put together a special app that will test your phone or tablet and let you know the risk.
You can download a free copy of the QuadRooter Scanner from Google Play, and it will tell you in a few moments whether or not you have anything to worry about. As there are four individual vulnerabilities covered by the QuadRooter umbrella, it's possible that you are safe from some but affected by others.
Describing the app and vulnerability, Check Point Software says:
The Check Point QuadRooter Scanner analyzes your Android smartphone or tablet to discover if it's vulnerable to the newly-discovered QuadRooter vulnerabilities. QuadRooter allows attackers to take complete control of Android devices, potentially exposing your sensitive data to cybercrime. The scanner app is designed to give you clear indications of the threat risk to your device and provides more information about QuadRooter, including which vulnerabilities affect your device and how they work.
If you discover that your device is at risk, that's the time to start pestering your handset manufacturer to do something about it!