Walgreens is the first company to integrate a loyalty program with Android Pay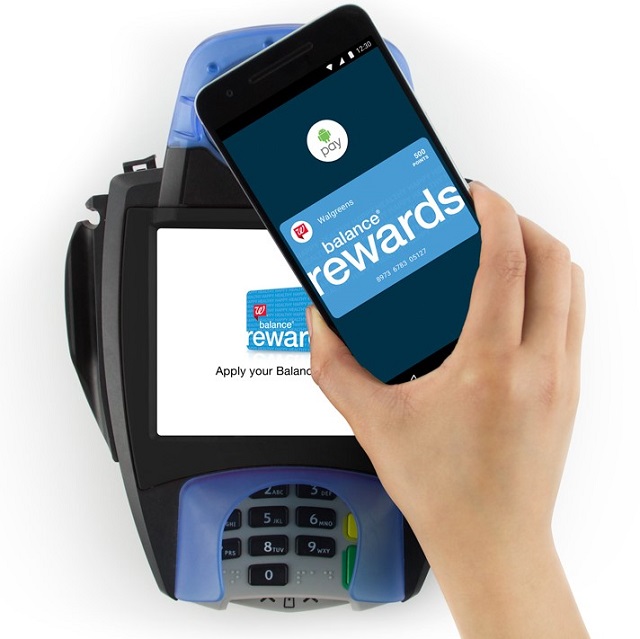 Walgreens is my drugstore of choice for many reasons. Most importantly, I can refill my prescriptions using my smartphone's camera, thanks to the company's wonderful app -- a huge time saver. Then, when at the store, I can pay with either Apple Pay or Android Pay, which is very futuristic and convenient. Also important to me is the rewards program -- my family saves a lot of money with it. CVS is a nightmare comparatively, but I digress.
Today, Walgreens announces that is the first company to integrate a loyalty program with Android Pay. This is very convenient, as it means there is one less card for the customer to carry and pull out at the register (or enter their phone number). Using their Android phone, they can tap once to both pay and earn points. Nice!
"Balance Rewards members can now seamlessly apply their loyalty account at checkout through Android Pay, furthering the convenience of earning and redeeming points and expanding the company's portfolio of unified mobile payments solutions. This latest integration gives the more than 85 million active Balance Rewards members, many of whom use Android devices, another easy, secure and private way to earn and use loyalty points in-store, and eliminates the need to separately scan or enter their Balance Rewards card", says Walgreens.
The drugstore/retailer further explains, "to get the most out of purchases, users can add their Balance Rewards card information to the Android Pay app downloaded on Google Play. Before payment, members simply hold their Android device near the PIN pad and the appropriate rewards information is applied. To checkout, members then hold their Android device again near the PIN pad for payment. Android Pay is easy to set up and users will continue to receive all of the rewards and benefits offered by credit and debit cards".
Wow. This is extremely convenient for customers, but it can greatly help Walgreens too. Less time checking out per customer can equal big savings. Not only will they grow customer satisfaction by reducing lines, but they could better manage employee time by using fewer folks as cashiers. It is win/win.
Will you take advantage of this new feature at Walgreens? Tell me in the comments.