Vivaldi introduces scheduled themes and individually sized Web panels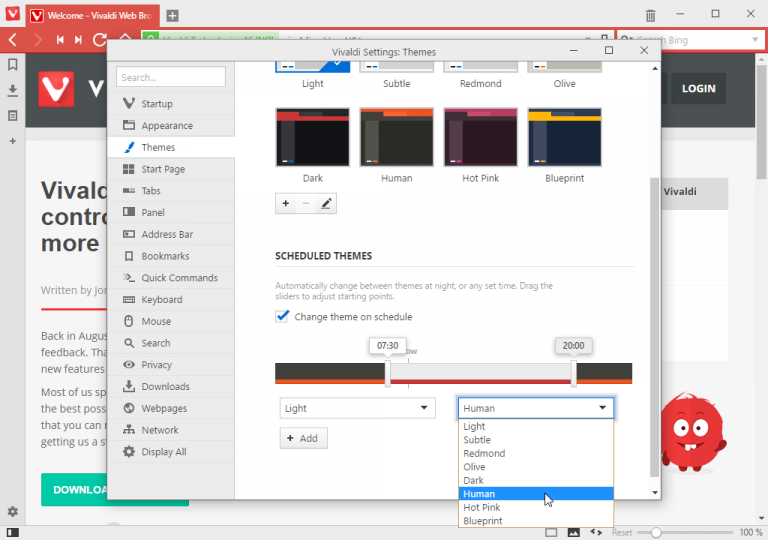 Vivaldi Technologies has unveiled Vivaldi 1.4 FINAL and Vivaldi 1.4 FINAL 64-bit, a major update to its web browser aimed at those wanting maximum control over their browser's look and functionality. Vivaldi is developed by a team led by Opera co-founder Jon S von Tetzchner, and runs on Windows, Mac and Linux.
Version 1.4's headline new feature is support for scheduled themes, which builds on the recent introduction of customizable themes. Other notable changes include greater flexibility over Web panels, and a single-click option for reversing an accidentally closed tab.
Everything about Vivaldi revolves around its tag line: 'Not for everybody, just for you'. This was highlighted in version 1.3, which introduced fully customizable themes. These allow users to customize every aspect of the UI to their personal taste having picked a starting point from the themes provided by Vivaldi's design team. User changes can then be saved as their own theme
With version 1.4, a new scheduling tool has been added, allowing users to switch themes according to the time of day. Multiple theme changes can be scheduled, with users specifying the times using a slider.
Vivaldi 1.4 also tweaks the browser's popular Web panels feature, which allow users to add individual sites such as social media feeds to the browser's side panel to sit alongside the main browser window. Users now gain the ability to set individual widths for each panel (right-click the panel icon and choose 'Separate width'), allowing each one to be properly formatted according to the content it's displaying.
One final improvement sees users given an option to quickly restore an accidentally closed tab by middle-clicking the Trash icon.
The update also includes a number of regressions -- the History entry in the URL dropdown can no longer be deleted, for example -- as well as a handful of bug fixes, such as making sure the Bookmark bar folder is removed from the toolbar when deleted.
This is the fourth major update to Vivaldi since its initial release back in April -- other recent developments include an option to switch off the IP broadcast feature in WebRTC and the addition of more default mouse gestures (both version 1.3) to go with support for editable gestures that was added in Vivaldi 1.2.
Vivaldi 1.4 FINAL is available now as a free download for Windows, Mac and Linux -- a 64-bit version is also available. Users can import data from a variety of browsers, including Opera (old and new versions), Chrome, Edge and Internet Explorer, but not Firefox (a HTML option is available instead).