ZOTAC unveils VR-ready 'MAGNUS ERX480' mini gaming PC with AMD Radeon RX 480


It used to be that if you wanted a powerful gaming PC, you would need a monstrous tower with many loud fans. Nowadays, you can build a Mini-ITX system that offers impressive specifications in a tiny package.
What if you want something even smaller? Zotac has a new VR-Ready mini PC that is shockingly tiny. Inside the diminutive 'MAGNUS ERX480' barebones box is an Intel Skylake Core i5-6400T and an AMD Radeon RX480 (4GB GDDR5 256-bit). It supports DDR4 RAM (1866 or 2133) up to to 32GB and an M.2 connector for storage. For convenience, it can also be had with both RAM and storage installed from the factory. You can choose to have Windows 10 pre-installed too.
"The MAGNUS series continue to provide a premium computing experience by taking care of the details. It comes equipped with both USB 3.1 Type-C and USB 3.1 Type-A port for speed and convenience. 802.11ac WiFi connection and dual gigabit LAN support also come standard. Measuring at 8.27 x 7.99 x 2.45 inches (L x W x H), it is one of the smallest VR Ready systems. A matte black finish underlines its power and whisper quiet performance", says ZOTAC.
The manufacturer further shares, "MAGNUS ERX480 is VR ready and it can also do more with newer standards. Native 4K output at 60Hz is now standard with DisplayPort 1.3 and HDMI 2.0 and quad display support comes standard to provide a multiscreen experience in one of the tiniest package. Powerful Async shaders and new geometry capabilities enable unique support for DirectX 12 and Vulkan".
This slideshow requires JavaScript.
As you can see in the images above, even though it is small, it is not limited. It features two HDMI ports, 2 DisplayPort, dual Ethernet, headphone port, microphone port, and SD card slot. It has integrated Bluetooth 4.2 and 802.11ac Wi-Fi with external antenna too.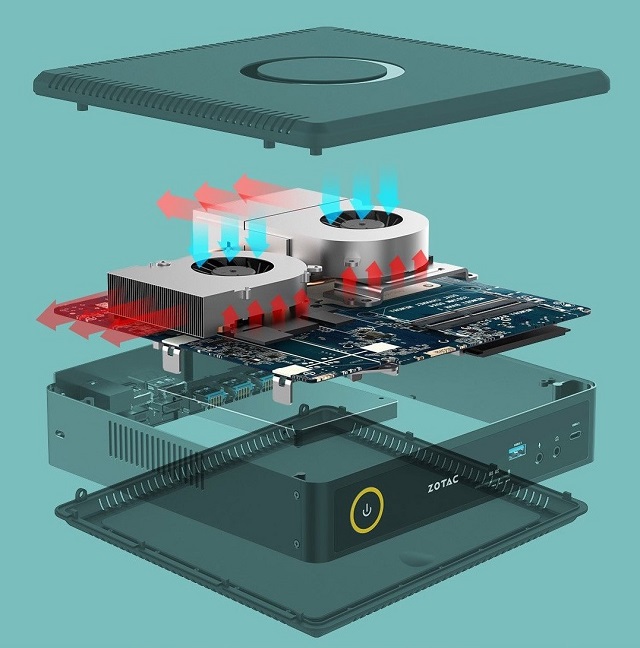 For USB, it has two 2.0 Type-A ports and two 3.0 Type-A ports on the rear. The front is home to two USB 3.1 ports -- one is Type-A and the other is Type-C.
Clearly, the 'MAGNUS ERX480' is a feat of engineering -- having an RX480-powered computer that is capable of virtual reality in this small size is simply amazing. Unfortunately, both price and availability are unknown for now. One thing is certain, however -- I want it.
You can check out the different models at the below links.