Amazon Alexa continues its rollout to Fire tablets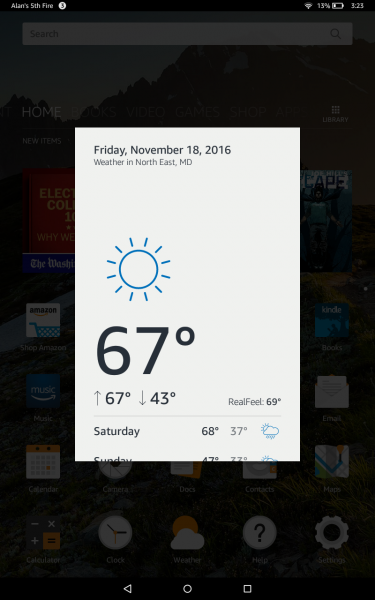 If you happen to own the Amazon Echo and also happen to have a Fire Tablet sitting around, then you have an update for the tablet that has either arrived or soon will. Version 5.3.2 brings a very interesting feature that many users have been clamoring for.
This update rolls Alexa into the mix, bringing voice control to the handheld device. This means you can access the Echo from anywhere in your home, even out of voice range.
When the update is first installed it will walk you through what you can do, but it's pretty much anything you'd be able to accomplish by speaking to Alexa. Get the weather, check sports scores, and so on. It even responds with Alexa's voice. The answer will also pop up on the screen. We should point out that it failed when asking it to turn off lights, simply saying "I'm sorry, but I'm having trouble understanding right now", but that may have been a hiccup.
To get started it's fairly straight forward. Simply press and hold the Home button for a second and then ask your question. You do not need to begin with "Alexa", just speak the request.
The rollout of version 5.3.2 of Fire OS is gradual, but eventually all generation five and six tablets will receive it. You can check for updates under Settings > Device.