Chuwi LapBook 14.1: A surprisingly good budget laptop [Review]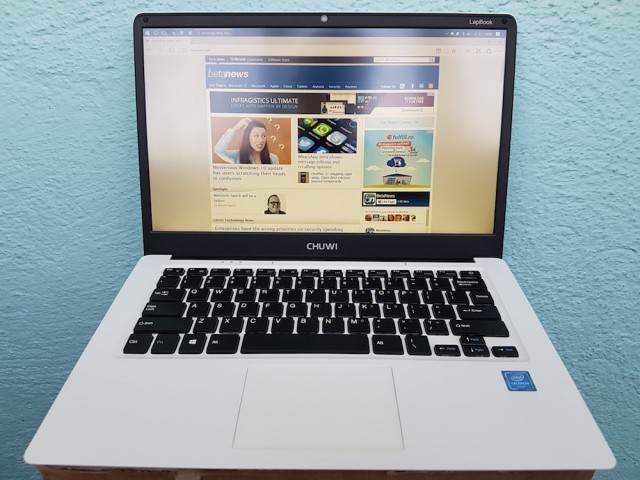 I am a strong believer in the saying "you get what you pay for." It's been my experience that price is a reflection of quality (design, performance, build quality, customer support, you name it), so when I look at an affordable device I tend to lower my expectations. Case in point, before taking the Chuwi LapBook 14.1 out of the box, I thought it wouldn't be much better than the other Chinese laptop I reviewed, the Jumper Ezbook 2.
Why? Because it promises a lot of things for the money: a 14.1-inch IPS display with a resolution of 1,920 by 1,080, 1.1GHz quad-core Intel "Apollo Lake" Celeron N3450 processor, 4GB of RAM, 64GB of storage, microSD card slot, microHDMI port, two USB ports, a webcam, a 9,000mAh battery, and Windows 10 Home for a retail price of $299.99. And, boy, was I proven wrong. The LapBook 14.1 punches far above its price tag would suggest.
What's in the Box?
Chuwi ships the LapBook 14.1 alongside a small charger and the usual literature. That's pretty standard for a non-premium laptop. The device is well protected during shipping, and so is the charger, which is found in a smaller box inside the package.
Just like the LapBook 14.1, the charger and the cables are white. The adapter is small and compact, and connects to the laptop using a small, round connector on the left side. The cable that goes into the wall socket can be swapped, which is useful if you plan on taking the LapBook 14.1 toplaces where different plugs are required.
Design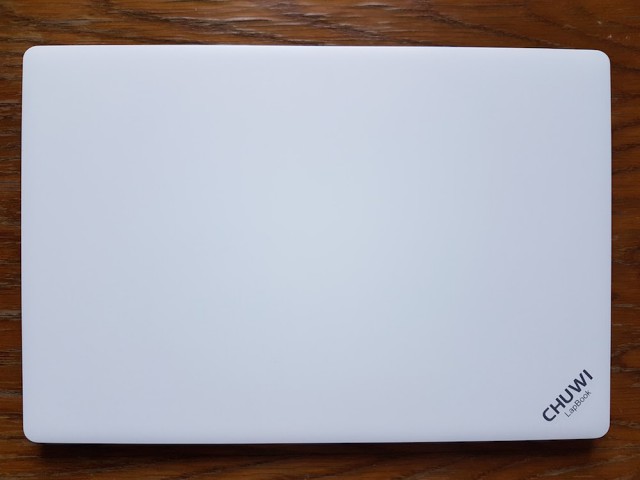 There is lots to like about how the LapBook 14.1 looks and feels. There is no denying the fact that it is made out of plastic, but it is thick enough that it does not creak or flex when you pick it up. It also has a slightly textured finish, which makes it feel nice to the touch. For the money, the LapBook 14.1 has great build quality.
The display has narrow bezels, except for the bottom one which is wider. They're black, just like the keyboard, with a smooth finish. The contrast works nicely here. Fortunately, there is no fake window on the back of the screen, like on other devices which are aiming for that MacBook-wannabe look. Instead, you get a smooth finish atop of thicker plastic.
The only logos you will see are the one below the screen and one in the lower right corner of the display (when looking at it closed). There is also an "Intel Celeron inside" sticker on the ride side of the touchpad, but that can be removed if you want. On the back plate there is some information about the model and two speaker grills. The speakers -- and their placement -- aren't great, but they do the job.
You will be hard pressed to tell that the LapBook 14.1 costs as little as it does -- or, just like me, you will realize that many laptops that cost twice as much aren't as nice in terms of build quality. Either way, Chuwi has done a great job here.
Display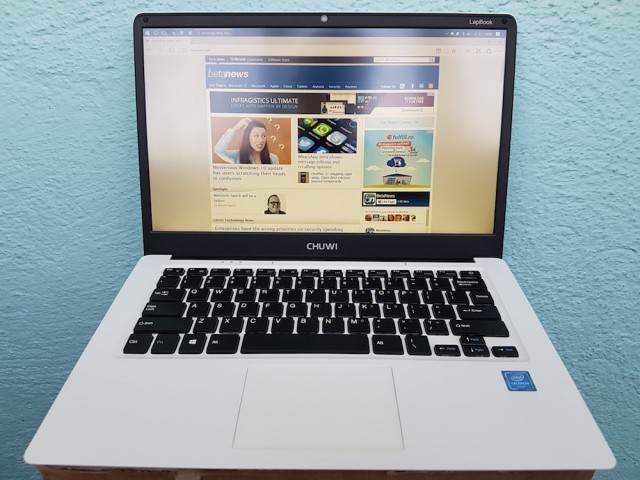 The highlight of the LapBook 14.1 has to be its display. The 14.1-inch screen is really nice and the fact that it is an IPS panel and it has such a high-resolution (for a laptop in this segment, anyway) only makes it more appealing. It's also got a matte coating on top, so there is no glare as you use it near light sources.
Having an IPS panel means that viewing angles are really good, both horizontally and vertically). It looks better than the screen on my 13.3-inch MacBook Air, but many other displays nowadays do. Colors look nice and the brightness is fairly even when looking at a black screen.
Chuwi ships with LapBook 14.1 with a scaling factor of 1.5, which makes things on the screen appear bigger than I personally like. So, I went to Display settings and switched to 125 percent to fit more things on the screen. I think that's the ideal setting for this kind of configuration.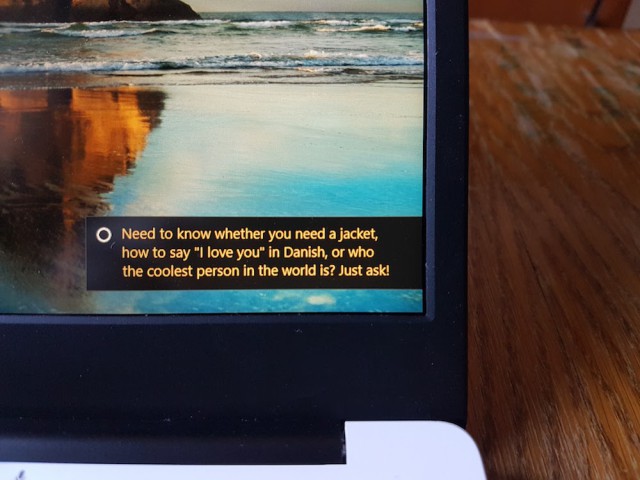 A word of note here: while Windows 10 looks fine with a scaling factor higher than one, there are still lots of programs which scale badly. Text, in particular, can look blurry. That's something that developers need to fix, but until that happens you have to put up with it -- unless you don't mind running the screen without scaling, which makes things look really, really small.
Something else that I have to point out is that you can't adjust the brightness of the screen using the keyboard. For some reason, Chuwi opted not to offer this feature. Personally, I don't really mind it, but it is something to keep in mind. To adjust the brightness you can use the control button that's available after you click on the battery indicator in the taskbar.
Performance
The LapBook 14.1 is not designed to break any performance records, as the Celeron N3450 is a budget processor. But budget here does not mean slow. I've used the LapBook 14.1 just like I would use my MacBook Air and it did not skip a beat. Granted, it will struggle if you throw too much at it, but if you are casually browsing, watching videos, writing or chatting you will not run into any issues.
Something else that I like is the LapBook 14.1 does not get hot to the touch. Other laptops tend to have this problem, but the Celeron N3450 looks to run fairly cool -- the 6W TDP is a sign of it. It helps that there is no dedicated graphics inside, as it comes with HD Graphics 500. That's a pretty good solution from my point of view, as it is speedy enough to handle YouTube videos with ease.
The storage is a similar story. It is not SSD-fast, as Chuwi opted for a 64GB eMMC chip (SanDisk DF4064). However, do not take this for a sign that it is slow. Far from it. When using the LapBook 14.1 casually, as I mentioned above, you will not see it struggle. But if you want to copy large files it will take longer as a result. You can see the benchmark results below for the storage.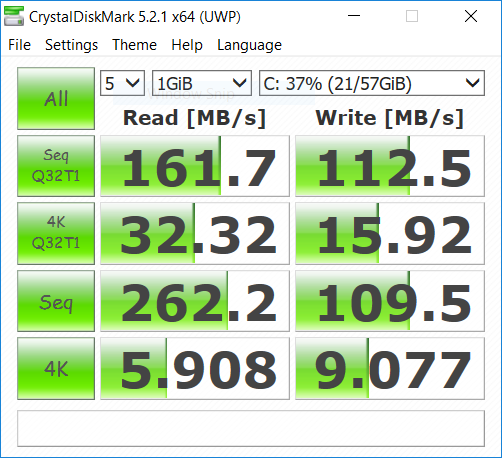 Overall, I think the LapBook 14.1 performs quite well. There are no slowdowns, programs open quickly, and it can handle some light multitasking -- thanks to having 4GB of RAM -- and day to day tasks with ease.
Keyboard and Touchpad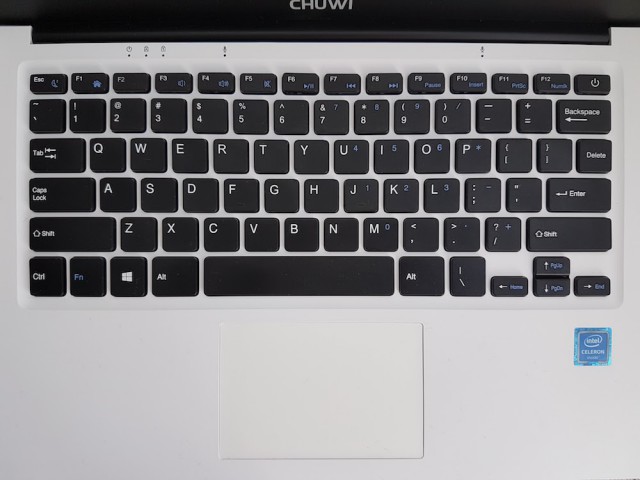 The LapBook 14.1 has a pretty good keyboard for a laptop in this segment, which I find surprising. Other devices I have used tend to either have a shallow key travel, crammed keys or flex badly when you press on it. This keyboard has none of those problems.
In fact, key travel is longer than I would expect for such a slim device (a bit longer than I prefer, to be honest), there is enough room between the keys so you don't get accidental presses, there is very little flex, and the keyboard itself feels nice as you glide your fingers over it. It is not perfect though, for the reason I mentioned in the display portion of this review. But, if you will be doing a lot of typing, I believe that you'll like it.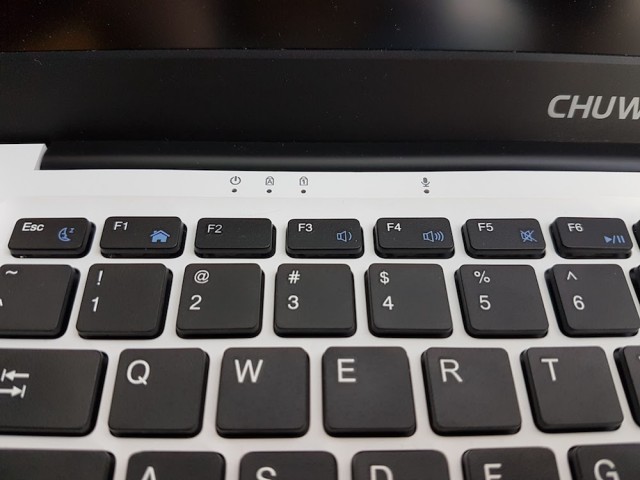 The layout, as you can see from the photos, is pretty standard. You will quickly get used to it, especially if you've used a smaller laptop before. You get the standard controls (via the Fn key) on the top row and a number pad as well, which you can access by pressing the Fn key and the keys with blue numbers on top. I don't think that it's needed, but it certainly doesn't hurt to have it.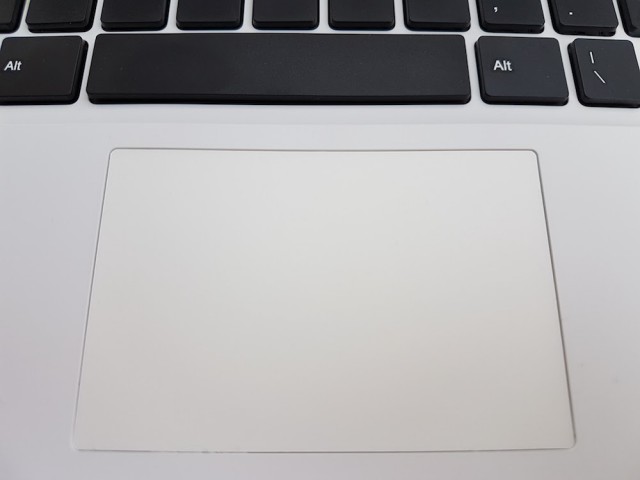 Where the LapBook 14.1 does not shine is in the touchpad area. Suffice to say that you will want to use a mouse with it. The surface area is decent, but the way that your gestures are interpreted leaves something to be desired. Mind you, it is not terrible, but I wouldn't use it for a longer period of time.
The LapBook 14.1 has Bluetooth and two USB ports, so you can connect a wireless or wired mouse if you want. My Logitech MX Master works great with it.
Battery Life
Chuwi says that the LapBook 14.1 has a 9,000mAh battery inside, but offers no estimate for battery life. Given the low cost, one cannot expect it to break any records. But, taking it off the charger, Windows 10 says that I can expect it to work for a bit over 12 hours. So, I took it off the charger and nearly 48 hours later, which include about six hours or so of actual use, it's got close to 60 percent battery life. That's on the standard profile at 50 percent brightness, which I find comfortable. The standby performance is excellent and so is the battery life.
Heading over to YouTube at that point to watch a couple of videos brings the estimate down to about three and a half hours of battery life left. An hour later, it's down to 35 percent, however. So it will not last as much as Windows says, but I think it's quite respectable in this regard for a budget laptop.
Portability
The LapBook 14.1 has compact dimensions for a 14.1-inch laptop, mostly thanks to the smaller screen bezels and its thinner profile. It measures 32.92 x 22.05 x 2.05 cm (12.96 x 8.68 x 0.81 in). I weighed it at 1.46kg (3.21lbs) on my digital scale, without the small charger which comes in at 183 grams (6.45 ounces).
For the sake of it, let's see how it stacks up against the latest MacBook Air, which is a popular choice in the ultrabook segment. Apple's laptop comes in at 32.5 x 22.7 x 0.3-1.7 cm and 1.35kg, so the LapBook 14.1 looks quite good in comparison. It's not as thin or light, but I think it's quite respectable here.
Windows 10
The first thing that I did after taking the LapBook 14.1 out of the box was to check if Windows 10 is activated (which it was) and then reset the device to factory settings (because it came pre-configured with a Chuwi user account). Everything went fine, and I was greeted with the initial setup, opted for the settings I like, added my Microsoft account and a PIN, and I was up and running.
It is quite something to look at Chuwi's Windows 10 setup compared to one from a more established brand, because there is no bloatware in sight. You could run it like it comes from the factory and have nothing to complain about with regards to third-party software. All the drivers are installed, as you would expect, but there is no software for the webcam, for instance, or media playback. I like that, because I install my favorite programs anyway.
Conclusion
The LapBook 14.1 is a great option for the money. It has impressive build quality, performs well, has good battery life, and a clean Windows 10 setup. Initially, I mentioned that it retails for $299.99, but if you want to get it you can find it for much less. What's not to like?
Photo Credit: Mihăiță Bamburic