Tabby Cat generates a feline friend for every new Chrome tab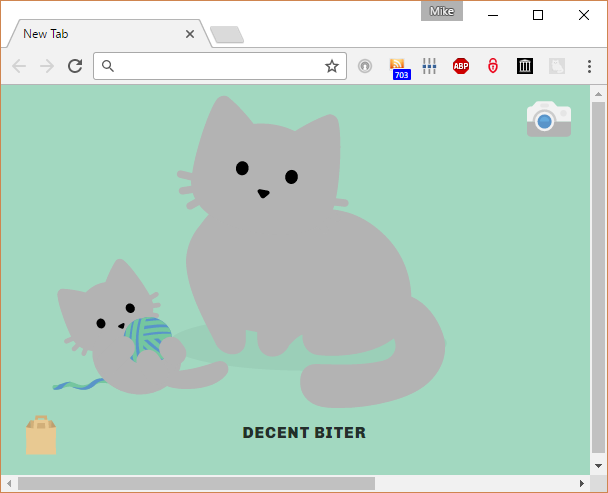 There are endless Chrome extensions which replace your new tab page, typically to give you gorgeous photo wallpaper or equip your browser with productivity-boosting tools.
Tabby Cat has a simpler aim: it generates and displays a cute new cat on the background of every tab you open.
The graphics are basic -- a simple silhouette, eyes, nose, maybe a shadow -- and don't change very much. But they can look cute, with some very simple animations, and occasionally respond if you try to pet them.
There are occasional variations to keep you entertained: different colors, tiny companion kittens, bonus goodies like balls of wool, odd quirky images like a flying kitten with a wand and a cat with a unicorn-like horn.
Every cat has its own randomly-generated name: "Vanilla Sneaker", "Snuggly Marshmallow", "Leaping Princess", "Wise Meow" -- you get the idea.
Perhaps the most surprising feature here is the snapshot option. If you see an image you like, clicking a camera icon top-right saves it online and gives you a short URL, like http://tabbycats.club/8ihx1a, to share with others. There's no catch, no registration required, it just works.
Overall, the core extension is basic, but it might be fun for kids and feline fanatics in general. If the developer can give the cats more variations, more interactivity, the sharing option will help existing users get the word out quickly and it could really take off.
Tabby Cat is a free extension for Google Chrome.