Microsoft: Windows 10 is the most compatible Windows yet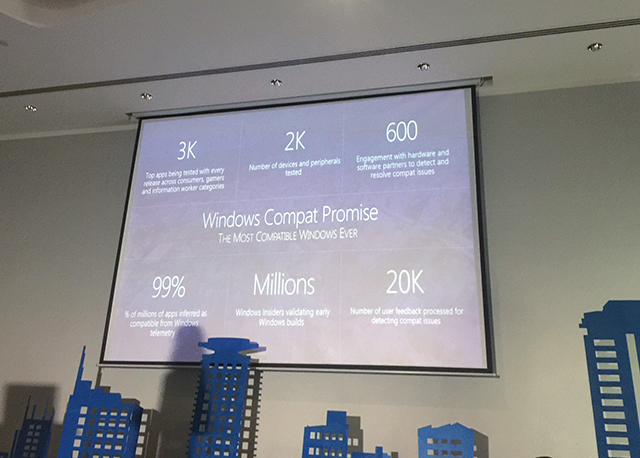 There are so many different programs, devices and peripherals on the market, that when Microsoft makes, or updates a new operating system, there's a good chance something will break.
It's obviously a challenge to make Windows compatible with as many third-party products as possible, but Microsoft says Windows 10 is its most compatible OS to date, and shares some facts to back this up.
SEE ALSO: Windows 10 is now on one in four systems -- but can it catch Windows 7?
In a presentation on digital transformation within IT departments at NexTech Africa, a slide revealed the following numbers regarding compatibility in Windows 10:
3000 -- Top apps being tested with every release across consumers, gamers and information worker categories.
2000 -- Number of devices and peripherals tested.
600 -- Engagement with hardware and software partners to detect and resolve compatibility issues.
99% -- # of millions of apps inferred as compatible from Windows telemetry.
Millions -- Windows Insiders validating early Windows builds.
20,000 -- Number of user feedback pieces processed for detecting compatibility issues.
The details shared are number based, and don't really go into specifics so it's a little hard to determine exactly what they mean in some cases. For example, what's the problem with the 1 percent of Windows apps that aren't inferred as compatible from Windows telemetry? And how many of the 2000 devices and peripherals tested failed the compatibility test?
Still, it's interesting to see the level of work that goes into making an OS play nicely with other programs, devices and peripherals.
Have you encountered any compatibility issues with Windows 10?