ForkLift 3.0 released for macOS, unveils complete redesign and rebuild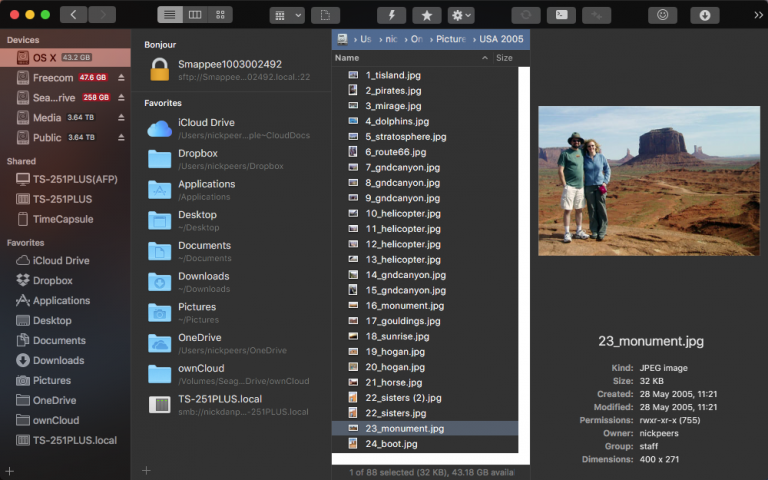 Binary Nights has released ForkLift 3.0 for macOS. The dual-pane file manager and file transfer client has been two years (and six months of beta testing) in the making, and has been completely rewritten from the ground up in Swift.
The app is designed to be used as an alternative to Finder for specific operations -- it's not a direct Finder replacement (although can be set as the default file viewer); instead, open the app from the Applications menu to open its main window.
The most visible change can be found with ForkLift's completely redesigned user interface, which fits in seamlessly with the latest versions of macOS. It comes with a Dark Mode and defaults to a two-paned interface for easy file transfer operations.
Other notable features include ForkLift Mini, which sits in the menu bar and offers three types of shortcut: Disklet (mount saved remote connections), Droplet (upload files from Finder to a remote location via drag and drop) and Synclet (run a sync operation without opening the main ForkLift app).
There's two-way sync, allowing users to easily keep two folder pairs in sync, along with the ability to sync ForkLift Favorites across multiple computers using Dropbox.
Other useful tools built into the app include archive management and a multi-file rename tool with support for regular expressions and the ability to create presets for frequent renaming actions.
There's also an App Deleter (drag it from the ForkLift window to the trash) that removes associated preferences files as well as the application itself.
Other handy file management tools include tagging, quick open, preview pane, multiple tabs, workspaces and the ability to compare (and merge) files.
The app also supports remote connections via the lightning button on the main application window -- users can connect via a range of protocols, from SFTP to Amazon S3, AFP, SMB and VNC. Connections can be saved as favorites for easy access, and users are able to edit files remotely, plus throttle bandwidth for performance reasons.
Developers will be pleased to see Git support has been implemented, and users can easily open the currently selected folder in Terminal or iTerm.
ForkLift 3.0 is available now as a free trial download for Macs running OS X 10.11 (El Capitan) or later. The full version normally costs $29.95, but is available for a limited time at $19.95. Family and Small Business Licenses are also available, both currently discounted at $29.95 and $49.95 respectively.