Microsoft unveils Skype Lite, an Android app for India that's light on data usage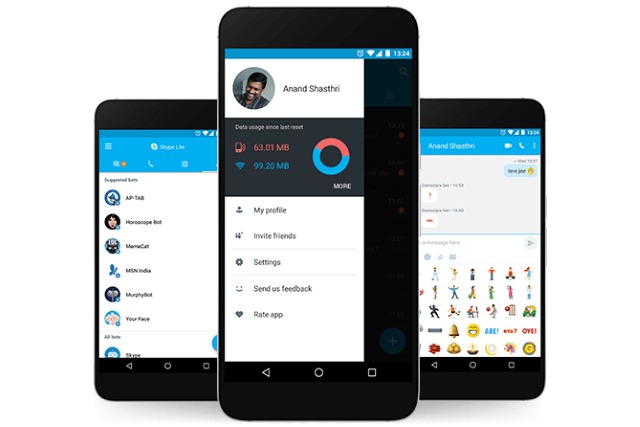 Microsoft has thrown a lot at Skype in recent years, and the latest move sees the company releasing a completely new version of the Android app designed for use on slower internet connections -- specifically in India.
Described variously as being "our fastest and smallest app to date" and "built in India, for users in India", the focus with Skype Lite is on speed and efficiency. The new version of Skype uses less data and battery power, but still delivers the Skype experience that users have come to rely on.
Skype Lite is available in Gujarati, Bengali, Hindi, Marathi, Tamil, Telugu and Urdu and has been borne of Microsoft's close work with users in India. It takes into account the quirks and limitations of the country's network infrastructure, and works effectively even on a 2G connection. Additional features include SMS filtering, data and Wi-Fi usage monitoring, and Skype bots with a focus on India.
Revealing details of the new app, Microsoft says:
We also listened carefully to user feedback. Skype Lite uses less data and power by compressing large files such as photos and video content and therefore requires less battery power compared to the Skype mobile app. This helps to minimize issues with the app draining the battery, especially on older devices.

Looking ahead, Skype plans to bring Aadhaar integration to the app by June 2017 which will enable Skype users to verify the identity of unknown callers in a variety of situations where identification verification is required, including job interviews, goods and property sale.
If you're in India, you can download Skype Lite from Google Play, but people in other parts of the world will have to wait until it hits one of the various app repositories, or turn to their favorite VPN tool.