Google Play now ranks games according to engagement, not just downloads, and sale prices are go!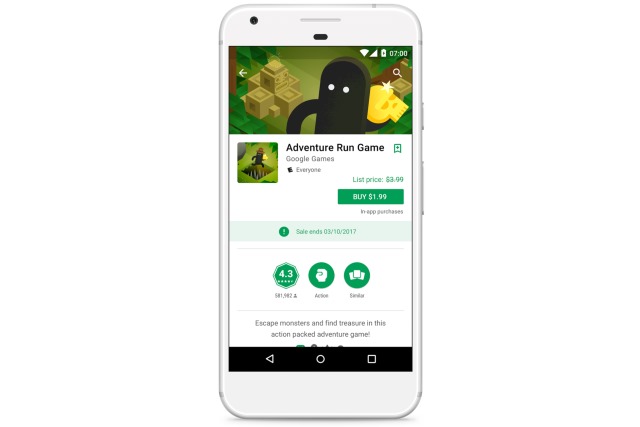 Google has announced a few changes to the Play Store, one of which means that listings for games will be promoted not based solely on the number of downloads. The company is tweaking its algorithms to take into account how much time is spent playing games -- so a game which achieves large numbers of downloads but isn't played much will drop down the rankings.
Another change that has been a long time coming is the option for developers to list sale prices for their apps and games. While it was previously possible to manually change the price of a title, now devs can list the full and sale price at the same time, so buyers can easily see what savings they are making. New editorial pages are also due to be added to Google Play.
The strike-through list price is a great way for developers to drum up interest in an app or game they want to promote, and it's surprising that it has taken so long to implement this option. It's all the more surprising when Google says: "During our pilot phase, developers not only saw a 3x-20x lift in installs during their promotions, they also maintained a nice lift once the sales ended."
For anyone browsing through Google Play though, it's the change to ranking algorithms that will have the most immediate and obvious impact. Google explains:
Promoting high quality experiences based on engagement, not just installs: With the enormous variety of games available on Google Play, there are many instances when great games don't get the visibility and attention they deserve. Recently, we've begun tuning our algorithms to optimize for user engagement, not just downloads. This is one of our ways to reward quality, which for games means promoting titles with stickiness (strong engagement and retention metrics) as well as a more traditional measure like a high star rating.
Google is also adding another level of app curation to the Play Store by introducing new editorial pages. These will be used to group together hand-picked games from particular genres which editors believe will be of interest to gamers.