Firefox 52 lets you send tabs to other synced devices, ups the security ante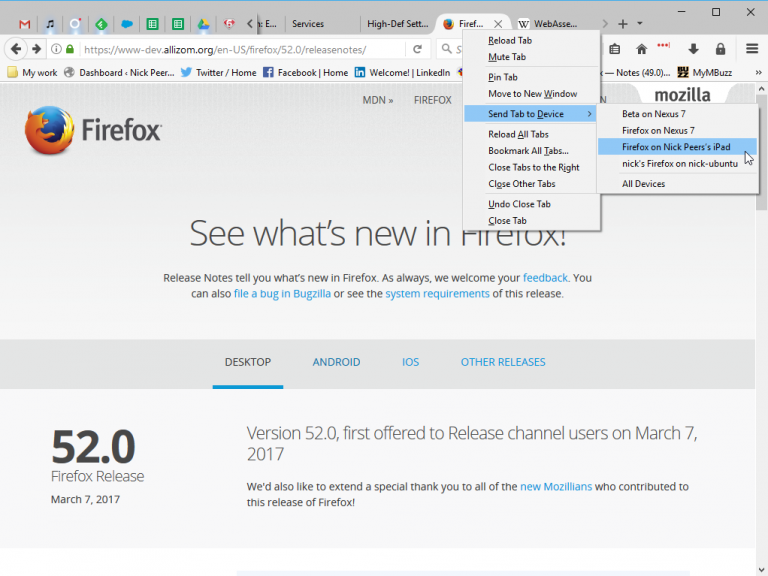 Mozilla has released Firefox 52.0 for Windows, Mac and Linux, with Firefox for Android 52.0 due imminently.
Firefox 52 now supports syncing tabs to specific devices, makes various improvements to the Downloads button and introduces a raft of security, developer and other enhancements. It's also the final release for Windows XP and Vista users.
Firefox 52 opens with extended sync features – now users can also send and open tabs from one device to another using the Sync feature. Once signed in and sync is set up, simply right-click a tab and choose Send Tab to Device to reveal a list of synced devices.
Users should note that the target device's version of Firefox will be listed even if it doesn't currently support the feature (Firefox for iOS is one notable example). If the feature is supported, the tab will magically pop up on the other device, complete with a notification.
Elsewhere, multi-process Firefox has been enabled for Windows 8 or 10 touch-screen devices, which should result in notable performance improvements.
Firefox 52 also tightens security in a number of different ways. First, it displays a warning within both username and password fields on insecure (non-HTTPS) web pages. Non-secure websites can no longer set cookies with a "secure" attribute, and the Battery Status API has been removed to reduce the ability of trackers to fingerprint users.
The new release also behaves better when connecting to Wi-Fi networks through captive portals (typically found in public spaces) -- now the required login or registration page is now displayed in a new tab.
Firefox 52 also adds support for the experimental WebAssembly low-level programming language that has been explicitly developed for in-browser client-side scripting. WebAssembly officially supports C and C++ compiled scripts, and is seen as a superior alternative to JavaScript.
Firefox's Downloads button gains three notable improvements: a toolbar notification when a download fails, plus access to the last five downloads along with larger buttons for cancelling and restarting downloads.
The release also sees NPAPI support removed for all plugins except Flash, which means that Silverlight, Java, Acrobat and other similar plugins will no longer work. Instead, web developers are encouraged to transition their websites to native Web-friendly technologies such as HTML5.
Developers gain improvements to the Responsive Design Mode with device selection and network throttling two notable enhancements, while screen sharing now shows a larger preview and no longer requires whitelisted domains. Finally, the CSS Grid Layout has been enabled.
One unresolved issue sees Google Hangouts temporarily not working, while Firefox 52 will also be the last major new release to support Windows XP and Vista -- security updates for both platforms will be provided for one year going forward before all support is dropped.
Firefox 52.0 is available now as a free, open-source download for Windows, Mac and Linux. Also due for release is Firefox for Android 52.0. This is another relatively minor update, offering enhanced audio controls, and a reduced-size APK file installer (by 5MB) to speed up download and installation.