ADATA unveils elegant UV310 USB flash drive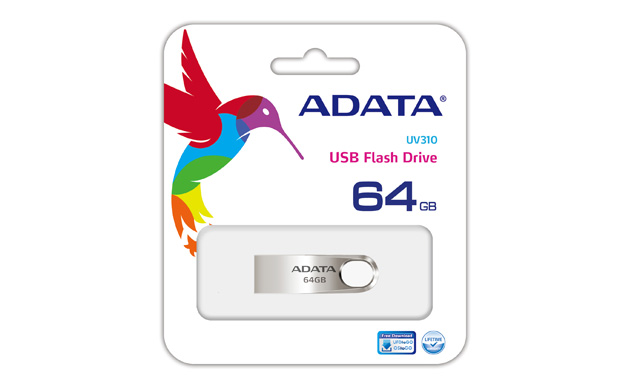 In 2017, USB flash drives are hardly exciting products. In fact, thanks to cloud storage, these little storage drives are largely obsolete. With that said, there are still uses, such as installing an operating system, for example. In other words, if you want to install Windows 10 or Ubuntu, USB flash drives are far superior to optical disks. There are other times a flash drive can come in handy too.
If you are going to buy a flash drive, you might as well target a quality product. Today, ADATA announces an absolutely gorgeous metallic storage device. Called "UV310," it is available in three capacities -- 16GB, 32GB, and 64GB.
"Made using sturdy chip-on-board (COB), unibody (one-piece) construction, the UV310 employs zinc alloy and sandblasted textures to combine an alluring metallic look with a high degree of toughness. It weighs just 4.7g and is available in up to 64GB. Fashionable, sleek, and sophisticated, the UV310 re-affirms the ADATA commitment to producing the finest USB drives," says ADATA.
The company also says, "On top of fashion and performance, the UV310 provides instant, hassle-free connectivity with any device equipped with a USB port. PCs, smartphones, tablets, smart TVs, consoles, entertainment systems, set top boxes, even industrial equipment: if it has USB, the UV310 works with it."
This slideshow requires JavaScript.
The ADATA UV310 USB flash drive uses the USB 3.1 gen 1 interface, which is really just another way of saying USB 3.0. You can expect speeds around 100MB/s read and 30MB/s write. The large hole in the body can accommodate a key ring or lanyard. Best of all, it is very durable -- it is shock-, water-, and dustrproof.
If you are interested in purchasing this stylish flash drive, you can expect it at popular retailers soon. Pricing will be revealed at that time.