Hacked! New York Post mobile app compromised in security breach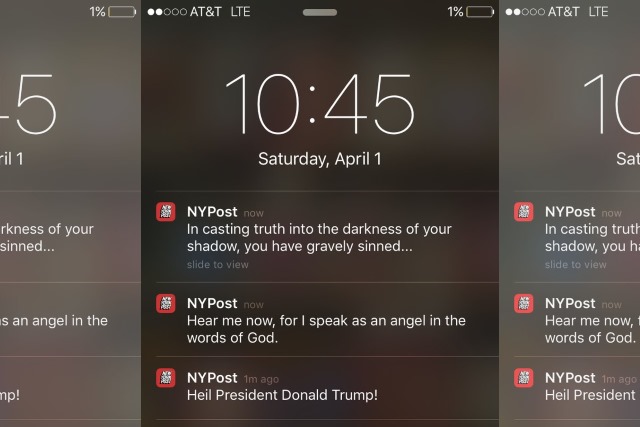 The New York Post suffered a security breach this weekend when its push notification system was compromised. Unknown attackers used the system to send out messages to users of the New York Post mobile app.
The hackers sent out messages with strange, cryptic content. One read "Heil President Donald Trump!", while others had a religious or spiritual tone to them, and one quoted a Nirvana lyric.
A staff writer at the New York Post, Adrian Chen, took to Twitter to say: "New York Post says their push notification was hacked. Hackers could have really caused some chaos. They actually went pretty easy!".
The newspaper has given little detail about what happened, but said in a tweet:
The push alert system for our mobile app was compromised this evening. Please accept our apologies.

— New York Post (@nypost) April 2, 2017
It's not clear who was behind the attack, but the hack caused confusion and amusement on Twitter as people shared the strange notifications they received:
Well the @nypost notifications officially have me creeped out #NYPost #hacked pic.twitter.com/37qZW0is3m

— Andie Lowenstein (@AndieLow) April 2, 2017
Image credit: Adrian Chen