Amazon launches Parent Dashboard and Discussion Cards to allow greater parental control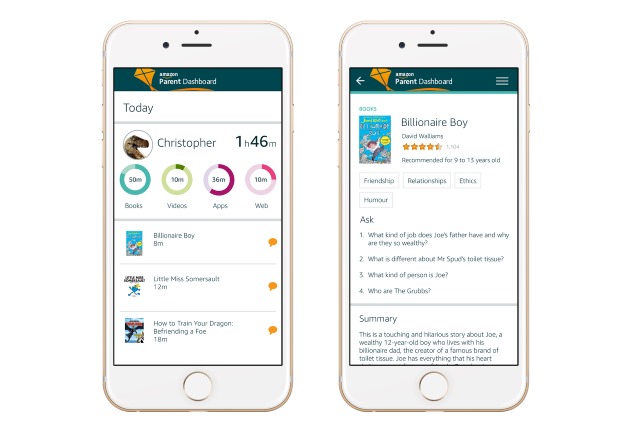 The problem with unleashing any child onto the internet is keeping track of what they are up to, and trying to ensure they're not accessing content you'd rather they didn't. With this in mind, Amazon has launched two new services for its Fire for Kids tablet.
Parent Dashboard and Discussion Cards not only give parents the chance to keep an eye on what their kids are doing, but also to encourage dialog about apps and content. Amazon says the aim is to connect parents and children, but it's also about managing time limits and setting educational goals.
Parent Dashboard is a mobile-optimized website that provides parents with access to daily activity reports, but Amazon is making more noise about Discussion Cards. These are created to tie in with popular content -- apps, books, videos and so on -- and are written by Amazon Content Editors. The company explains the thinking behind the tool:
Discussion Cards allow parents to tap into a specific Fire for Kids book, video, educational app or game title to get more detail, including a summary and sample questions they can ask their child. For example, when clicking on "Billionaire Boy," parents will see questions like, "why do you think it is so difficult for Joe to make friends?" or "why do you think people say that the "best things in life are free"?" This helps parents quickly become familiar and engage with their kids around the content they are viewing. Discussion Cards also provide ideas for real-world experiences for families --  Billionaire Boy title suggests "come up with some fun ideas for new inventions, just like Mr Spud's toilet tissue in the book." If a parent finds that their child has a real interest in what they read or viewed, they can suggest doing something together as a family to help deepen their experience and build on their interest.
The Dashboard gives parents the chance to see how long their kids are spending with different types of content, and to monitor how this changes over time. Amazon says this information can be useful when it comes to setting limitations and goals for a child profile.
You can access Discussion Cards and Parent Dashboard at parents.amazon.co.uk.