Microsoft shows off Edge's battery usage improvements in Windows 10 Creators Update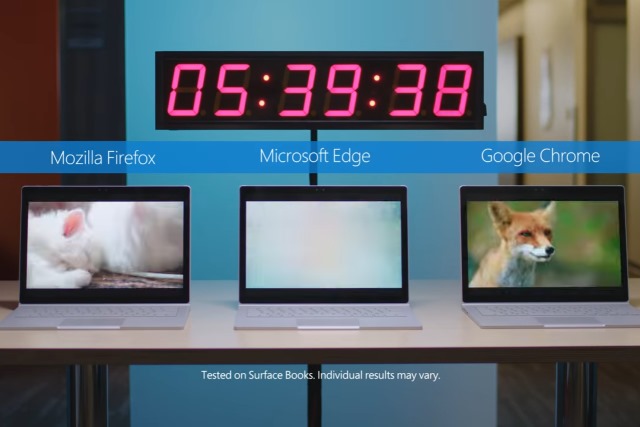 The war over which web browser offers the best battery life to laptop users has been waging for some time. Chrome, Firefox and Microsoft Edge have all been battling it out, and with the release of Windows 10 Creators Update, Microsoft thinks it's time to show off the improvements that have been made to its browser.
In Microsoft's own tests -- involving streaming video on a Surface Book -- Edge lasted for over three hours longer than Chrome, and nearly five hours longer than Firefox. These are figures that will almost certainly be disputed in further tests by Mozilla and Google, but for now, Microsoft is giving Edge its moment in the spotlight at the top of the performance pile: 77 percent longer battery life than Mozilla Firefox, and 35 percent longer than Google Chrome.
According to Microsoft's own tests, Edge lasted a total of 12 hours 31 minutes and 8 seconds when streaming Vimeo video in full screen mode. In the same test Chrome lasted 9 hours 17 minutes and 3 seconds, while Firefox trailed behind 7 hours 4 minutes and 19 seconds.
Microsoft gives detailed information about the Surface Book setup that was used to perform the tests:
The test was performed on three separate Surface Book laptops running the Windows 10 Creator's Update (15063.0 release). These computers were configured to the following settings, to increase consistency between measures and reduce tasks that may start during the measurement and interfere with the results, while still representing a realistic user setup:
Display brightness was set to 75%
Volume was set to mute
Location was disabled
Bluetooth was disabled
Quiet hours were enabled
Updates were temporarily disabled
Device was connected to a wireless network
Ambient light sensor was disabled
Defender was running normally and up to date
Device was physically unplugged and running on battery
Windows Battery Saver mode was set to activate at 20% battery
The cache was cleared on each browser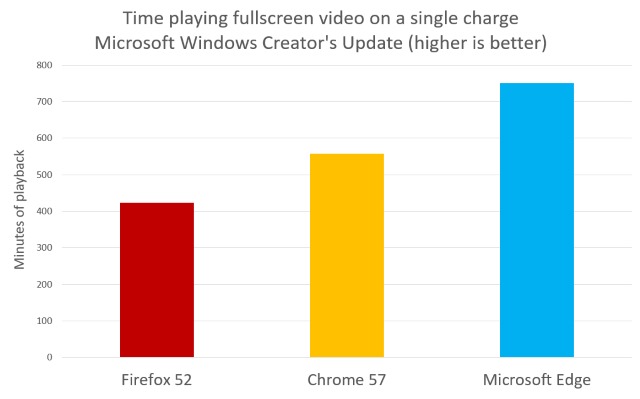 Check out the video to see how the three browsers performed in tests: