Spotify bot for Facebook Messenger lets you share music and listen to mood-based playlists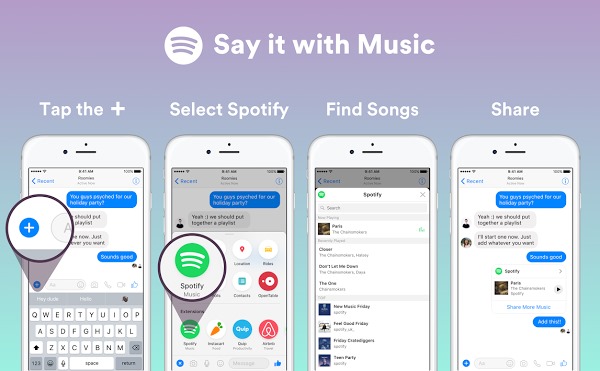 At Facebook's F8 conference yesterday, much of the attention was focused on virtual reality, augmented reality -- anything that breaks out of vanilla reality. But there were other things of arguably greater interest, and for music fans there was news of the Spotify bot for Facebook Messenger.
Facebook has been throwing a lot at bots recently, and it's little surprise that big names like Spotify are getting in on the action. For the music streaming service, the bot serves a dual purpose: giving useful functionality to Messenger users, while simultaneously pushing people into taking up a subscription.
It's not something that is going to appeal to everyone. Spotify's suggestion of "building playlists with friends" is not something the vast majority of people do with any sort of regularity, but the bot will almost certainly gain something of a following nonetheless. The highlight of the bot is the ability to share 30-second song snippets with the people you're chatting with.
The Spotify team says:
The Spotify bot for Messenger will serve up playlist recommendations based on mood, activity, or genres. With the associated Messenger Chat Extensions feature, people can search and share Spotify songs, albums, and playlists directly with friends without ever leaving the Messenger app. For the first time ever, friends on the other end will be able to preview 30-second clips directly within the Messenger app or visit the Spotify app to listen in full.

The new Chat Extensions feature can be activated simply by tapping on the blue "+" icon to the left of the text box while in conversation with friends to search and share music, and select the Spotify bot. Find the song, hit share, and you're all set!
Find out more by heading over to http://m.me/Spotify or by installing the bot in Facebook Messenger on your phone.