Google adds phishing protection to Gmail app on Android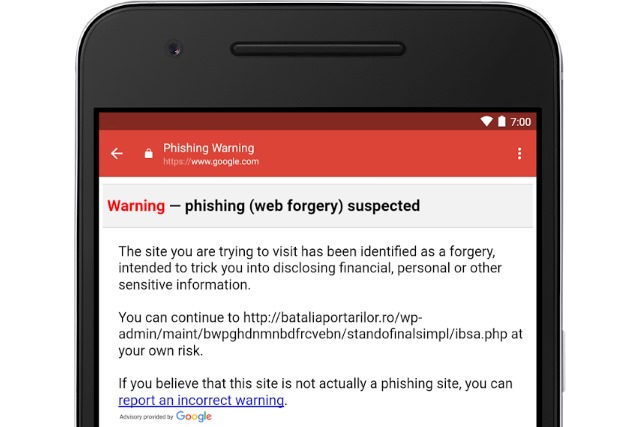 Gmail users will now be protected from phishing attacks on their Android phones thanks to a new update from Google. The company is rolling out a new security feature similar to that found in the web version of Gmail, warning people when an email contains a suspicious link.
For now, the update is only rolling out to Android users, and Google has not indicated whether it will make its way to iOS in due course or not. The update comes just shortly after a phishing scam emerged in which recipients were encouraged to click on a link to open files purporting to be stored on Google Docs.
When a suspicious link is detected in an email, the Gmail app will now issue a warning: "The site you are trying to visit has been identified as a forgery, intended to trick you into disclosing financial, personal or other sensitive information." There is the possibility that sites will be incorrectly identified as potentially dangerous, and for this reason Google does not completely block access to using a link, but advises that you do so "at your own risk."
Announcing the new phishing protection rollout, Google says:
This week, we're introducing a new security feature in Gmail on Android to help you keep your email safer.

When you click on a suspicious link in a message, Gmail will show a warning prompt helping you keep your account safe.

While not all affected email will necessarily be dangerous, we encourage you to be extra careful about clicking on links in messages that you're not sure about. And with this update, you'll have another tool to make these kinds of decisions.
From the wording, it sounds as though Google is going to be erring on the side of caution, perhaps believing that the occasional false-positive is better for PR -- and, of course, security -- than having users fall victim to phishing attacks.