'Alexa, how do people interact with Alexa?'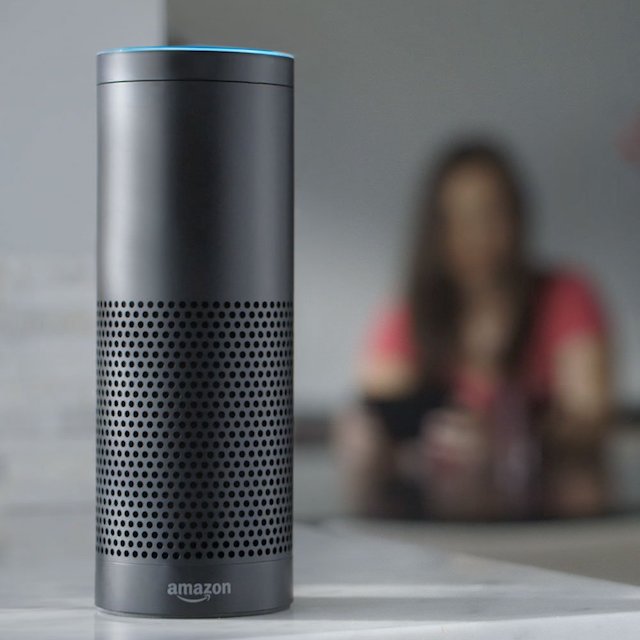 A new study analyzing the way users interact with their "smart speakers" shows that the most used feature of devices like the Amazon Echo and Google Home isn't to stream music or even to get the latest weather.
The most commonly used feature of smart speakers is asking "general questions," proving that getting answers to life's daily queries and curiosities from a cloud-based computer voice is becoming an increasingly standard practice in today's society.
To be specific, among people in the US who owned a smart speaker in the first quarter of 2017, 60 percent of them said they use the device to ask general questions. 57 percent said they use it to get weather updates, and 54 percent use it for streaming music.
That may come as a surprise to some of the less-forward-thinking analyses when Amazon first introduced the smart speaker market back in 2014, who criticized the Echo as nothing more than an overpriced music player and questioned, on an existential level, the desire of people to have a voice-activated smart home assistant.
The middle of the chart is less interesting, with things like timers and reminders being expectedly somewhat-used features. What's more interesting are the impressive numbers of users who are getting the most out of their smart speakers, and actively engaging with the newest features.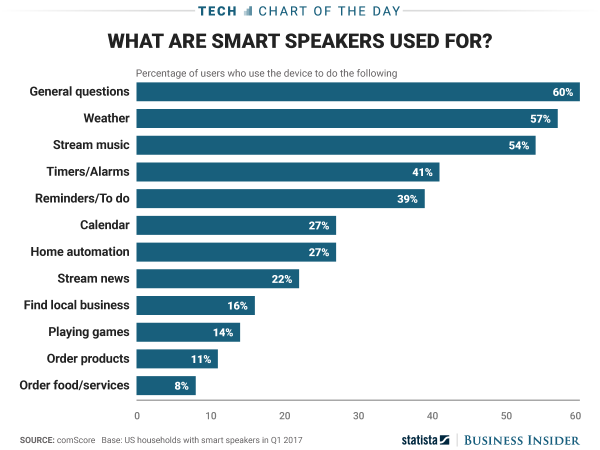 A significant 27 percent of users are controlling home automation devices with their voice, which is a decent milestone considering the Amazon Echo, which defined this market, did not even have this kind of capability when it was released. That, along with most of the other emerging features, have been added with firmware updates, and have become standard with new smart speaker models.
And although Amazon would surely like more than 11 percent of users to be ordering stuff on Amazon.com through their Amazon speakers, this is again a function that some scoffed at when it was first suggested. And the fact that getting pizzas and other food delivered from Alexa is a common enough practice to be included in these data points, is a testament to how far the home assistant concept has come.
Admittedly, the population of people who have an Echo, Echo Dot, Google Home, LG SmartThinQ Hub, or similar device, is going to be comprised largely of bleeding-edge early adopters, but that audience is beginning to expand into the mainstream (hence being parodied recently on SNL).
The statistics above are based on a comScore survey of US households with a smart speaker in Q1 2017.