WWDC 2017: Apple refreshes iMac, MacBook, and MacBook Pro with Intel Kaby Lake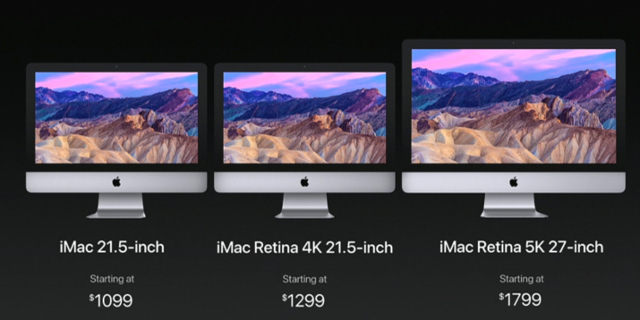 When Apple unveiled the newest MacBook Pro laptops in October of 2016, some people were upset that they didn't come with 7th-generation Intel Kaby Lake processors. Instead, the company opted for the 6th-gen chips. One big issue with this is that the memory was limited to DDR3 rather than the newest DDR4. Despite these shortcomings, the machines sold well -- they were hard to come by for quite some time after launch.
Today, Apple finally refreshes the MacBook Pro machines with the latest such Intel processors. But that is not all. In addition to the Pro laptop, the company is delivering Kaby Lake to the newest MacBook (non-pro) and iMac computers too. Surprisingly, the MacBook Air gets a little speed bump to 1.8GHz.
Apple's all-in-one is also getting new USB-C ports that are Thunderbolt 3 compatible. In addition, the display is being improved. No, the company is not going beyond 4K and 5K, but it is getting brighter -- an impressive 500 nits. The 27-inch variant can be configured with either an AMD Radeon 570, 575, or 580, while the 21.5-inch 4K can be had with a 555 and 560. The non-4K only gets Intel on-board graphics.
From a memory perspective, options are now doubled. The 21.5-inch iMac can be had with 32GB of RAM, while the 27-inch model can have up to 64GB.
John Ternus, Apple's vice president of Hardware Engineering explains, "With major updates to iMac, and a refresh of our MacBook and MacBook Pro lines, the Mac is stronger than ever. Today iMac gets a huge graphics performance increase, faster CPU performance, Thunderbolt 3 and a brighter Retina display with support for 1 billion colors. We're also increasing CPU and SSD speed on MacBook, adding faster processors and making faster graphics standard on our 15-inch MacBook Pro and introducing a new $1,299 (US) 13-inch MacBook Pro."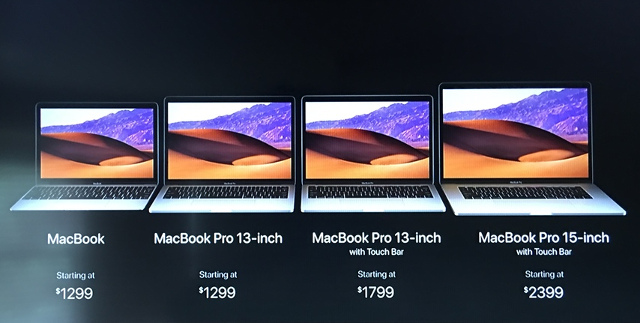 The MacBook Pro refresh is certainly more boring, as besides processor and RAM, most everything else remains the same. There are no new ports or features, although pricing is changing a bit -- the starting price for the 13-inch non-touch bar model is now $1,299.
Speaking of the non-pro laptop, Apple says, "With thin and light designs, powerful performance, amazing displays and all-day battery life, Mac notebooks deliver the world's best portable computing experience. MacBook now features faster Kaby Lake processors up to 1.3 GHz Core i7 with Turbo Boost up to 3.6 GHz and up to 50 percent faster SSD, and supports up to twice the memory. Weighing just two pounds and measuring 13.1mm thin, MacBook is our thinnest and lightest notebook for all-day, on-the-go computing."
Which new Mac will you buy? Tell me in the comments below.