Apple completely redesigns the App Store, introduces entirely new sections and promotes in-app purchases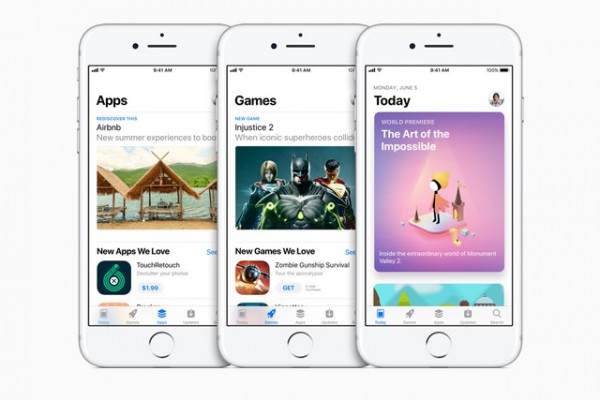 Yesterday at WWDC 2017 Apple not only announced details of iOS 11, the company also unveiled a completely redesigned App Store. Central to the entire iOS experience, the change is due to arrive later in the year, and when we say it's a complete redesign, we mean it's a complete redesign.
It goes without saying that Apple refers to the redesign as "beautiful," and the extreme makeover is something that has been a long time coming. But while the look of the store is markedly different to its current incarnation, it is still somewhat familiar. It borrows style ideas from iOS 10's Music and News apps.
Apple says that the aim of the redesign is to make it easier to find apps, and the new UI is certainly clearer and less cluttered than its predecessor. The starker new look is littered with bold, sans serif typefaces, and a new Today section aims to bring people back to the App Store time and time again. As well as featuring the game of the day, this section will also be home to "in-depth features and interviews filled with beautiful artwork and videos."
Apple says:
Today will feature exclusive premieres, new releases and a fresh look at all-time favorites, as well as recommended tips and how-to guides to help customers use apps in innovative ways.
App and Games are separated out into their own tabs, and individual pages have undergone a similar redesign which Apple says makes it easier for developers to use to sell their wares to customers. In-app purchases can be featured in the redesigned App Store. "Customers can now start their in-app purchases on the App Store and be taken directly into a developer's app or game to complete the purchase," explains Apple.
As the new App Store is part of iOS 11, its available to developers right away through the preview build. Everyone else will be able to try it out for themselves later on in the year.